Sinema's Misunderstanding of the Senate (and of Basic Politics)
The post really isn't about Sinema as much as it about a theory of poltiics.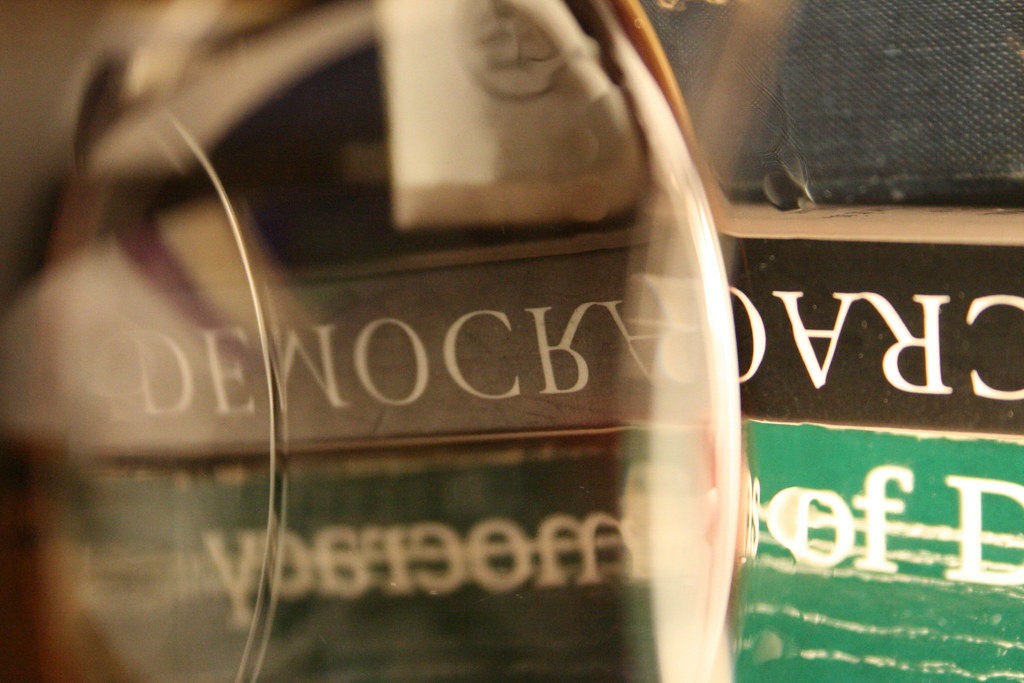 Senator Kyrsten Sinema provided her views on the filibuster earlier this week:
Not to get all obscure, esoteric, and fancy, in assessing the clip, but as Luke Skywalker said in The Last Jedi, "Amazing. Every word of what you just said was wrong."
For example, in the video clip she claims that the filibuster fosters bipartisanship, increases "comity," stops policy from extreme shifts every two years, and "protects the democracy of our nation."
Sinema is here relying on cliches and myths. As I noted recently, Framers like Hamilton and Madison argued that the essence of republicanism was majority rule. Further, the notion that super-majority requirements create comity and bipartisanship is simply not true. Indeed, as Adam Jentleson ably chronicles in Kill Switch: The Rise of the Modern Senate and the Crippling of American Democracy, the main history of the filibuster has been one of southern states using it to attempt to block civil rights legislation. More recently it has become a more generalized tool of obstruction. One thing is decidedly is not is a rule that promotes comity and bipartisanship.
It also is not what stops wild swings of policy every two-to-four years. First, there is the fact of bicameralism and separation of powers that slows radical policy shifts. Second, the notion that real representative democracy with majority rule in legislative bodies leads to wild and constant policy shifts is a myth in any event. Just look globally as systems where the pathways are easier than in the US and you won't find these wild swings back and forth that minoritarian rule is allegedly saving us from.
But let's assume that in some hypothetical world a majority of voters elected a majority of the Congress who then passed legislation that it ended up a majority of voters decided that they didn't like. How is bad that that majority of voters could vote a new majority into power who would then change the law that a majority decided they didn't like after all?
What, exactly, is wrong with that scenario? Sounds like responsive representative government to me.
(And yes, if policy did change radically every four years that would be bad, but that is a fantastical scenario not based in reality).
But that is just the preface to what was wrong with her statement. The part that really pops for a political scientist (especially one who studies institutions) is this (source from the story linked in the first tweet):
"The reality is that when you have a system that is not working effectively — and I would think that most would agree that the Senate is not a particularly well-oiled machine, right? The way to fix that is to fix your behavior, not to eliminate the rules or change the rules, but to change the behavior," Sinema added.
This is monumentally wrong.
When a system is not working effectively you change or modify the system.
"You know, Bob, the waterwheel in our mill is not getting enough water flow to make it work effectively. What should we do?"
"Well, Mike, we could divert water more efficiently to create the flow needed to move the wheel, or we could just hope that the water changes its behavior for reasons."
Or, to use her own metaphor, if the machine is not being adequately oiled, maybe the machine needs some repair to make sure the oil is getting where it needs to go. If the oil in my car's engine is not going where it needs to go to make the machine run properly, I don't just hope that spontaneous new behavior under the hood of my car will fix the problem.
Now, sure, human beings are not just sets of mechanical operations that can be altered to produce outcomes. But human beings very much respond to incentives. Politicians have goals and they seek to pursue those goals within the structures of the rules. Change the rules and you change behavior.
Another non-political example is sports. Pro sports, especially American football, change the rules all the time to produce different outcomes, whether in terms of preventing injuries or in producing certain kinds of gameplay.
None of this is to say that institutional structures and rules predetermine outcomes. I am not saying, for example, that different rules would cause Sinema (or Manchin or anyone else) to change their views nor would eliminating the filibuster guarantee specific policy outcomes. But, without a doubt, a majority-rule Senate would produce different outcomes as a general matter than does the currently minority-veto run chamber.
The study of rules and incentives is not new although it is linked in modern political science to the New Institutionalism that emerged in the early 1980s.* This approach went beyond looking at just the formal rules (the "old" institutionalism) to look at the way in which rules, structures, and other factors influence structures or choices for power-seeking actors.
In this conversation, and embedded in Sinema's mini-discourse above, is a clear debate that spans the millennia over how politics works. Or, perhaps more specifically, what is the best way to get good political outcomes
When Sinema says things like "The way to fix that is to fix your behavior, not to eliminate the rules or change the rules, but to change the behavior" she is appealing to the notion that philosophers (and theologians, for that matter) have long longed for: better people. It is a call for more virtue. It is the hope that we could all just get together and "do the right thing" or produce "common sense solutions" or, above all else, "do the people's business."
But, of course, the problem is that we don't agree on what the right thing is, not what constitutes common sense nor, really, what the people's business is.
This is the fundamental core of politics and therefore of governing: you need a way to decide who gets to make the rules and that is where all the messiness emerges.
I would note that the nature of theocracy is that you get the best entity to govern: God! But the problem is that God Himself won't deign to come down and govern, so it gets left to the priests. And pious as they are, they just can't quite rule as well as the Big Guy, what with all the mucking about with textual interpretation and whatnot.
There is, of course, the possibility of a divinely ordained monarch, but that really doesn't produce the net amount of goodness that one might like to actually have, or so history has shown.
We could let the best and most excellent to govern (you know, the aristos and their aristocracy), but whether that means to you allowing the philosophers or just folks from the best families, this really never works out.
Perhaps the vanguard of the party could solve all our woes?
If only people would behave better, amiright?
It almost like some dude said, "If men were angels, no government would be necessary."
As it turns out, human beings are not heavenly beings bound by the divine to act with excellence. This leaves us with the notion that since we cannot rely on the virtue of the best to produce good outcomes, we have to lean substantially on the design of government (i.e., the rules and institutions that shape how power can and cannot be used).
Indeed, to continue Madison's quote from above (in Fed 51):
If angels were to govern men, neither external nor internal controls on government would be necessary. In framing a government which is to be administered by men over men, the great difficulty lies in this: you must first enable the government to control the governed; and in the next place oblige it to control itself. A dependence on the people is, no doubt, the primary control on the government; but experience has taught mankind the necessity of auxiliary precautions. 
The notion of "external and internal controls" over government are direct consequence of the fact that we can't just rely on really good human beings (or, for that matter, angels) to simple "do the right thing." So, government has to be constructed in a way to shape behavior (the internal controls) and those who govern need to be beholden to other (the external). In this case in Fed 51 Madison is arguing for the role of separation of powers and checks and balances (the internal controls) as well as the republican principle of representation via elections.
Indeed, while it is true that the Federalist Papers were written as political propaganda to persuade New Yorkers to support the new constitution, they nonetheless have some very solid political theory backing many of their arguments. So, I often come back to them not because they are some Rosetta Stone to help us translate the Will of the FoundersTM but because they had some genuine political insights (and because referencing them often undercuts crude originalist arguments). Indeed, I would argue (as have others**) that the core theories of the Federalist Papers were a sort of proto-new institutionalism
As Hamilton wrote in Fed 1:
It has been frequently remarked that it seems to have been reserved to the people of this country, by their conduct and example, to decide the important question, whether societies of men are really capable or not of establishing good government from reflection and choice, or whether they are forever destined to depend for their political constitutions on accident and force. 
This is a statement that suggests governments can be purposefully designed to produce good governance. Of course, inherent in such a notion is that that design needs tweaking over time. Most of human history is one about force producing governance. And, in my view, just hoping for people to do the right thing (or for behavior to spontaneously change) is to hope for government by "accident" in Hamilton's formulation.
And, of course, the notion of "establishing good government from reflection and choice" means designing the rules in a way to produce outcomes superior to what "accident or force" might produce.
I am not suggesting that good rules make bad people good nor that good rules always produce good outcomes. I am pointing out that given the constraints of human beings that the best we can hope for is to create governing structures that diminish the ability of bad outcomes and that incentivize responsible behavior.
If we assume, for example, that power-seekers want to have power, linking that power to pleasing large numbers of people via elections is a better, albeit highly imperfect, way of controlling their behavior than simply hoping that they will do the right thing once in office.
To bring this into some specific issue let me note that the reason I harp on the problems of the primary system is that the incentives for power-seekers under that system are not to maximize the number of people who must be pleased so that the power-seeker can retain power. No, the primary system incentivizes appealing to narrow constituencies to receive the nomination, and then because so many districts are not competitive, there is no need to cast a broader appeal to please more voters neither in the general election nor once in office.
To put all of this in a nutshell: contra the dreams of Senator Sinema, politicians do not spontaneously change their behavior, but rather they, like other humans, respond to stimuli as related to their goals.
To conclude, I end up favoring majority-based, representative democracy not because it is perfect nor because it results, automatically in good governance (it can, in fact, go horribly wrong). However, in the panoply of human existence, reliance on mass voting, especially within structure that builds in protections for basic rights, has far and away the best record of all the governmental types that humans have tried to make work over the centuries.
And, fundamentally, if we want better behavior out of politicians we need better rules.
---
*For some background March and Olsen's 2011 entry in the Oxford Handbook of Political Science: Elaborating the "New Institutionalism".
**For example, see the edited volume by Grofman and Wittman (1989). The Federalist Papers and the New Institutionalism.