Marco Rubio: I Will Say No If Offered VP Slot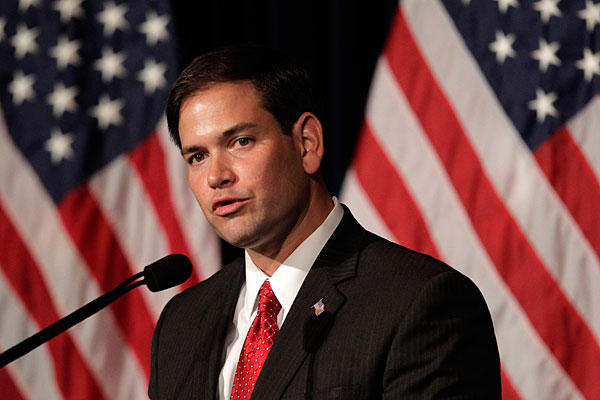 Florida Senator Marco Rubio is approaching Chris Christie territory in the number of times he has denied interest in being the running mate on a Republican Presidential ticket this year:
Sen. Marco Rubio said today he would decline any offer from Mitt Romney to be a part of the GOP ticket this fall.

"I don't want to be the vice president," the Florida Republican said during an interview with Major Garrett of the National Journal.

"So, if Mitt Romney asks, you will you say no?" Garrett asked.

"Yes. But you know he's not going to ask. That doesn't work. He's watching this interview right now," Rubio, 40, said.

Rubio even went as far as recommending another U.S. senator for Romney to consider in his VP vetting: Ohio Sen. Rob Portman.

"The bigger point is we've got a lot of really talented people out there that Mitt Romney can get to pick from," Rubio said. "And I think a lot, Senator Rob Portman would be a phenomenal choice for vice president. That's where I would encourage him to look because I'm enjoying my service in the Senate."
I've lost count of the number of times Rubio has given this kind of statement, but as with the Presidential speculation that surrounded Chris Christie in 2010 and 2011 that isn't stopping people from speculating about him being about the ticket, or other Republicans from saying that they hope he's on the ticket. I'm not sure how many more times Rubio can say things like this without people getting the message. If he's not interested, he's not interested. Move on.
Of course, the VP slot is a bit different from running for President. When you run for President, it's a decision you make on your own. The running mate position, though, is offered by the man at the top of the ticket. If Mitt Romney came to Marco Rubio and said that he wanted, no needed, him on the ticket, would Rubio still say no? He says he would, but I'm not necessarily true. Leaving aside pure political ambition, one has to imagine that there's a certain sense of responsibility that someone must feel when they're asked to join a Presidential ticket. Indeed, outside of the odd and aborted effort to create a unity ticket in 1980 where Ronald Reagan would select former President Gerald Ford as his running mate, I'm not sure there's ever been a modern case where a person being considered seriously for the running mate slot essentially turned the offer down.
Rubio does seem very emphatic, but there's also something in this interview for those still holding out hope:
As his interview wound down, Rubio made a bit of a slip when he talked about his future after his career as a vice president, not a senator.

"Three, four, five, six, seven years from now, if I do a good job as vice president, I'm sorry," Rubio said as he caught himself. "If I do a good job as a senator instead of a vice president, I'll have a chance to do all sorts of things, including commissioner of the NFL, which is where the real power is."
A slip of the tongue, or a Freudian slip. In either case, count on Rubio's name staying in the mix all the way up to the convention.