Mattis Right on NATO
My latest is out at RealClearDefense.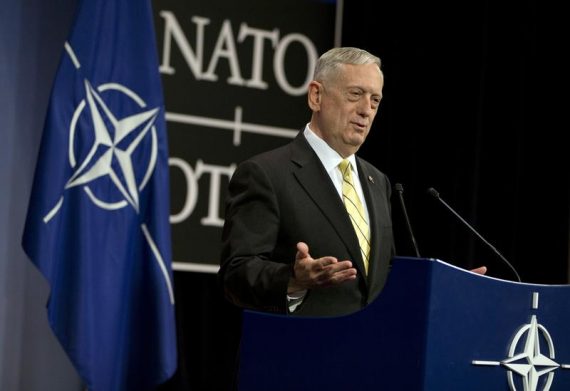 A piece I wrote two weeks ago for another publication appeared at RealClearDefense this morning:  "Mattis Is Mostly Right on NATO."
The lede:
In his first speech to NATO defense ministers as the U.S. Secretary of Defense, Jim Mattis suggested that, if Allies do not start contributing more by the end of the year, the United States might "moderate its commitment." While the timing is less than ideal, given growing concerns about the Trump administration posture towards Russia, this message is a long time coming.
The caveats:
I share the concerns of my fellow Atlanticists that the Trump administration risks overplaying its hand. The desired end state must be to bolster NATO by turning more members into security contributors, not fracture it.

The Article 5 commitment at the heart of NATO that an armed attack against any member "shall be considered an attack against them all" must remain sacrosanct. And, it is worth reminding ourselves, the only time it has been carried out was when the other Allies came to American aid in the wake of the 9/11 attacks. Still, that guarantee is much more valuable when backed by 28 countries pulling their weight rather than a handful.

As Gates noted in that famous speech six years ago, "true friends occasionally must speak bluntly with one another for the sake of those greater interests and values that bind us together." Bluntness must not, however, give way to bluster. Which is certainly a danger with this new administration, headed by a novice president prone to early-morning Twitter fights with those who annoy him.

As Careleton political scientist Steve Saideman, co-author of NATO in Afghanistan, notes, spending as a percentage of GDP is not the only measure of contribution to NATO. Despite its woeful economic contribution, his own adopted country of Canada lost 158 dead supporting the American-led war in Afghanistan, which was more than any NATO member other than the US or the UK. And, on a per capita basis, tiny Denmark and Estonia lost more than any other ally.

Additionally, as Jim Townsend, who served eight years as Deputy Assistant Secretary of Defense for Europe and NATO under President Obama (and a one-time Atlantic Council colleague), rightly points out, the flexibility and logistical capabilities provided by European basing rights is a tremendous contribution to not only the Alliance but also American power projection.

Additionally, decades of working together have brought enormous advantages in command and control and interoperability that must not be lost.

Mattis' opening gambit struck the right tone, simultaneously reassuring Allies of American commitment to NATO while declaring that patience for free-riding has reached its end. Still, the political and fiscal realities in most NATO capitols are such that expecting a radical policy shift in a mere ten months is unrealistic. Julianne Smith, who had a major hand in writing Gates' 2011 speech as Principal Director for European and NATO Policy, suggests 2020 as a more realistic deadline. That strikes me as more tenable.

Regardless, decades of begging the Allies to pick up a greater share of their own defense have simply not worked. It is well past time for a new approach.
In between is a discussion of the long history–including speeches by President Obama and two of his Secretaries of Defense–of US kvetching about Allies not pulling their weight.