Maybe It Should Have Been Easier For Bowe Bergdahl To Get Out Of Combat
If someone had seen the signals, perhaps Bowe Bergdahl never would've wandered off base and gotten captured.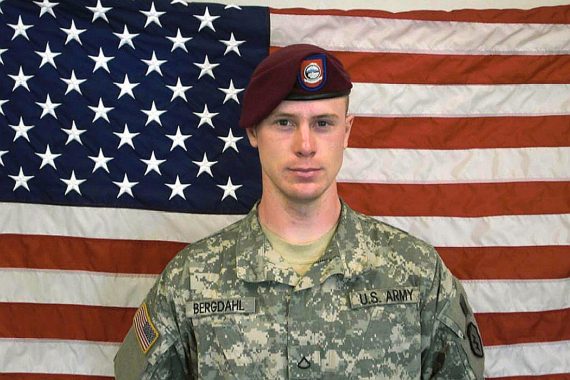 J.D. Tucille makes an interesting point about Sgt. Bowe Bergdahl, the circumstances under which he ended up in the hands of the Taliban, and the question of what might have led him to wander off post in a remote part of Afghanistan:
American troops have engaged in continuous war in Afghanistan since 2001, so nobody can claim that they don't know that military service might require actual military service. Then again, military recruiters focus on the young not just because they're physically fit, but also because they have little perspective on what they're getting themselves into. More than a few studies have found that recruiters tend to be a bit shaky on the details and potential consequences of enlisting—a choice that, at least potentially, locks enlistees into a situation with high stakes.

Even in the age of the Internet and non-stop news cycles, concepts like combat, injury, and death can be abstract concepts for an 18-year-old.

So if Bowe Bergdahl decided that the bill of goods he was sold didn't live up to the advertising—especially if he began to have moral qualms about his duties—I'm pretty sympathetic. And it's pretty clear that was the case from the messages he sent to his parents, in which he wrote:

The future is too good to waste on lies. And life is way too short to care for the damnation of others, as well as to spend it helping fools with their ideas that are wrong. I have seen their ideas and I am ashamed to even be american. The horror of the self-righteous arrogance that they thrive in. It is all revolting.

But the military makes formal "conscientious objector" status difficult to attain for young people whose views change while they're in uniform, at least officially. (There are sometimes back-channel ways of getting out that might not be readily apparent.) The Department of Defense directive regarding the subject is a masterpiece of bureacratese, full of lengthy definitions and procedures. Among other hurdles, it defines conscientious objection as "A firm, fixed, and sincere objection to participation in war in any form or the bearing of arms, by reason of religious training and/or belief."

Morally objecting to the conflict at hand doesn't make the cut. Nor does just having had enough.

Which is a damned shame, since it might well lead to foolishness like walking off into the hills of Afghanistan under disputed circumstances. That's a stupid way to get out, though desparation sometimes overwhelms good sense. Worse, it might contribute to a disillusioned young deserter actually aiding the enemy after falling/walking into their hands, instead of just flying home.
I've never served in the military, of course, so I don't have the benefit of that perspective on which to judge Tucille's arguments here. However, it strikes me that he raises some valid point. The decade that America has been at war since the September 11th attacks is the longest in American history, and it's unlike anything else that the all-volunteer military has seen since the draft was eliminated in the 1970s. We've already seen plenty of evidence of what PTSD does to soldiers once they come home, and the problems that can develop when those problems are not properly addressed. There hasn't been nearly as much attention paid, though, to soldiers actually in the field who may be suffering from PTSD, depression, or whatever the case may be. Bergdahl's emails home to his parents certainly raise red flags in retrospect, and there have been several reports of interviews with men he served with prior to disappearing that seem to indicate he was making the same kind of comments out in the field. Perhaps if some of those signs had been noticed and reported, Bergdahl could have been treated, reassigned or transferred out of the post that he was in, especially since it seems in retrospect that he wasn't cut out for the job that had been assigned to him.
A potential objection, of course, is that Bergdahl volunteered for the military and that he shouldn't be able to get out of his commitment just because he got lonely or sad. Perhaps there's some truth in that, but that kind of response also ignores some very real issues. The fact that someone may have volunteered for the military doesn't really mean much in and of itself, especially since it's unlikely that they had any idea what they would be getting themselves into if they ended up in a combat until in remotest Afghanistan. If it becomes apparent that they aren't well suited to the role they've been assigned to, then keeping them there doesn't make much sense to me.
None of this is to dismiss the seriousness of any potential charges against Bergdahl, of course. The evidence support charges related to desertion certainly seems compelling and, as I've already noted, the Army has said that there will be an investigation of the circumstances of Bergdahl's disappearance now that he's safely back in American custody. If that investigation justifies it, then he should most assuredly be charged and tried under the military justice system, which would be better than trying him in the court of public opinion with unvetted and unconfirmed media reports, such as a recent Fox News claim that essentially charges Bergdahl with collaborating with the Taliban, a charge far more serious than desertion. At the same time, though, it is perhaps worth recognizing the strain of combat and the fact that not everyone is suited for that role. Perhaps if it had been easier for Bergdahl to be assigned to other duty, or if his family or fellow soldiers had alerted his superiors to signs they now seem to think were readily apparent, all of this could have been avoided.