McConnell Faces Pressure From Within And Without Over Shutdown
As the shutdown drags on, Mitch McConnell finds himself facing pressure from the White House and from members of his own caucus.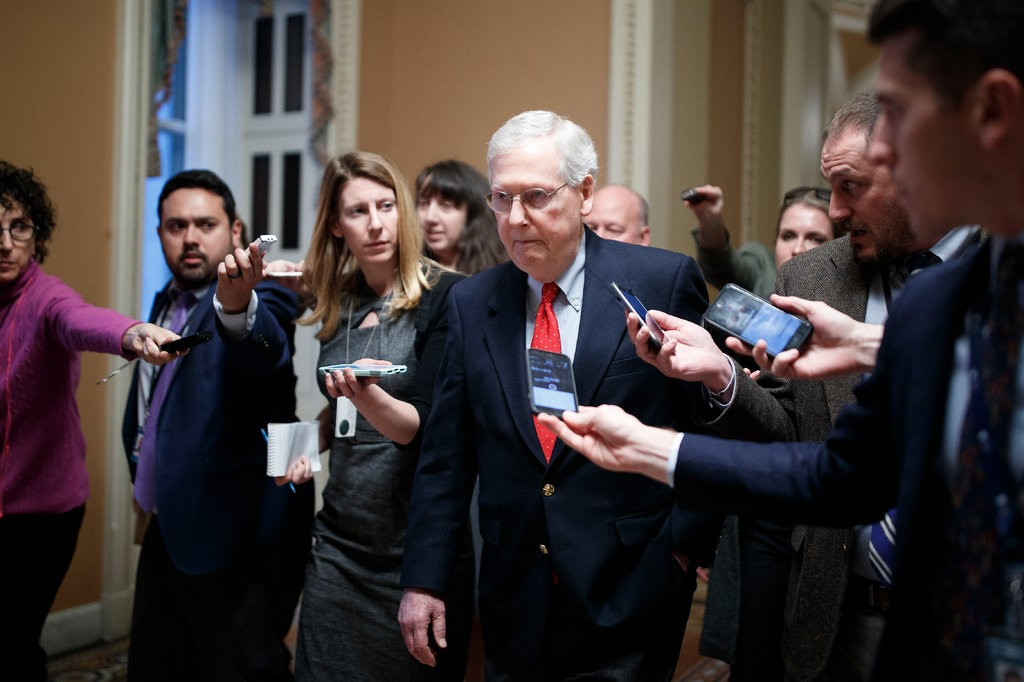 As the government shutdown continues with no end in sight, Senate Majority Leader Mitch McConnell is starting to feel pressure from members of his own caucus, especially those who will be up for re-election in 2020:
WASHINGTON — For weeks, Senator Mitch McConnell, the Republican leader, has remained conspicuously on the sidelines, insisting that it was up to President Trump and Democrats to negotiate an end to the partial shutdown of the federal government.

But with the shutdown soon to enter its third week, and Mr. Trump dug in on his demand for $5 billion to build a border wall, Mr. McConnell for the first time is facing pressure from members of his own party to step in to resolve the stalemate that has left 800,000 federal workers either furloughed or working without pay.

By absenting himself, Mr. McConnell had hoped to push the blame for a prolonged shutdown onto Democrats while protecting Republicans running for re-election in 2020 — including himself. Much as Democrats did in 2018, Republicans will face a difficult map in 2020, with a handful of incumbent senators facing re-election in swing states or states won by Hillary Clinton in the 2016 presidential race.

But on Thursday, as a new era of divided government opened in Washington, perhaps the most vulnerable Republican, Senator Cory Gardner of Colorado, broke ranks to become the first member of his party to call for an end to the shutdown — with or without Mr. Trump's wall funding.

"I think we should pass a continuing resolution to get the government back open," Mr. Gardner, whose state has a heavy federal presence, told The Hill newspaper. "The Senate has done it last Congress, we should do it again today."

A second vulnerable Republican, Senator Susan Collins of Maine, one of the chamber's most moderate members, said Thursday that she would support separating homeland security funding from the other bipartisan appropriations bills already approved in committee to reopen much of the government — as Democrats have proposed. But Mr. McConnell is refusing to take up the Democrats' measures.

"It would be great to have them signed into law because there is not great controversy over them, and at least we'd be getting those workers back to work," Ms. Collins said.

Mr. McConnell's distant posture reflects his new status as the man in the middle in a Capitol where Democrats now control the House of Representatives and Republicans have netted two seats to hold a 53-to-47 majority in the Senate. He has repeatedly said he will not bring up legislation that Mr. Trump does not support — a point he reiterated in a speech on Thursday on the Senate floor.

"I've made it clear on several occasions, and let me say it again: The Senate will not take up any proposal that does not have a real chance of passing this chamber and getting a presidential signature," Mr. McConnell said. "Let's not waste the time. Let's not get off on the wrong foot, with House Democrats using their new platform to produce political statements rather than serious solutions."

After two years of trying to advance Mr. Trump's agenda, Mr. McConnell now sees his primary job as standing in the way of Speaker Nancy Pelosi, who vowed in her inaugural speech on Thursday to "reach across the aisle in this chamber," but who is also poised to pass legislation on a bevy of liberal priorities, including gun restrictions and protections for young undocumented immigrants.

"I think McConnell is going to be Trump's best friend when it comes to blocking all of Nancy Pelosi's worst shots," said Scott Jennings, a Republican strategist who is close to Mr. McConnell. "For Trump and McConnell, there's a lot of good politics for that — particularly for McConnell in Kentucky."

Democrats are trying to drive a wedge between Republican leaders and their vulnerable incumbents up for re-election in 2020, especially Mr. Gardner, Ms. Collins, Senator Thom Tillis of North Carolina and Senator Martha McSally of Arizona, who was appointed to fill the seat left vacant after Senator John McCain's death. The campaign arm of the Senate Democrats released a series of statements to local news media on Thursday targeting each senator and demanding they make a choice to fund the government or "own" the consequences.

"Cory Gardner owns every miserable consequence of his pointless government shutdown, and he just realized it's a problem for his own political career," read one from David Bergstein, a campaign committee spokesman. "When he votes 99 percent of the time with President Trump and then tries to run away from his record, all it proves is Coloradans can't trust him to look out for anyone but himself."

And Senator Chuck Schumer of New York, the Democratic leader, called on Mr. McConnell to jump into the talks with Mr. Trump.

"The power to end the shutdown is in two people's hands: Donald Trump and Mitch McConnell," Mr. Schumer said Thursday in a brief hallway interview. "Either one of them could end the shutdown. They both should try."
It seems fairly clear that McConnell's biggest fear isn't being seen as crossing Trump, although that is certainly a likely concern, but also the prospect that if he did bring something akin to the bills that passed the House last night to the Senate support, they would get at least some significant amount of Republican support and could even garner enough support to reach the sixty vote limit needed to invoke cloture. In part, this is due to the fact that the 2020 Senate elections will be nearly a mirror image of the 2018 elections in that there will be 22 Republican seats up for re-election while the Democrats will only have to defend 12 seats. Additionally, of those 22 Republican several will be in states where Democrats won or where they could potentially be competitive, including Arizona, Maine, and North Carolina. Democrats, on the other hand, will only have one seat, the seat currently held by Doug Jones in Alabama, in a state that is likely to go Republican in the General Election. This is why Senators such as Cory Gardner, who narrowly defeated incumbent Senator Mark Udall in a state that Hillary Clinton won by more than 100,000 votes in 2016 are already expressing concern about a shutdown that could hurt them politically in two years. The longer this shutdown lasts, the more pressure these Senators up for re-election in 2020 are likely to feel, and the more pressure McConnell is likely to feel from within his own camp.
Pulling McConnell in the other direction, of course, is the President and those members of the GOP caucus who are loyal to the President in this fight. Crossing the President at this point in the shutdown fight, even by simply allowing the bills that passed the House last night to get to the Senate floor, would be seen as capitulation by this group and would set up the possibility of a real schism inside the Republican Senate caucus. So far, McConnell seems to be engaging in the strategy of staying behind the scenes, letting the chief negotiating take place between Democrats and the President since they are the ones at loggerheads. At least in the short-term, this strategy probably makes sense politically and otherwise. McConnell does have a point, after all, in arguing that the Senate is wasting its time in taking up House bills that the President has already said he would veto. As this shutdown goes on longer, though, the pressures on McConnell from both sides are likely to grow and he won't be able to sit on the sidelines like he is now.