McMaster Out, Bolton In
Uh oh.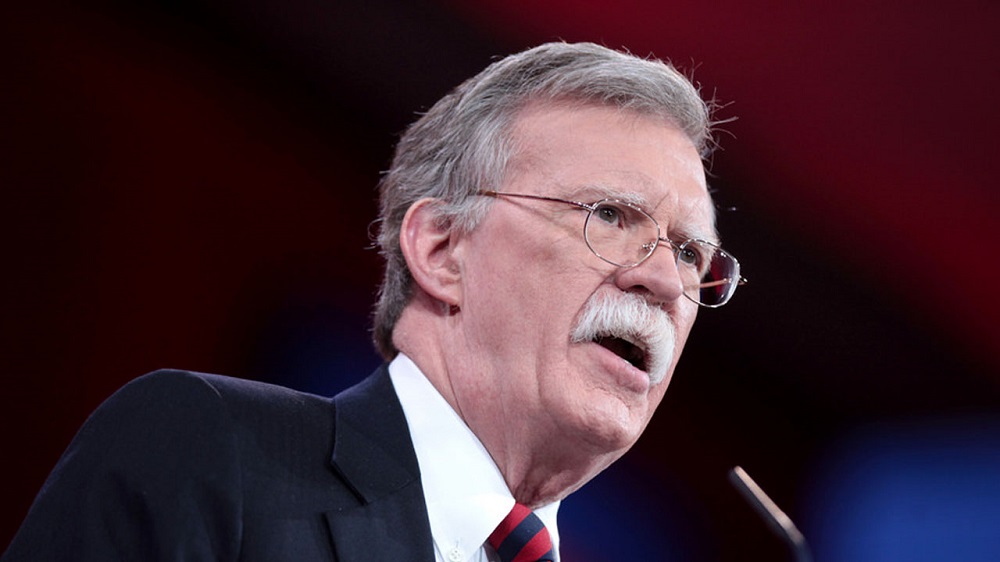 NYT ("McMaster to Resign as National Security Adviser, and Will Be Replaced by John Bolton"):
Lt. Gen. H. R. McMaster, the battle-tested Army officer tapped as President Trump's national security adviser last year to stabilize a turbulent foreign policy operation, will resign and be replaced by John R. Bolton, a hard-line former United States ambassador to the United Nations, White House officials said Thursday.

General McMaster will retire from the military, the officials said. He has been discussing his departure with President Trump for several weeks, they said, but decided to speed up his departure, in part because questions about his status were casting a shadow over his conversations with foreign officials.

The officials also said that Mr. Trump wanted to fill out his national security team before his meeting with North Korea's leader, Kim Jong-un. He replaced Secretary of State Rex W. Tillerson with the C.I.A. director, Mike Pompeo, last week.

Officials emphasized that General McMaster's departure was a mutual decision and amicable, with none of the recrimination that marked Mr. Tillerson's exit. They said it was not related to a leak on Tuesday of briefing materials for Mr. Trump's phone call with President Vladimir V. Putin of Russia.

In the materials, Mr. Trump was advised not to congratulate Mr. Putin on his re-election, which the president went ahead and did during the call.

Mr. Bolton, who will take office April 9, has met regularly with Mr. Trump to discuss foreign policy, and was on a list of candidates for national security adviser. He was in the West Wing with Mr. Trump to discuss the job on Thursday.

"H.R. McMaster has served his country with distinction for more than 30 years. He has won many battles and his bravery and toughness are legendary," Mr. Trump said in a statement. "General McMaster's leadership of the National Security Council staff has helped my administration accomplish great things to bolster America's national security."

General McMaster had struggled for months to impose order not only on a fractious national security team but on a president who resisted the sort of discipline customary in the military. Although General McMaster has been a maverick voice at times during a long military career, the Washington foreign policy establishment had hoped he would keep the president from making rash decisions.
Rumors had this happening for quite some time, with Trump trying to find a graceful landing for McMaster. The problem was that McMaster, who hasn't had a field command since he was a colonel, was never going to get a four-star job before Trump plucked him for his current post. And, acting as a political spokesman, he was pretty much useless to the Army in that capacity post this job, anyway.
Colin Powell managed to survive holding the National Security Advisor post as a three-star, moving on command V Corps, the Army's Forces Command, and then become Chairman of the Joint Chiefs. But Powell served Reagan and George H.W. Bush. Further, Powell was much more shrewd in protecting his future career than McMaster, who rankled many by lending the prestige of his uniform to a controversial President.
John Bolton is, by resume, more qualified to be National Security Advisor than McMaster ever was. But he's extraordinarily controversial. He's the neocon's neocon. And that's not at all what this President, who desperately needs someone to calm his rash instincts and complete lack of preparation to run the nation's foreign policy, needs.
UPDATE (1856): Oh, goody: another Russia connection.
NPR ("John Bolton's Curious Appearance In A Russian Gun Rights Video"):
Incoming White House national security adviser John Bolton recorded a video used by the Russian gun rights group The Right to Bear Arms in 2013 to encourage the Russian government to loosen gun laws.

The episode, which has not been previously reported, illustrates the common cause that Russian and American gun rights groups were forming in the years leading up to the 2016 election through former National Rifle Association president David Keene. Keene appointed Bolton to the NRA's international affairs subcommittee in 2011.

Russian politician Alexander Torshin helped establish The Right to Bear Arms and cultivate ties with American gun rights groups including the NRA. As a Putin ally, Torshin served as the deputy speaker of Russia's parliament for more than a decade, and also spent time on Russia's National Anti-Terrorism Committee, a state body that includes the director of Russia's internal security service.

The Bolton video appears to be another plank in a bridge built by Russia to conservative political organizations inside the United States. It's unclear why Russian leaders wanted to curry favor with the NRA, but Torshin and Keene appeared to have developed close ties over in the years prior to the 2016 election.

It's a relationship that has outsized importance now that the FBI is reportedly investigating whether Torshin illegally funneled money to the NRA to assist the Trump campaign in 2016, as McClatchy reported in January. The NRA has denied wrongdoing.
I'm sure it's just a coincidence.