Media Coverage Of Ted Cruz v. Media Coverage Of Wendy Davis
Can differences in media coverage of two unrelated filibusters be explained solely by media bias?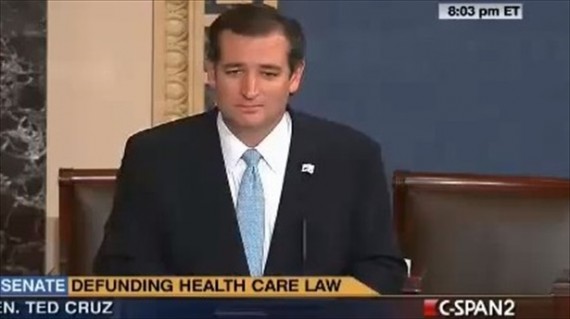 Politico's Dylan Byers picks up on a theme that I heard repeatedly yesterday from conservatives as Ted Cruz spoke on the Senate floor, namely that there was a difference between the way the media covered Cruz's "filibuster" and they way they covered that Texas State Senator Wendy Davis's filibuster of an abortion bill:
Sen. Ted Cruz has been speaking on the Senate floor for almost 19 hours, as of this post. The talk is not technically a filibuster — he can't actually block the Senate from going about its business — but symbolically, it's more or less the same thing. The point is to show one's opposition to something through a demonstration of physical will.

Which is why you can forgive conservatives for being upset with the mainstream media's coverage of the Cruz affair. When a Democrat like Texas state Sen. Wendy Davis filibusters against abortion restrictions, she is elevated to hero status, her tennis shoes become totems. When Cruz grandstands against Obamacare, he is a laughingstock in the eyes of many journalists on Twitter, an "embarrassment" in the eyes of The New York Times editorial board.

"Gee I wonder why NYT and WaPo and everyone else gave ecstatic coverage to Wendy Davis but not to Ted Cruz. I just can't make sense of it!" John Podhoretz, the conservative columnist, tweeted on Wednesday morning.

(…)

Cruz is portrayed in the media as "aimless and self-destructive" (NYT ed board), elitist (GQ) and likely guided more by presidential aspirations than principles (CNN). Josh Marshall, the editor and publisher of Talking Points Memo, had no qualms about coming right out and calling Cruz, his former Princeton colleague, an "arrogant jerk" — and worse.

(…)

After Davis's filibuster in June, she got a glowing Vogue profile and was interviewed by nearly every major network and show that deemed her the new superstar from the Lone Star.

In an interview shortly after her filibuster in June, CBS News's Charlie Rose highlighted Davis's history.

"You've met tough things before in your life as single mother, one who went form community college, to TCU to Harvard Law School and back to practice law, so this seems to be another challenge for you," Rose said.

Davis was the "Sunday Spotlight" for ABC's This Week after the filibuster and was interviewed by Jeff Zeleny in the dinner theater where Davis once watiressed. Even conservative columnist Peggy Noonan conceded during the panel that part of her thinks Davis is "so spirited, she has such energy and she seems to have such commitment."
Allahpundit's piece from this morning is fairly representative of what conservatives are saying:
ABC may end up interviewing Cruz but rest assured that they won't play pattycake with himwith their questions when they do. Compare that last link, in fact, to this sneering WaPo piece of the view from the Senate gallery of Cruz's filibuster as it got going. (Some media outlets chose instead to ignore Cruz's filibuster entirely on the front page. One of them, per HA contributor Karl, was WaPo, which has otherwise covered the prospect of a Cruz filibuster at length.) Here's the only wrinkle: Did Davis get the media version of a ticker-tape parade because she championed *a* left-wing issue or *the* left-wing issue? Bernie Sanders staged a futile filibuster of his own a few years ago that made liberals euphoric for a few hours, but that faded away so quickly that I'd forgotten about it until someone on Twitter mentioned it this morning. If she had filibustered for 12 hours in support of, say, higher spending for some pet liberal project, would "Wendy for Governor" be a thing among Democrats in Texas? It would have gotten some coverage, I think, despite her having a comparatively lower profile as a state senator, because the media wouldn't be able to resist the sisters-are-doing-it-for-themselves novelty of a woman politician staging a talking filibuster for hours when the men in her party wouldn't. But that too, I think, would have been a blip. Those pink sneakers don't achieve totemic status without her choosing an issue that's absolutely core to her party's national identity. She and Cruz have that in common, in fact. He's making his bones by drawing a line at stopping ObamaCare. She made hers drawing a line at stopping laws that would reduce late-term abortions. Naturally, she's a hero.
No doubt, the fact that Davis's filibuster came over a hot button social issue was part of the reason that her actions received a lot more media attention than Cruz's has so far. However, I think there's a more fundamental reason. For good or all, Davis actually managed to delay action on the legislation she was rising against. Because of her 13 hour speech, the Texas State Senate was unable to take a final vote on the late term abortion bill she was opposing before the Special Session that Governor Perry had called expired at midnight that day. It was, of course, only a temporary victory because Perry quickly called a second session that passed the bill quickly and, indeed, Davis herself didn't even bother to filibuster the bill a second time because she would not have been able to stop the bill or even delay it significantly. By contrast, nothing that Cruz did over the 21 hours, 19 minutes of the time he held the Senate floor didn't delay a thing and, indeed, is something that had been negotiated in advance between Cruz and Reid. In terms of newsworthy-ness, then, Davis's filibuster was arguably far more significant than Cruz's.
Another difference between the Cruz and Davis filibusters is that Davis was far more limited in what she could do to maintain her filibuster than Cruz was. Under the rules of the Texas Senate, a filibuster must be directly related to the bill before the body. If the person holding the floor deviates from the subject, then the party can object and attempt to bring the filibuster to an end. Indeed, several efforts to do just that were made during the course of Davis's filibuster by Republican leadership. Even if it were being treated under the U.S. Senate rules as a filibuster, Cruz's efforts had no such restrictions. Hence, he was able to opine on nearly any topic he wished as long as held the floor. Indeed, during the course of the speech, Cruz read from "Green Eggs And Ham," "Atlas Shrugged," and history books about the drafting of the Declaration Of Independence in addition to reading tweets from various people following the speech on Twitter. He was also able to "Yield for a question" from other Senators, something which at least gives the Senator filibustering a chance to rest there voice, if not their legs. Physical issues notwithstanding, that makes continuing on for 21 hours a lot easier than if one was forced to stick to the topic at hand.
One other point to keep in mind is that there was plenty of other news unfolding yesterday other than Senator Cruz's speech. President Obama gave a speech before the United Nations General Assembly, as did the new President of Iran. And, President Obama and President Clinton appeared together at the Clinton Global Initiatives annual meeting to discuss health care reform. Indeed, Wolf Blitzer and other primary cable news anchors were all in New York yesterday, not Washington.
So, there's a good case to be made that there were significant differences between the Cruz and Davis filibusters that explain some of the differing news coverage. While I have no doubt that the fact that she was speaking out for the pro-choice side of a controversial topic no doubt played a role in the coverage she got from places like MSNBC, it seems clear to me that there are real differences between what Wendy Davis did and what Ted Cruz did to make reflexive cries of "media bias" seem just a little bit hollow.