Men Can't Have it All, Either
I've joined The Atlantic's debate over a thought-provoking cover story by Anne-Marie Slaughter.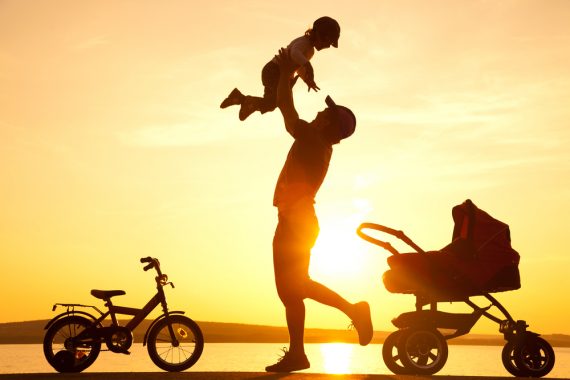 My latest for The Atlantic, "Men Can't Have it All, Either," has been published. It was more timely Thursday, when it was written and submitted, but the editors wanted to package all the response pieces together as part of a debate on the Myth of Work-Life Balance. Over the next couple of days, we'll react to one another's essays.
An excerpt from my piece:
[T]here's no doubt that there are unique pressures on women. Although women are approaching something like equality in the workforce, biology still puts the burden of childbirth on women and gives them a limited window in which to do it. So women are often pressured to make sacrifices at a critical point in their careers, whereas men are not. Relatedly, society holds mothers more accountable than fathers for the well-being of their children. And yet, as Slaughter's story illustrates, superstar women are judged more harshly than their male peers when they choose to put family ahead of career.

That said, men can't have it all, either. At least, not by the standard Slaughter outlines, and which I happen to think is spot on.

[…]

The fact is that life is full of trade-offs. It's not possible to "have it all." It never was. And never will be. For women or for men.

Slaughter calls for changing the workplace culture to eliminate "the need to travel constantly to succeed, the conflicts between school schedules and work schedules, the insistence that work be done in the office." While I join her in wishing for that evolution, I don't see how it's possible.

All things being equal, those willing to put 90 hours a week into their careers are going to get ahead of those willing to put in 60, much less 40. While there is any number of studies showing that working too many hours is actually counterproductive from an efficiency standpoint, there nonetheless is a rare breed of cat who can keep up a frenetic work schedule for years on end. And those workaholics are simply more valuable to the company, agency, or organization than those who clock out at 5. That means that those of us who choose to prioritize our children are going to get out-hustled by those without children, or those willing to let their children spend longer hours with a partner or childcare provider.

[…]

Amusingly, many of the examples Slaughter gives of family-friendly workplace innovations were introduced by men, like Deputy Secretary of State James Steinberg and New Jersey Governor Chris Christie. These men are facing essentially the same sorts of choices that Slaughter continues to insist are unique to women.

I'm less optimistic than Slaughter that we'll ever create a culture that values family time as much as work time — much less one where those who run our government and businesses will do so. But we'll come much closer if we stop looking at this as a "women's problem" and instead see it as a societal problem.
In the lag between my writing and publication, a goodly number of other people have made similar arguments. Among them, Dan Drezner in a piece titled "Why foreign policy professionals can't have it all."
As someone in a more traditional marriage than Slaughter, I'd tweak this just a bit. First of all, unless someone is inheriting a trust fund, there's also really no choice in providing for a family either. Seriously, there isn't. Second of all, a difference between men and women is that when parenting issues come up, it's totally cool for women to anguish about it — in print, no less — while it's happening. For men, it's totally cool to drink Scotch, brood and repress feelings about the costs of careerism for years until it all boils to the surface at some family vacation when the kids are grown up and resentments can be aired. But trust me, men have to cope with this as well.

[…]

[S]ome of Slaughter's recommendations would likely have unanticipated consequences that would exacerbate the very problems she wants to solve. For example, one of the issues that she raises is family leave for raising children. Now, this is an innovation that has been cemented into the academy pretty well — but the effects have been somewhat perverse. That's because after maternity leave, paternity leave got institutionalized. This sounds great, but I know from personal experience that women and men use these leaves differently. Women tend to use it by being moms. Men tend to use it by being more of a dad, but also by using it as a semi-sabbatical to publish more. I should know — that's what I did. So an innovation that was designed to allow redress gender imbalances actually exacerbated them.
That's a great point and one that didn't really occur to me.
Father with stroller image via Shutterstock.