No Whining On Team Hillary
Hillary Clinton doesn't have much sympathy for her former aide's inability to "have it all."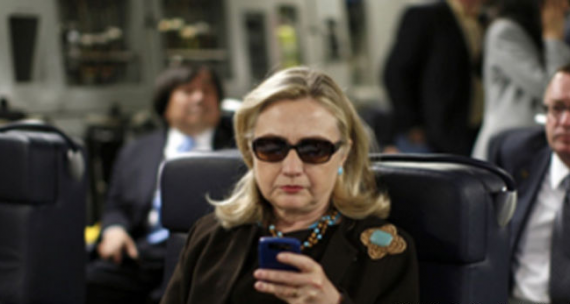 Back in June, Anne-Marie Slaughter, who had served as the Director of Policy Planning at the State Department before taking a position at Princeton University, wrote a piece at The Atlantic entitled "Why Women Still Can't Have it All" that set off quite a discussion in the blogosphere and elsewhere. It led to an entire series of follow-up articles at The Atlantic itself, including two by James Joyner (here and here) and once again ignited the seemingly endless debate over the work-life-family balance and the demands placed on women and men in high-powered and workaday positions who are also struggling to raise children and, well, have a life. Now, Slaughter's former boss at the State Department, Hillary Clinton herself, has chimed in on the debate, and she doesn't seem to be at all sympathetic to Slaughter's arguments:
Secretary of State Hillary Clinton has finally weighed in publicly on Anne-Marie Slaughter's July/August Atlantic cover story, "Why Women Still Can't Have It All," and in the process reminded me of both understandings of Washington life. Slaughter's article detailed how she found "juggling high-level governmental work with the needs of two teenage boys was not possible" and stepped down from her role as Clinton's director of policy planning in order to save her family.
I found this via The Atlantic, but the comments actually appear in a longish Marie Claire article that also includes yet another denial by Clinton that she is at all interested in running for President in 2016 which I'll let everyone evaluate on their own. As far as Slaughter goes, though, it doesn't seem like Clinton has much sympathy for her argument, and that she has a much thicker skin than her former aide:
Defectors from Hillaryland are a rare species, which helps explain the epic dust storm kicked up by "Why Women Still Can't Have It All," last summer's cover story in The Atlantic written by Anne-Marie Slaughter, Clinton's former director of policy planning, in which she explained why she felt obliged to quit Clinton's staff. When I asked Clinton about Slaughter's claim that "juggling high-level governmental work with the needs of two teenage boys was not possible," Clinton's disapproval was palpable. She reminded me that she has spent her career advocating on behalf of women, that she is committed to the idea that "it's important for our workplaces … to be more flexible and creative in enabling women to continue to do high-stress jobs while caring for not only children, but [also] aging parents." But, she said, Slaughter's problems were her own. "Some women are not comfortable working at the pace and intensity you have to work at in these jobs … Other women don't break a sweat. They have four or five, six kids. They're highly organized, they have very supportive networks." By all accounts, this was precisely the kind of mother Clinton was to Chelsea—hands-on, prioritizing her child, and yet ever committed to work.

Clinton has very little patience for those whose privilege offers them a myriad of choices but who fail to take advantage of them. "I can't stand whining," she says. "I can't stand the kind of paralysis that some people fall into because they're not happy with the choices they've made. You live in a time when there are endless choices … Money certainly helps, and having that kind of financial privilege goes a long way, but you don't even have to have money for it. But you have to work on yourself … Do something!"
As The Atlantic's Garance Franke-Ruta notes, it's perhaps not surprising that Clinton has developed such a thick skin on issues like this. This is a person who has been in the public eye incessantly for twenty years now and, from the beginning, she's been criticized and mocked by the political opposition, scrutinized by the press, and pretty much humiliated in front of the entire nation by her husband. Other people likely would've crumbled under such pressure, or simply left public life at the end of the Clinton Presidency and retired to something like a quite life in academia or the private sector. That just goes to show you that intelligence aren't the only keys to success in politics, you've also got to have the kind of personality that lets you take the slings and arrows and, even if they do bother you, not let it show in public. Ronald Reagan had that kind of personality, so does Bill Clinton. Even George W. Bush never really seemed to let the barrage of public criticism he was subjected to during his Administration get to him very much. On the opposite side of the coin, though, you've got politicians like Bob Dole, Newt Gingrich, Alan Grayson, and others who have made exploding in public a regular part of their political career. Politicians like that don't tend to go very far, at least not on the national level.  Of course, it's also possible for someone with this type of personality to become self-destructive. John Edwards had so perfected the ability to create a public persona that didn't match his personal  life that he became what can only be described as an amoral sociopath who didn't care how many lives he wrecked to advance his career. Hillary Clinton is one of those people who has created a tough outer shell. What it's hiding from the world is anyone's guess.
What to make, though, of Clinton's dismissive attitude toward the issues that Slaughter raised in her June article? Some, I think, are going to find it quite surprising given both that Clinton is herself a woman and that she has spent the better part of her public career advocating for women's causes. One gets the impression that she feels as though Slaughter was making excuses for her inability to keep up with the face  paced world of Foggy Bottom life. It also seems possible that Slaughter's departure from the State Department didn't occur under the best of circumstances and that Clinton still holds a grudge in that regard. Personally, I thought that Slaughter's original article was just a little over the top considering the fact that she was getting paid a heck of a lot of money to do a very important job. Did she expect her hours to be 9 to 5? I'm not saying that people should be tied to their careers, indeed I've come to learn that what you do is far less important than what kind of person you are, but she could not possibly have gone into this position with the State Department without at least some awareness of the demands it would take on her time. You make your choices, you pay the price. And perhaps that's what has Hillary Clinton so annoyed at her.