The "Responsibility To Protect" Doctrine After Libya
What does the apparent outcome of the war in Libya mean for the so-called "Responsibility To Protect" doctrine?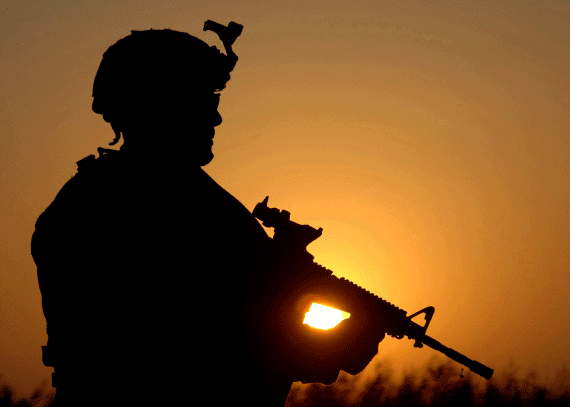 In the wake of what some are hailing, prematurely I would submit, as the success of the UN/NATO intervention in Libya, Anne-Marie Slaughter argues in The Atlantic that the mission was a success for the so-called "Responsibility to Protect" Doctrine, which she says should be expanded to other conflicts around the world. In doing so, she comes up with a definition of sovereignty that is quite unlike anything we've seen before:
If we really do look at the world in terms of governments and societies and the relationship between them, and do recognize that both governments and their citizens have rights as subjects of international law and have agency as actors in international politics, then what exactly is the international community "intervening" in?

(…)

If an international coalition uses force on the authorization of the Security Council, because the Council has determined that a government has overwhelmingly failed in its responsibility to protect its own people, and because the vast majority of those people with access to free means of expression are asking for force to be used, doesn't it make more sense to say that the citizens of many nations, as represented by their governments, are responding to a call for help from the citizens of a nation unable to compel their government to perform its most basic function?
Slaughter goes on to argue that the R2P doctrine is more than just humanitarian interventionism, but something more:
For the first time, international law and the great powers of international politics have recognized both the rights of citizens and a specific relationship between the government and its citizens: a relationship of protection. The nature of sovereignty itself is thus changed: legitimate governments are defined not only by their control of a territory and a population but also by how they exercise that control. If they fail in that obligation, the international community has the responsibility to protect those citizens.
As Joshua Foust points out, though, that intervention is highly selective in its application:
My biggest objection to the new doctrine of interventionism is that it seem to rely so much on whim. I still don't understand why we needed to intervene in Libya, but not Yemen and Syria. I have yet to see a framework that guides action. How do we determine when, to borrow Slaughter's New Sovereignty concept, a government violates its responsibility to its citizens. Defined broadly enough, every government violates some theoretical norm about its own conduct. Did the Clinton Administration rescind its right to govern the country after storming David Karesh's compound in Waco? Did Kim Jong-Il rescind his right to govern after starving millions of his own people to death through economic mismanagement in the 1990s? These are clearly very different situations, but where is the line, and how is it drawn?

It is easy to get caught up in the euphoria of a military victory and to proclaim the steps leading to it as a template for future actions. In 2003, we thought Iraq would usher in a new era of regime change for democracy. It didn't — because while we had a really good idea of how to win the war, we were especially bad at doing anything constructive afterward. Celebrating Libya as a triumph of interventionism and the death of traditional sovereignty before there is even a replacement government in place in Tripoli is the height of hubris and myopia.
Zenpundit, meanwhile, is concerned that adopting an international "Responsibility To Protect" regime would end up creating a host of unintended consequences:
R2P is a two edged sword – the sovereignty of all states diminished universally, in legal principle, to the authority of international rule-making about the domestic use of force is likewise diminished in its ability to legislate its own internal affairs, laws being nothing but sovereign promises of state enforcement. Once the camel's nose is legitimated by being formally accepted as having a place in the tent, the rest of the camel is merely a question of degree.

And time.

As Containment required an NSC-68 to put policy flesh on the bones of doctrine, R2P will require the imposition of policy mechanisms that will change the political community of the United States, moving it away from democratic accountability to the electorate toward "legal", administrative, accountability under international law; a process of harmonizing US policies to an amorphous, transnational, elite consensus, manifested in supranational and international bodies. Or decided privately and quietly, ratifying decisions later as a mere formality in a rubber-stamping process that is opaque to everyone outside of the ruling group.

Who is to say that there is not, somewhere in the intellectual ether, an R2P for the the environment, to protect the life of the unborn, to mandate strict control of small arms, or to enforce "one child" policies, or safeguard the political rights of minorities by strictly regulating speech? Or whatever might be invented to suit the needs of the moment?
That's not to say that there's any real concern of international intervention to bring an end to the death penalty in America, of course, but Foust and Zenpundit are both correct to point out the extreme hazards inherent in a doctrine that leaves it to the amorphous "international community" to determine when it's acceptable to violate a nation's sovereignty and when it isn't. For one thing, it strikes me that there's something inherently undemocratic about the entire idea. Rather than having our foreign policy controlled by an elected, and electorally accountable President and Congress, we would be ceding yet more control to international organizations like the United States and NATO. That's why the most egregious, the most objectionable, thing about Barack Obama's decision to go along with the Libyan intervention isn't so much that we intervened in the internal affairs of yet another nation (although that's certainly an issue), but the fact that the decision to do so was made with almost no public debate, and without any effort by the Obama Administration to seek approval of the people's representatives. At least when George W. Bush bungled us into the Iraq War, he got Congressional approval beforehand.
Foust's point about Syria is well-taken. The violence committed against the Syrian people by their government has been as bad, if not worse, than what Muammar Gadhafi was doing to Libyan civilians before the UNSCR's 1972 and 1973 were adopted. And yet, outside of economic sanctions that are likely to harm the Syrian economy and people more than the government, it's fairly clear that same world powers that were so insistent that something must be done in Libya aren't going to take any military action against Bashar Assad's regime. While the mission against Libya was still young, in fact, Hillary Clinton even tried to distinguish Libya and Syria by noting that the Syrians were not bombing their citizens, as if shooting them dead in the street was an acceptable action.
Zach Beauchamp attempts to answer Foust's question by citing a doctrine that is far older than this newfangled R2P doctrine:
I repeat the answer to this question a lot, but it's important: just. war. constraints. Only a straw man version of R2P-justified interventionism says "we must intervene EVERYWHERE bad things are happening!" We are constrained from intervening in some places because we thinks the moral costs related to intervening would be higher than the benefits. Intervention is justified by reference to R2P, not vice-versa.
This isn't a new theory of international relations, though, it's just a warmed over version of all the old ones clothed with a veneer of morality that is, in the end, entirely hypocritical because it refuses to acknowledge that it's based on the same considerations of power and self-interest as the theories it claims to be replacing. We'll intervene to protect civilians, but only where it's worth or time and in our interest, it says. The problem is that once you tell the world that your foreign policy is going to be based on some moral doctrine, people are going to notice when you fail to act in accord with those moral principles, and their going to judge you accordingly. Rather than seeing an R2P based foreign policy as a good thing, the rest of the world is likely to just see it as the same type of "imperialism" they've denounced in the past.
Beauchamp also argues that his argument, and Slaughter's, isn't dependent on whether or not the mission in Libya was a successful one, or what happens in a post-Gaddafi Libya:
Slaughter's general case for weakening traditional sovereignty rights in favor of an R2P-like conception doesn't rest on the Libyan War's shoulders. In fact, she only mentions Libya twice in her piece. Her argument that "in the 21st century populations are often at equal or greater risk from their own governments as they are from other states" is the core claim here, and that's almost certainly true. There are far more civil wars than state-to-state wars today, and the former have, in recent years, killed many more than the latter

(…)

Josh may turn out to be right that the Libya intervention was a mistake. That depends on the specific circumstances at play in that case. But that's no reason to defend an antiquated, incoherent notion of absolute sovereignty that's more than past its expiration date.
It's understandable that the advocates of R2P don't necessarily want to have Libya held up as an example of their doctrine in action. Leaving aside the obvious contrasts with the situation in Syria and other places in the world, it is by no means clear that post-Gaddafi Libya will be that much better than what preceded it. The rebels themselves are hardly united around anything other than wanting to get rid of Gaddafi and, now that they've done that, the possibility of the nation sliding into civil and tribal warfare is readily apparent. Moreover, the links between the rebels and elements of al Qaeda that originated in both Afghanistan and post-Saddam Iraq are well-known. If bringing down Gaddafi means the creation of a safe haven for al Qaeda inspired terrorism on the doorstep of Europe, then we will all surely come to regret the events of the past five months. Finally, with the rebels themselves now engaging in atrocities, one wonders what has happened to the United Nations mission to protect civilians, which didn't distinguish between attacks by Gaddafi forces or attacks by rebels.
As I noted in the early days of the Libyan intervention, there's a disturbing similarity between the "Responsibility to Protect" doctrine, and the neo-conservative vision that led George W. Bush to launch a senseless war in Iraq:
In both cases, there is an absolute sense of certainty that causes people to ignore the facts on the ground. For the neo-cons, the certainty that we'd be greeted as liberators by the people of Iraq and Afghanistan caused them to discount the necessity for any kind of post-war planning, and to believe that merely introducing "democratic" institutions into nations that had never known democracy would lead to an immediate transformation that took decades, if not centuries, in the West. For the R2P'ers, it's absolutely certainty that merely being guided by the desire to "help" people is sufficient to accomplish their goals, meaning that there's no need to worry about the fact that the rebels you're protecting are allied with a terrorist group, or that the conflict your're intervening in may be more tribal than political. Finally, for both the neo-con and the R2Per there is the overwhelming certainty that they are better judge's of the future of a nation than the people who actually live there.
Finally, there's the danger that the doctrine poses to American domestic institutions. If Libya is any guide, then R2P interventions, of whatever kind, would likely be decided by international bodies of "experts" rather than the democratically elected representatives of the American people. American sailors and soldiers will be sent off into danger without the American people being consulted. That's not what the Constitution contemplates, and if we allow it to happen it will be yet another nail in the coffin of liberty.