Mexico To Trump: No, We Won't Pay For Your Wall
Donald Trump's assertion that he will get Mexico to pay for his border wall is being laughed at in Mexico City.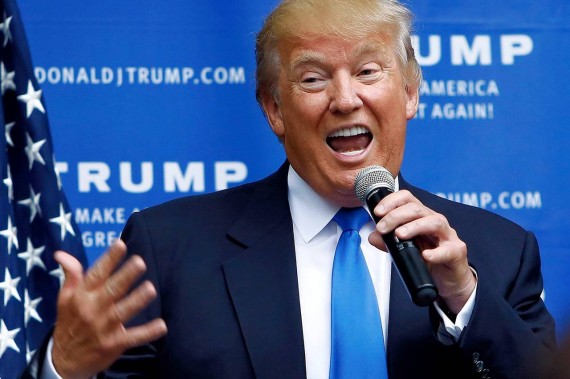 One of the standard lines of Donald Trump's stump speech, or perhaps it should be called a "stump stream-of-consciousness" since the man never seems to have prepared remarks of any kind, is the idea that he is going to build a wall at the Mexican border. Notwithstanding the logistical and legal problems that such an idea would represent — including the fact that parts of the border quite literally divide towns and cities in Texas and Mexico and that many parts of the area where such a wall would be built are private property — Trump's idea of getting Mexico to foot the bill isn't going over very well in Mexico City:
 Mexican President Enrique Pena Nieto's administration said there's no truth to U.S. presidential candidate Donald Trump's assertion that the nation would pay for a wall along the border between the countries.

"Of course it's false," Eduardo Sanchez, Pena Nieto spokesman, said in a telephone interview with Bloomberg. "It reflects an enormous ignorance for what Mexico represents, and also the irresponsibility of the candidate who's saying it."

Sanchez said the government hasn't taken Trump's statements on the campaign trail as serious proposals. The majority of Mexicans in the U.S. follow the nation's laws, and immigrants make up an important part of the American workforce, Sanchez said. Trump has said Mexico is sending rapists and criminals to the U.S.

(…)

Throughout the course of his presidential campaign, Trump has assured voters that his plan for a wall would be subsidized by the Mexican government.

"I watch politicians come on: 'can you imagine, Sean, he's saying Mexico's going to pay? They'll never pay.' And I'm saying, that's like a hundred percent," Trump told Hannity. "That's not like 98 percent. Sean, it's a hundred percent they're [going to] pay. And if they don't pay, we'll charge 'em a little tariff. It'll be paid. But we need the wall."

Sanzhez disputed that his government would fund such a project as well as the need for it.

"Mexicans in the U.S. work with passion, they do their jobs well," Sanchez said. "His comments reflect an enormous lack of knowledge of the reality in the U.S."
Sanchez's remarks are spot on, of course, because Trump also seems to have an enormous lack of knowledge of reality in the world in general or the United States in particular, which is why he's able to make ridiculous assertions such as the one he makes about a border wall paid for by Mexico. Some of Trump's supporters have asserted that he could achieve this goal through tariff on Mexican imports and other means of taxing transactions that originate in Mexico. In reality, of course, such a measure would be a violation of the North American Free Trade Agreement and would poison America's relationships not only with Mexico, but also with Canada and many of our other trading partners with whom we have agreements similar to NAFTA. None of this matters to Trump's supporters, of course, because they aren't supporting him because they believe he can actually accomplish what he says he will do, but because of what he says. At the same time, though, it would be nice if some of Trump's opponents, who seem afraid to really challenge him, or the media, which is mostly just obsessed with the circus atmosphere of his campaign, would hold his feet to the fire on some of these ridiculous claims he makes.
These comments by the Mexican government also raise the interesting question of how the international community is perceiving this latest development in American politics known as the Trump campaign. The British tabloids, of course, are having their usual fun, but there doesn't seem to have been much commentary from more serious sources overseas, and very little indication of what the man or woman on the street might thing about Trump, his nonsense, and the fact that he is presently the front runner for the Republican nomination for President. More importantly, one wonders what the Russians, the Chinese, and the Iranians think of this man. In the end, I suppose it doesn't matter because, as I said, the odds that Donald Trump will be elected President are about the same as there being a parade of unicorns down Pennsylvania Avenue at Noon tomorrow. At the same time, though, it strikes me that this is yet another one of those times when we aren't presenting our best face to the world.