Michele Bachmann: Feds Could Mandate A One-Child Policy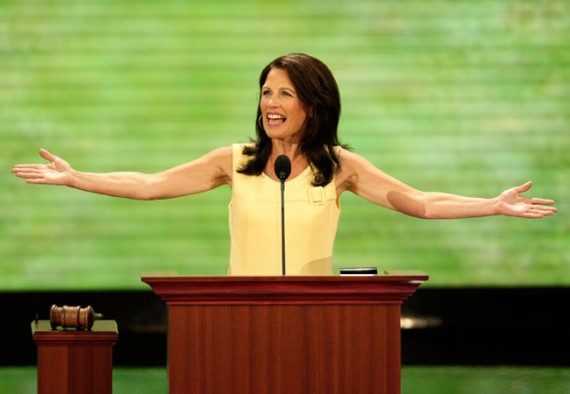 She may not be running for President anymore, but Michele Bachmann is back running for Congress, and she's back pouring on the craziness:
During Tuesday night election coverage on the GBTV program "Real News From The Blaze," Rep. Michele Bachmann expressed her growing concerns over the implications of the recent debate involving the mandating of contraceptive coverage.

The Blaze political analyst Will Cain asked Bachmann if the Republicans had "bungled" the issue which is now, he argued, perceived by much of the public as a "war on women."

Bachmann responded that she felt it would be a mistake for conservatives to get caught in "trap" defined by the left. Her greater concern — the overall cost of health care for women and how much they might lose under the Obama administration.

Bachmann then described what she sees as a plausible and disturbing scenario. She began with her summary of the position expressed by the HHS Secretary Kathleen Sebelius — that the government should cover contraceptives because it is less expensive than pregnancy to the federal government.

"Going with that logic," Bachmann says, "It isn't far fetched to think the President of the United States could say…we need to save health care expenses…the federal government will only pay for one baby to be born in the hospital per family. Or two babies to be born per family. That could happen."
This, ladies and gentlemen, is a woman who was once the frontrunner for the Republican nomination. The woman who won the Ames Straw poll. The head of the Tea Party Caucus in the House of Representatives. And, she's either just making up stuff that is completely insane to appeal to the base, or she's nuts herself.
And, if you're really up for it, check out the comment section at the link above.
H/T Ed Kilgore