Mitt Romney Touts Anti-Poverty Platform
Mitt Romney certainly seems to be running for president again. And he's now on at least his third reinvention.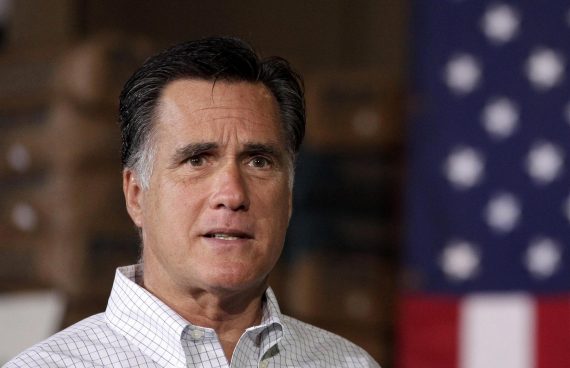 Mitt Romney certainly seems to be running for president again. And he's now on at  least his third reinvention.
WaPo ("Romney, moving toward 2016 run, outlines vision to eradicate poverty"):
Mitt Romney laid down a marker for a prospective presidential campaign in 2016, telling a Republican audience here [in San Diego] Friday night that the party can win the White House with a conservative message that stresses security and safety for the American people, opportunity for all regardless of background and a plan to lift people out of poverty.

In his first public appearance since his surprise announcement that he will seriously consider a third campaign for the White House, Romney offered an economic message that represented a dramatic departure from the themes he sounded in losing the 2012 campaign to President Obama.

"Under President Obama, the rich have gotten richer, income inequality has gotten worse and there are more people in poverty than ever before," Romney said. "Under this president, his policies have not worked. Their liberal policies are good every four years for a campaign, but they don't get the job done."

In his last campaign, Romney was hampered by an image, pushed by the Democrats, that he was a wealthy business executive who was out of touch with ordinary Americans. On Friday, he seemed determined to send a signal that he would try to deal with that problem from the start, should he run.

"It's a tragedy — a human tragedy – that the middle class in this country by and large doesn't believe the future won't be better than the past or their kids will have a brighter future of their own," Romney said. He added, "People want to see rising wages and they deserve them."

As with others in his party, he raised the issue of social mobility and the difficulty of those at the bottom from rising into the middle class. He cited former president Lyndon B. Johnson's War on Poverty half a century ago. Johnson's intentions were good, he said, but his policies had not worked. He argued that Republicans must persuade voters that conservative policies can "end the scourge of poverty" in America.

Beyond a focus aimed more at struggling middle-class families and those in poverty, Romney's brief remarks Friday included comments about the work he had done as a lay pastor in the Mormon Church, a topic he rarely spoke about in his past campaigns. He invoked his wife Ann, who stood on the stage with him.

"She knows my heart in a way that few people do," he said. "She's seen me not just as a business guy and a political guy, but for over 10 years as you know I served as a pastor for a congregation and for groups of congregations… She's seen me work with folks that are looking for better work and jobs and providing care for the sick and the elderly. She knows where my heart is."
I recall being at CPAC when Romney was first running for the 2008 nomination and he was being dogged by someone in a Flipper costume. The knock against Romney was that he was positioning himself as a conservative despite a relatively moderate record in Massachusetts. Yet, by the time he was getting ready to concede the nomination to John McCain in early 2008, most of my more conservative counterparts on bloggers' row were disappointed, seeing Romney as the most conservative candidate in the race. I never understood that and reflexively disliked Romney, not because he was too liberal or even because he was emphasizing different messages in a national run as he had in a liberal state but because he seemed so phony.
In the 2012 campaign, I supported Jon Huntsman but quickly realized that he had zero chance of securing the nomination. Romney became the default choice, in that he was so much better than the other plausible nominees and had a solid record as governor to fall back on. He still came across as wholly unnatural on the stump, though, because he was running on a script rather than as himself.
This latest reinvention interests me in that it strikes me as authentic. That is, I think he's going to try to run as Mitt Romney. For a variety of reasons, I think it's too late. Whether this version of Romney could have beaten Barack Obama in 2012 is an interesting question. He'd have had a better shot than the 2012 version of Romney of connecting with the zeitgeist, but I ultimately think Obama was unbeatable.
Regardless, the Republican Party needs to take the issue of income inequality—and especially the stagnant middle class—seriously if it's going to win back the White House. But Romney is almost certainly the wrong vehicle for that. Not only does he have to overcome his own past—the "43%" business makes him an implausible populist—but it's not clear that he has anything resembling a plan for addressing the issue. He wants rising incomes—thinks people deserve them—but thinks the old liberal ideas have failed. Fine. But he doesn't seem to be proposing any new, conservative policies in their place. It's not a very interesting conversation until he—or someone else—does.