Mitt Romney's Frontrunner Status In Danger If Rick Perry Enters The Race
If Mitt Romney looked in the rear view mirror he might just see Rick Perry gaining on him.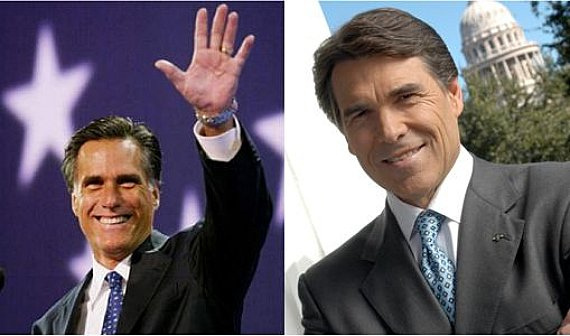 A new Gallup poll finds that Mitt Romney still has a comfortable lead among declared candidates for the GOP nomination, but that lead will be in danger if certain other candidates enter the race:
Mitt Romney is the leader for the GOP nomination among the current field of official candidates, supported by 27% of Republicans, compared with 18% for Michele Bachmann. However, Rick Perry would essentially tie Romney, with Sarah Palin and Rudy Giuliani close behind, in a scenario in which all three of these undecided candidates entered the race.

The results are based on a July 20-24 Gallup poll. Eight of the 11 Republicans included in the poll have announced their official candidacies. Giuliani, Palin, and Perry are not official candidates but are still actively considering becoming candidates even though the first nominating contests are less than seven months away. Any of the three would start from a relatively strong national position, with all registering at least double-digit support in the poll.

Gallup asked respondents to choose among all 11 current and potential candidates, and then asked for their second and third choices. The second and third choices are used to simulate preferences when certain combinations of unannounced candidates are excluded from the race. Three such scenarios include the eight announced candidates plus one of the unannounced candidates. Palin, Perry, and Giuliani finish in no worse than a statistical tie for second place when each is pitted against the eight firm candidates.
Of these three candidates, it strikes me that Rick Perry is the only one who's really likely to enter the race. Rudy Giuliani has been floating the idea of running for President again in 2012, and he's polled well when his name is thrown into the mix, but I honestly don't see him getting in. For one thing, it seems unlikely to me that big donors are going to back him the way they did 2008, largely because of his historic flame-out after the Florida primary. By that point Giuliani had raised, and mostly spent, some $50 million and won a single Republican delegate. Second,  Giuliani is, if anything, even more out of step with the GOP base in 2011 than he was in 2008 and I doubt they're going to rally behind him. As for Palin, it seems fairly obvious right now that she's not running. There have been no moves to beef  up staff, no vendors hired, no fund raisers. Nothing. Perry, on the other hand, is courting donors and supports, building up a staff, and laying the groundwork for a campaign organization in states like Iowa. If he does decide to go forward, and I think he will, he's ready to go, Palin is not.
Moreover, as this chart shows, it's Perry that is coming closest to Romney in the Gallup poll: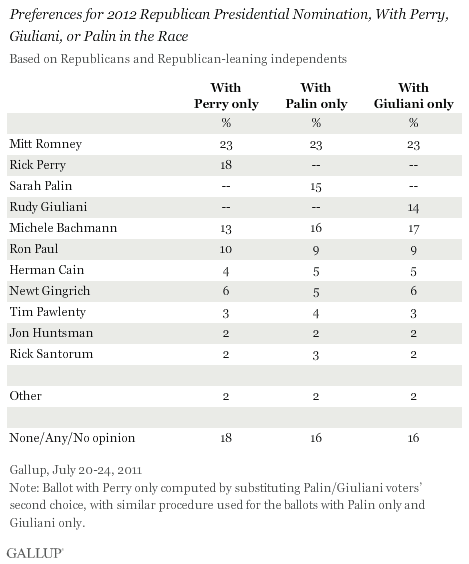 Romney has been engaging in an interesting approach to the race so far. He hasn't spent nearly as much time in Iowa as candidates like Bachmann and Pawlenty. Instead, he's campaigning as if he's the presumptive nominee and visiting states like Ohio, where he's picking up endorsements today, which is an important state in the General Election, but not all that important in the primaries. Yesterday, he was speculating openly about who he might pick as Vice-President. And, perhaps most significantly, he's been coasting under the media radar and letting candidates like Bachmann, known for making controversial statements, get all the press coverage.
What this poll suggests is that Romney will no longer have that luxury if Perry gets in the race, and that this race may quickly come down to a Romney-Perry matchup with the rest of the field trailing and, in some case, fading.  Those worst off would be candidates like Tim Pawlenty, Herman Cain, and, in some respects, Michele Bachmann, all of whom seem to lose support when Perry's name is added into the mix.
All of this could change, of course. The love fest for Rick Perry could fade once he actually enters the race and starts campaigning and appearing at debates, although given the largely positive support that he typically gets at conservative forums like CPAC that seems unlikely. F0r Mitt Romney, though, the entry of Rick Perry into the race could pose a serious problem if he ends up becoming the anti-Romeny candidate. Right now, arguably, that candidate is Michele Bachmann, and that works to Romney's advantage because of the concerns she quite rightly raises with more mainstream Republican. Rick Perry is no Michele Bachmann and, with ten years as Governor of Texas under his belt, he's likely to give Romney a run for his money.