More Americans Identify As "Pro-Choice," But That's Only Half The Story
In a new poll, a majority of Americans identify as "pro-choice," but a deeper look at the numbers reveals that abortion politics remains as complicated as ever.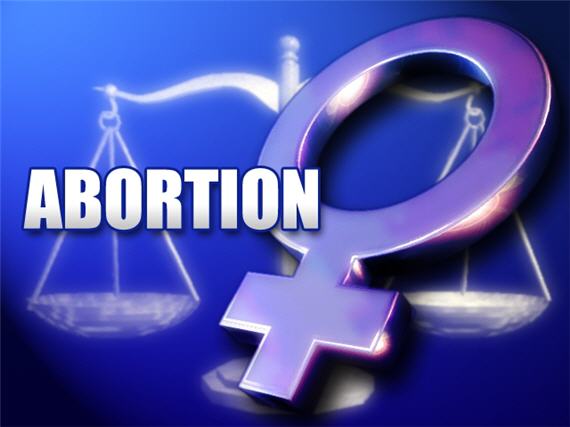 A new Gallup poll shows that a majority of Americans identify themselves as being "pro-choice" on the issue of abortion for the first time in seven years, but it seems unlikely to have any real impact on politics:
For the first time in seven years, Americans who are "pro-choice" hold a statistically significant lead over Americans who are "pro-life."

According to a new Gallup poll, 50 percent of Americans now call themselves pro-choice, including 54 percent of women and 46 percent of men. Only 44 percent of respondents labeled themselves pro-life, the lowest response in more than five years.

The last time pro-choice respondents held this large of a lead was 2008. In 2006, at one point, Gallup found pro-choice leading pro-life by an even larger ten percentage points, but at one point in 2012, Gallup found that pro-life respondents outweighed pro-choice respondents by 9 percentage points.

This lead evaporated entirely within six months and the difference between the sides returned to being within the margin of error. For the past five years or so, the two sides have been locked in more or less a statistical dead heat.

Now, forty-two percent of respondents said that abortions should be legal in either "most circumstances" or "under any circumstances," while only 19 percent said that abortions should be illegal "in all circumstances." A plurality, 36 percent, said the procedure should be legal "in only a few circumstances."
It would likely be a mistake to draw any large conclusions from these numbers, because the politics of abortion have always been complicated in the United States. For example, as this chart shows, public opinion on the issue has varied widely in just the past twenty years:
Furthermore, as the article above hints, once you look at the details of where the public stands beyond the broad and somewhat meaningless "pro-choice" and "pro-life" labels, it becomes clear that public opinion on this issue is far more muddled than these numbers suggest. Most broadly, a majority of Americans support a position that says abortion should be legal at least in some circumstances and the number of people who believe it should be illegal under all circumstances amounts to less than 20% of the population. Inside that majority, though, there is much disagreement. Some 29% of people say that they believe that it should be legal in all circumstances, while 13% believe it should be legal in "most" circumstances and 36% believe it should only be legal in a "few" circumstances. What constitutes "most" and a "few," of course, is something that likely varies depending on which poll respondents you're talking to. What these numbers mean at the very least, though, is that the American public is still largely divided on the abortion issue, as divided as it has been virtually from the time that the Supreme Court handed down its decision in Roe v. Wade. That's not likely to change any time soon.
Another reason to take this new Gallup poll with a grain of salt is because of the fact that additional parts of the poll show that abortion is not an issue that is likely to change elections and because, generally speaking, it is one that is more important to people who identify as "pro-life" than it is to people who identify as "pro-choice. As part of the same poll, Gallup asked respondents what importance they would place on a candidate's stance on abortion issue when deciding who to vote for in an election. While the numbers did show a slight up-tick in the number of people who considered it an important issue, it also showed that it was far from being a priority for the largest number of voters. Of the people surveyed, for example, only 21% said that the candidate must share their views on the issue, while 27% said that it was not a major issue in deciding who to vote for. The largest number of respondents, some 46%, said that abortion was merely one of a number of issues that they would consider in deciding who to vote for. Additionally, as this chart shows, the number of people who would say they would not support a candidate who didn't share their views on abortion is higher among people identifying as "pro-life" than among people identifying as "pro-choice":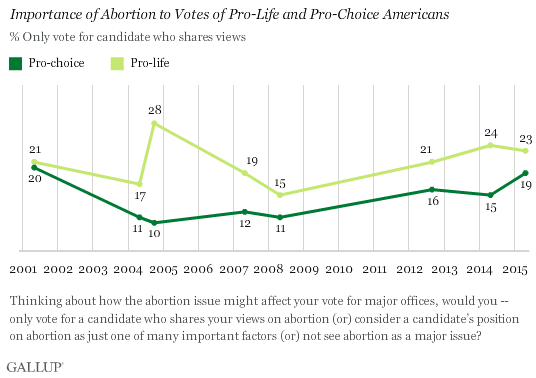 In some sense then, abortion is arguably similar to the debate over gun rights and control in the way that it has an impact on the political process. As I've noted before, see here and here, while polling has shown that the American public supports at least some gun control measures that have been proposed, it also shows that this is a low intensity issue for most voters and that the voters who are most strongly motivated to vote for or against a candidate on gun issues are the people who support gun rights. In this case, we see something similar in that while most Americans support abortion rights in at least some cases, the people who are most strongly motivated to political action on the issue are the people who want to ban it in all circumstances. Until that changes, the politics of abortion in the United States will remain the same muddled mess they are today.