Another Poll Shows Majority Opposes Overruling Roe v. Wade
A fourth poll in less than a month shows that most Americans support keeping the rights protected in Roe v. Wade alive.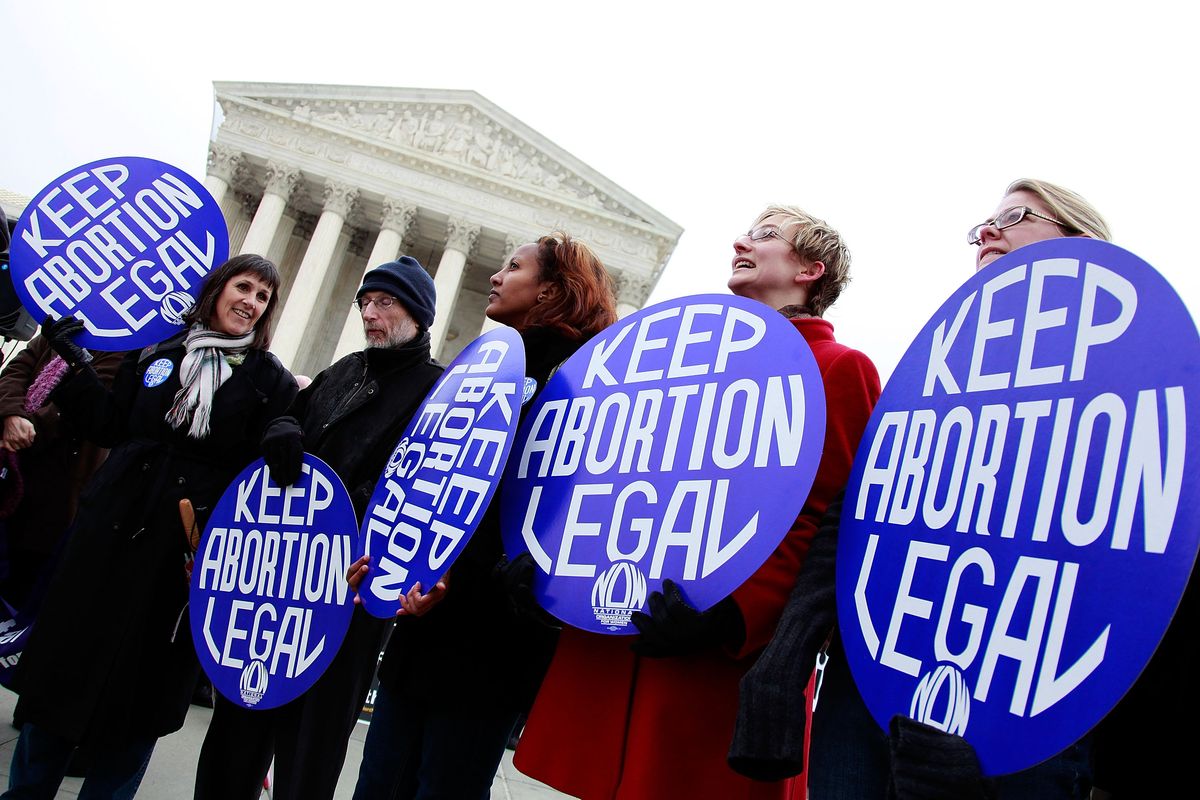 As the Senate moves closer toward hearings and a vote on the nomination of Brett Kavanaugh to sit on the Supreme Court, another new poll finds support for abortion rights, and specifically for the Supreme Court's decision in Roe v. Wade, is at an all-time high:
As President Trump awaits a hearing for his Supreme Court pick, support for the 1973 landmark ruling in Roe v. Wade has hit an all-time high among Americans, according to a new poll released Monday.

The NBC News and the Wall Street Journal poll found that that 71 percent of American voters believe that the ruling in Roe v. Wade, the Supreme Court decision that federally legalized abortion, should not be overturned. Only 23 percent of those surveyed said the ruling should be reversed.

According to NBC News, that is the highest level of support among American voters for the decision in the history of the poll dating back to 2005.

(…)

Of those respondents who identified as Democrats, 88 percent said they support the ruling. Seventy-six percent of those that identified as independents said Roe v. Wade shouldn't be overturned and 52 percent of Republicans also said the same.

The poll also found that 39 percent of Republicans said they do not support Roe v. Wade.

A majority of those polled were also found to be more likely to vote for a pro-abortion-rights rather than a political candidate who backs restrictions on abortions.

Forty-four percent of voters polled said they would be more likely to vote for a political candidate who supports abortion rights, while 26 percent of American voters said they would be more likely to vote for a political candidate who supports abortion restrictions.

Twenty-nine percent of voters said that a political candidate's stance on abortion rights would have no effect on their vote.
This is the fourth poll to come out since Justice Anthony Kennedy announced his retirement nearly a month ago that has found strong public support for the Supreme Court's precedent in Roe v. Wade. A poll from the Kaiser Family Foundation, for example, found that 67% of Americans opposed overturning Roe while only 29% supported overturning it. Similarly, a Quinnipiac University poll found that 63% of those surveyed opposed overturning the decision while only 31% supporting overturning it. Finally, and most recently prior to this poll, a Gallup poll found that 64% of those surveyed said that they opposed overturning the decision, while just 28% said they supported overturning it.
These poll results are interesting largely because they differ significantly from polling on more general questions about abortion itself show public opinion to be far more closely divided. The most recent Gallup poll on the subject, which was taken prior to the announcement of Justice Kennedy's retirement, showed the American public essentially evenly divided on the central issue of the debate of the abortion. In that poll, 48% of respondents identified themselves as "pro-life" and 48% identified as "pro-choice," a result that is largely consistent with previous Gallup polls on the issue that go back to the beginning of the 21st Century. That same Gallup poll found that roughly half of all Americans should be legal under at least some circumstances, while 29% said it should be legal in all circumstances. Just 18%, meanwhile, said in response to the poll that abortion should be illegal under all circumstances. Based on these numbers, 80% of Americans believe that abortion should be legal in "some or all" circumstances. In that regard, of course,  it's worth noting that Roe and its progeny do not establish an unrestricted right to abortion, and instead recognize that there is a point during a pregnancy when the state could arguably have an interest in protecting an unborn child, particularly after the pregnancy has passed the point where a fetus would be viable outside of the womb.
Citing these and other polls, The Washington Post's Jennifer Rubin argues that part of the reason that support for abortion rights is increasing is due to none other than Donald Trump and suggests that numbers such as this could give political cover to red state Democrats and Republicans like Susan Collins to take a stand against Brett Kavanaugh's nomination:
As with the Affordable Care Act, which gained majority support only when President Trump threatened to take it away, Trump's nomination of a second Supreme Court justice off the list of approved right-wing judges has driven support for abortion rights to new heights. The latest NBC-Wall Street Journal poll finds that "71 percent of American voters believe that the decision, which established a woman's legal right to an abortion, should not be overturned. Just 23 percent say the ruling should be reversed." This is unprecedented. "That's the highest level of support for the decision — and the lowest share of voters who want Roe v. Wade overturned — in the poll's history dating back to 2005. In 1989, according to Gallup's survey, 58 percent said they believed it should stay in place while 31 percent disagreed."

How does Trump manage to drum up support for progressive policies? We may not appreciate what we have (be it a right, a service or a product), but faced with losing it entirely, we recoil. The fear of loss can trigger newfound appreciation for the status quo.

(…)

As a practical matter, vocal support for Roe and public trepidation about Kavanaugh may make it easier for red-state Democrats to oppose the nomination. It will intensify pressure on pro-choice Republican Sens. Susan Collins of Maine and Lisa Murkowski of Alaska. In November and beyond, Kavanaugh's nomination certainly could help Democrats rally members of their base, especially married women who of late have fled the GOP, expressed deep concerns about Trump's presidency and turned out in strong numbers in special elections, primaries and state elections in 2017 and 2018.

It's not just Democrats who understand that the prospect of reversing Roe is a political loser. Conservatives who have long promised to reverse Roe and allow states to ban virtually all abortions now insist that Roe wouldn't really be tossed aside, maybe just "trimmed around the edges." That disingenuous gambit has not fooled many voters; they understand fully the difference between a 5-4 majority for abortion protection and a 5-4 majority composed of justices selected precisely because they believe Roe lacks constitutional merit.
While I understand the political argument that Rubin is making here, I tend to doubt that these poll numbers are going to have as big an impact on Kavanaugh's nomination as she seems to believe. In the case of red-state Democrats like Joe Manchin, Heidi, Heitkamp, and Joe Donnelly, the fact that the confirmation vote is likely to take place within less than two months before Election Day is going to make it difficult if not impossible for them to change their vote on Kavanaugh from the one that they took on Justice Neil Gorsuch. Notwithstanding the fact that confirming Kavanaugh would likely mean a vote that will serve to weaken the precedent established in both Roe v. Wade and Planned Parenthood v. Casey, the fact that the voters in their respective states are likely to be pressuring them to support Kavanaugh seems likely to overwhelm them and cause them to end up supporting Judge Kavanaugh. The same seems true for Republicans such as Collins and Murkowski who, notwithstanding the fact that they are generally more supportive of abortion rights than other Republicans, have voted in the past for Judges and Justices known to be hostile to the Roe and Casey precedents. While all of this could change depending on how the hearings before the Judiciary Committee go, as things stand now I still continue to expect that they'll go along with their fellow Republicans in supporting Kavanaugh's confirmation.
All that being said, these poll numbers do have some interesting implications for the politics of abortion rights that go beyond the issue of whether Roe v. Wade and its progeny will survive. Rubin is correct to note that support for Roe and its progeny and abortion rights, in particular, seems to have increased markedly now that it seems as if the precedent in Roe could be at risk. What this suggests, obviously, is that if the Supreme Court were to overturn the decision in Roe, or significantly limit it so that abortion rights are threatened nationwide, then it will likely set off a political battle that Republicans may end up regretting setting off. That doesn't mean that there isn't a reason to be concerned, of course. At least in heavily Republican states such an outcome would likely mean more restrictions on abortion rights that would make it harder for women to have abortions. On a larger scale, though, a loss at the Supreme Court could end up providing the abortion rights movement with the political momentum it has been lacking in recent years, meaning that this could all end up biting Republicans where it hurts in the long run.