More Bad News For Print Media
The news gets worse.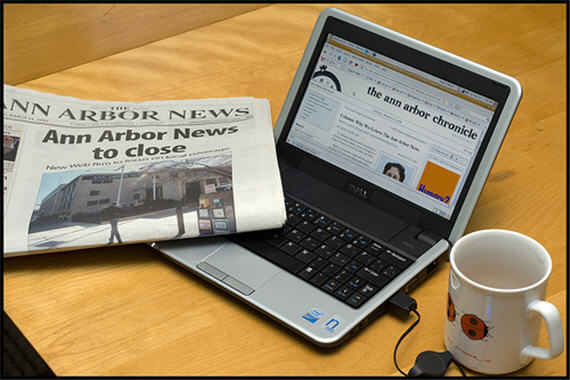 I've written several times here about the state of print media industry. From declining advertising revenues and subscription rates to the fact that Internet paywalls are not making up for the revenue that the industry has lost with the decline of print, it's been a swift, sad, and in the case of the many newspaper employees who have been laid off or forced to take early retirement, it's not pretty. Now,   Business Insider's Henry Blodget explains why things are only going to get worse for print media:
The shift to digital that has demolished some print publications is very much generational. And, from a generational perspective, this shift is only just beginning.

Media consumers in their 40s, 50s, 60s, and 70s grew up reading newspapers and magazines. Old habits die hard. Many of these consumers will never be as comfortable with digital as they are with paper, and they will keep reading newspapers and magazines until the day they die.

But media consumers in the 0s, 10s, 20s, and 30s have no such print habits or allegiances. To them, the idea of printing information on a dead tree and then trucking it to houses and newsstands seems ludicrous, old-fashioned, inconvenient, and wasteful. To these folks, paper-based publications are a pain to carry and search, easy to misplace, and hard to share, and the information in them is outdated the moment it appears. For those who weren't raised on paper, digital is superior in almost every way.

This "digital generation," moreover, isn't just kids anymore. Slowly but surely, digital consumers are taking over the coveted media demographics. And in another 10 to 20 years, the only media consumers who still prefer print will be retired folks who have long since passed the torch of influence and spending-power to the digital generation.

(…)

In 10-20 years, these 16-34 year old consumers will make up the sweet spot of the consumer market. If this group were ever going to develop a love of print, we would likely have seen it by now. More likely, this generation of consumers will never care about newspapers and magazines the way they care about smartphones and computers.

As the generation of consumers who do care about print, meanwhile — the increasingly old people (like me) who grew up on print — continues to age, the pressure on traditional print publications will continue to increase.
None of this is entirely new, of course. The decline of print media has been well cataloged for the better part of a decade now.  Nonetheless, Blodget brings home some very stark facts about the next generation of consumers that will drive the media market. For the most part, they have little or no allegiance to print media and they're long past they age at which such an allegiance is likely to develop. The people who read newspapers and magazines are old, and they're dying off. More importantly, they are quickly becoming part of a demographic group that advertisers aren't nearly as interested in as they are people from roughly their late 20s through their mid 50s. Because of that, advertising revenues are likely to decline even further than they already have as advertisers refuse to pay for ad space that isn't producing the kind of return they need or want. That, in turn, will accelerate the financial problems that newspapers and magazines at all levels of the market are already having. More institutions will close, or go online completely, and the era of the print newspaper will mostly come to an end.
There has been, and likely will continue to be, much lamenting about the business problems that the print media has had and the passing of many once great newspapers and magazines. However, the end of print media won't mean the end of journalism, just its transformation into something different as it adapts to the online world. This is how economic progress and capitalism work. Nobody laments the candlemakers who saw their trade suffer with the invention of the electric light bulb, or the carriage drivers who lost jobs when the automobile was invented. It was a new era, and it was time for things to change. Personally, I haven't read a print newspaper in more than seven years, and I'm happy not to worry about getting newsprint on my fingers just to find out what's going on in the world.