More Census 2020 Takeaways
The trends over the last half century are really something.
Yesterday afternoon, I noted that the preliminary Census results were good news for Republicans, because of a continued shift from the Rust Belt to the Sun Belt. With more time to evaluate the results, some other interesting tidbits have emerged.
WaPo's Aaron Blake notes that there were some mild surprises:
*Minnesota avoided losing a seat very narrowly — to the point that New York would have taken the seat if it had just 89 more people. (Respond to the census, people!)

*Texas gains only two seats, rather than three.

*Florida gains only one seat, rather than two.

*Rhode Island will not lose one of its two House seats, after all.

*Arizona doesn't gain a seat, after all.
That a difference of 89 people is the difference in one US Representative, when they represent an average of 761,952 people (331,449,281/435) is just astounding. (Not mentioned by Blake but noted by Kyle Kondik and others is that my erstwhile home state of Alabama, which had been expected to lose a seat, held steady at 7.)
The steady movement to the Sun Belt has been astounding:
*New York has steadily declined from 45 districts in the 1940s to 26 today. On the plus side, it's the first reapportionment since then that it hasn't lost multiple seats.

*On the other end of the spectrum, Florida has gained seats in every reapportionment over the same span, growing from eight in the 1950s to 28 today. It now takes sole possession of the third-biggest electoral vote prize and House delegation — behind California and Texas — after previously sharing those with New York.

*No, it didn't gain three seats as it might have hoped, but Texas continues to be the winner among winners, growing from just 26 electoral votes as recently as 1980 to 40 today. That also comes with the asterisk that Democrats have made the state increasingly competitive, but they didn't come nearly as close to winning it as they had hoped in 2020, still losing it by more than five points in the presidential election.

*California, which has confronted unusually sluggish population growth, lost a district for the first time ever.
Kondik supplies this graphic to bring the point home: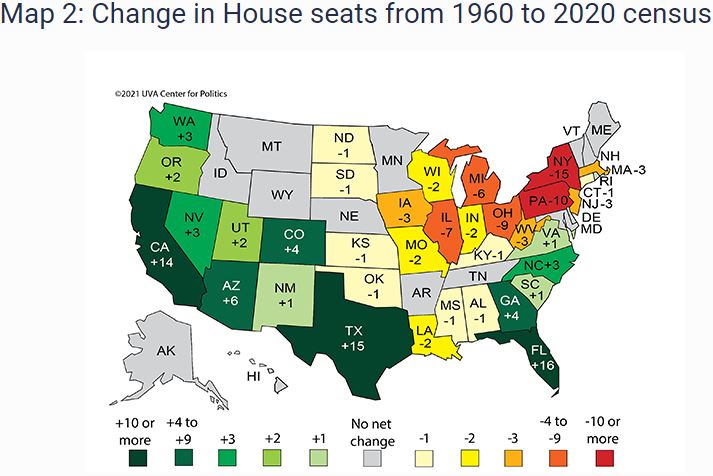 And, just to illustrate the growing absurdity of the Electoral College that Steven Taylor and I have been going on about for years, Blake notes:
[I]f you overlay the 2000 presidential results — three reapportionments ago — on the current electoral vote totals, George W. Bush's narrow [2000 election] win with 271 electoral votes becomes a much more decisive win with 290.
This, you may recall, was one in which Bush's opponent, Al Gore, received 543,895 more votes.