More Maker/Taker Musings
The NYT has an interesting piece on the ongoing limted v. big governemnt debate.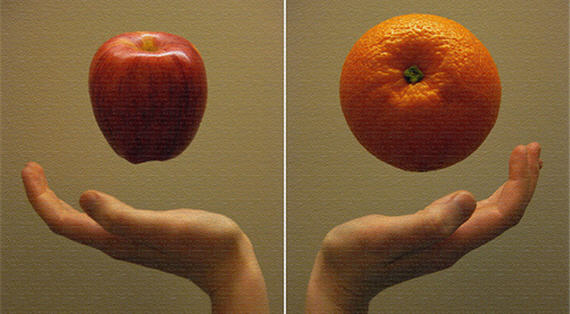 The NYT has an interesting piece that underscores a key theme within our politics:  Even Critics of Safety Net Increasingly Depend on It.  The basic thesis (and it is not a new revelation):  a lot of people who decry the size of government and call for more "limited" government are, themselves, recipients of government programs.  There exists some serious political cognitive dissonance in the populace which underscores part of what I was talking about last week:  it is a lot harder to delineate between makers and takers than many ideologues would have us think (or, if ones prefers different language:  to identify a clear universe of Peters being robbed to pay the Pauls or what precisely makes up a "moocher" in our system).*
An illustration from the piece:
Ki Gulbranson owns a logo apparel shop, deals in jewelry on the side and referees youth soccer games. He makes about $39,000 a year and wants you to know that he does not need any help from the federal government.

[…]

He says that too many Americans lean on taxpayers rather than living within their means. He supports politicians who promise to cut government spending. In 2010, he printed T-shirts for the Tea Party campaign of a neighbor, Chip Cravaack, who ousted this region's long-serving Democratic congressman.

Yet this year, as in each of the past three years, Mr. Gulbranson, 57, is counting on a payment of several thousand dollars from the federal government, a subsidy for working families called the earned-income tax credit. He has signed up his three school-age children to eat free breakfast and lunch at federal expense. And Medicare paid for his mother, 88, to have hip surgery twice.
Now, on the one hand, the programs (EITC, free meals at school, etc.) exist and one can argue that one has the right to take what one can get regardless of philosophical objections.  One the other hand, however, there is a something deeply problematic about what appears to be (both in this specific case, as well as within the general politics of this topic) a serious contradiction in position v. alleged political preferences (or, perhaps even more likely, a profound misunderstanding of these policies in the first place).
Back to the specifics of this example:  Gulbranson is a small businessman, the very definition of entrepreneurial America and hence a "maker" and yet he also is taking free meals for his kids at school, amongst other things, which makes him a proverbial "taker," yes?  (So much for easy dichotomies in the real world).
In fairness, Gulbranson did say the following in the interview:
Their difficulties, Mr. Gulbranson said, have made it hard to imagine asking anyone to pay higher taxes.

"I don't think most people could bear to pay more," he said.

Instead, he said he would rather give up the earned-income credit the family now receives and start paying for school lunches for his children.

"I don't demand that the government does this for me," he said. "I don't feel like I need the government."

How about Social Security? And Medicare? Can he imagine retiring without government help?

"I don't think so," he said. "No. I don't know. Not the way we expect to live as Americans."
But, of course, even if we eliminate school meals and the EITC, the major social spending by the federal government is Social Security and Medicare.   Any discussion about the size of government has to address this fact.  Further, these are programs that only work with some substantial amount of redistribution.  To wit:
A woman who was 45 in 2010, earning $43,500 a year, will pay taxes that will reach a value of $87,000 by the time she retires, assuming the money is invested at an annual interest rate 2 percentage points above inflation, according to the Urban Institute analysis. But on average, the government will then spend $275,000 on her medical care. The average is somewhat lower for men, because women live longer.

Medicare is often described as an insurance program, but its premiums are not nearly high enough. In simple terms, Americans are getting more than they pay for.
So, again:  if the Tea Party is serious about less government and even lower taxes, then this issues has to be addressed far more head on than has been the case.  And such an addressing has to deal with the fact that either we have to pay more in taxes, severely cut benefits, or some mix.  Simplistic calls for limited government are just that, simplistic.
One response to the column was by Tom Maguire (and who was quote favorably by the aforementioned Reynolds), who asked:
Wait – Medicare is now a "safety net" program? I thought that,like Social Security, it was an earned benefit – we all paid our taxes, and we are all eligible.  Medicaid is means-tested; Medicare is not.
Now, the distinction he appears to be making is that only non-universal programs are "safety net" programs.  However, this is not the case.
First, I would counter his assertion by stating just because a program is universal does not mean that it does not constitute part of the safety net.  A key rationale for both Social Security and Medicare was to prevent the occurrence of poverty amongst the elderly.  Indeed, as I noted not that long ago, there is a correlation between Social Security and the diminution of poverty amongst the elderly.  As such, these programs are very clearly part of the safety net, even if not all partakers of the policies use them to avoid poverty.  Indeed, one suspects that the vast majority of recipients would be risking poverty without these programs (and certainly a substantial number would not have anywhere near to adequate medical coverage—a situation leading either to an earlier death and/or bankruptcy).
Second, the article is about the fact that many persons who are not poor rely on various social programs despite the fact that they are political inclined to inveigh against government spending.  The issue is, therefore, about contradictory politics regardless of whether the programs are universal or targeted in some way.
Third, even if the policies in question are universal, this does not mean that each recipient received back simply what was paid in.  Quite the contrary:  even people well ensconced in the middle class will receive more in benefits than they paid in.
Maguire also asserts "the Democrats have long wanted to deliver middle-class entitlements paid for by "the rich", because that is where the votes are" ( a point he hopes to return to).  This is, of course, a central theme of many who criticize these program and who call for limited government in general (it also asserts a political conspiracy of a sort that makes the situation sound like some sort of master plan to ensnare the public).  However, I would note, that the examples in the NYT undercut that assertion.  And yes, anecdotes are not data.   However, we know from survey research that there are a large number of people who both support these programs yet vote for politicians who seek to either cut and/or underfund said programs.  In other words, if voting was really about material benefits, we would see very different voting patterns than we do.
Indeed, the NYT piece addresses this issue to a degree:
One of the oldest criticisms of democracy is that the people will inevitably drain the treasury by demanding more spending than taxes. The theory is that citizens who get more than they pay for will vote for politicians who promise to increase spending.
This is correct:  the ancient Greeks criticized democracy (as they defined it**) as nothing more than rule by the poor who would eventually tear done society.  However, reality ends up being a lot more complicated.  As noted, voting preferences end up being more complex than this notion suggests.  One simple fact illustrates this:  citizens do not vote solely on class lines.
Further, ss the article notes:
Dean P. Lacy, a professor of political science at Dartmouth College, has identified a twist on that theme in American politics over the last generation. Support for Republican candidates, who generally promise to cut government spending, has increased since 1980 in states where the federal government spends more than it collects. The greater the dependence, the greater the support for Republican candidates.

Conversely, states that pay more in taxes than they receive in benefits tend to support Democratic candidates. And Professor Lacy found that the pattern could not be explained by demographics or social issues.
Now, granted, the red state/blue state dichotomy is problematic from an analytical point of view because it makes it sound as if states contain only one type of person, which is not the case.  Still, there is a disconnect here that is rather profound.  For example:  deep red southern states often contain a lot of people decrying the federal government and federal spending but seem to ignore the degree to which their own state economies rely upon and benefit from federal spending.
To be clear:  I think that there is a legitimate debate to be had over these policies.   However, I don't think that an honest, legitimate debate can be had until there is a real understanding of what government actually does.  This has been an ongoing theme for me, and probably is, to me, the most significant fundamental issue for the improvement of our political debate. So,we can debate about the appropriate scope of government: what it should do and how it should be paid for, but to do so we have to fundamentally honest about what government does in reality right now as well as the ramifications of specific changes.  And yet, it does not seem that, in the main, we are anywhere near this kind of conversation.  Instead we get silly maker/taker, 53%/47%, etc. dichotomizations or simplistic appeals to "rugged individualism" that utterly eschew reality.
A side note:  this also gets mixed up in a simplistic dependency/liberty dichotomy (as exemplified by Heritage's Index of Dependence and that is the hallmark of Ron Paul speeches).  Much could be said on this, but I would suggest that sometimes "dependence" (if defined solely as receiving a government benefit of some kind) can lead to the ability to have more personal liberty.  If I am a retiree who receives Social Security and Medicare to a sufficient level that I can afford to live on my own rather than having to turn to the charity of family, do I not have more liberty than I otherwise would have had?  If I am a parent of school age children, do I not, ultimately have more personal liberty if I have public schools where I can send my children to be educated?  Indeed, as an individual, is not a substantial amount of my personal liberty shaped heavily by the education I received, which is often the result of depending on government in multiple ways?  That is:  public K-12 (free to me) and then public university (subsidized) and perhaps paid for in some way via federal programs, e.g., Pell Grants, the GI Bill, student loans, etc.).  Without those things to depend upon, how much control over my life (i.e., liberty) would I have had?
I am not saying that this programs are perfect, that they must maintain their current funding levels, or that there is no room for alternatives.   I am saying, however, that we have a choice to make before we can have efficacious discourse.  That choice is between ideology/propaganda and reality.  And the reality has to reflective not just the downside of government, but the upside as well (and, indeed, it is an upside that we all enjoy more than we seem willing to admit).
*For anyone unclear on why I am using this specific language, please see the linked post and the Glenn Reynolds column I was discussing.
**Which isn't really how we define in the modern era, but that's a whole other conversation.