More Musings on the Health Care Debate
An attempt at explaining where I am coming from on in the health care discussion.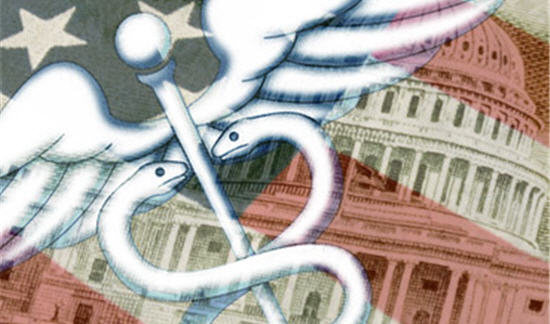 It is fair to ask where I am coming from in regards to the health care debate, so let me clarify a few issues.
There are a variety of things that could be said and approaches that could be taken, but let me focus simply on the issues of politics and policy.
In this context I mean by "politics" the question of public opinion and its relationship to elections and therefore to the behavior of those in government (specifically Congress) and what can, and cannot, be accomplished.  In short, it is about what is feasible within the realm of representative democratic governance within the institutional structures of the US.*
In terms of "policy" I mean what the government actually does (or chooses not to do, as the case may be).  A simple example:  does Medicare continue in some form as a single payer system or as a voucher program?  Further, how are these things paid for, etc.
Ok, having established basic definitions, let me be direct on a couple of issues:
1.  The Politics of the Ryan Plan. My most fundamental point in my post yesterday was that the reason that the Ryan Plan is losing public support is not because of poor marketing of the Plan by the GOP or because of media coverage.  No, as the public learns more about the details of the Plan, the less they like it.  This should not be a surprise.  The notion that it might be unpopular to take a relatively straight-forward universal program wherein the government acts as the insurer into a system wherein senior citizens are given a voucher and are then asked to figure out their insurance for themselves is not, on its face, a shocking outcome.
As I noted in my post, such a plan sounds great to true believers, but was destined to spark opposition by pretty much everyone else.
Now, I would note, that just because a proposal is not politically viable does not mean that the policy is a bad one.  Likewise, political support does not mean that a policy is good.  However, there is no doubt that one has to consider political viability when assessing the potential success or failure of a given proposal.
As such, it is possible, I would argue, to (as I pretty much have from the beginning) consider the Ryan Plan DOA from the start on solely political grounds.
2.  The Difficulties of Health Care Policy. Of course, we are still left with the fundamental problems of health care policy.  I will readily agree that Medicare as currently constituted requires reform.
However, there is a key issue that I think has to be addressed in the debate over actual policy (and it is an area where I do think that the Ryan Plan fails):  the assumption that health care should be thought of in market terms (or as a consumer good) and that, somehow, more market mechanisms will drive costs down in a substantial fashion.
This is problematic for a variety of reasons, but I think the most fundamental are that despite rhetoric to the contrary, we a)  have not had a free market in health care for some time, and b) do not actually want a free market in health care.  I am going to focus here on the most fundamental aspect of this fact, rather than try to engage in a longer argument.
In regards to point a:  at a minimum, there has not been a free market in health care since the introduction of Medicare and Medicaid—policies that are now over four decades old and likely predate most of the readers of this blog (indeed, predate me by a few years).  One could further argue that since the tax code was written to incentivize employers to provide health insurance as part of compensation packages (a policy that dates to the post WWII era, if memory serves) that we have not had a free market, since most of us did not shop for insurance and therefore did not approach health care as a consumer product.
Indeed, the era of pure fee for services medicine dates back to a period that we would not recognize as one of modern medicine:  i.e., an era without most modern pharmaceuticals and medical technology and when US males usually did not live past their early 60s.
Even the Ryan Plan would not be a fully free market, I would note.
In regards to point b:  if we had a true free market in health care, that would mean rationing wholly by price.  Or, more accurately, the wealthy and healthy would do the best in such a system while the poor and sick would do the worst (with various combinations of wealth and health/lack thereof navigating the system as well as they could).  This would function the same way that, say, the market for automobiles or smartphones work.
As such, if one is born into a poor family and one has diabetes or asthma (or leukemia or whatever) then one suffers one's fate.  If one is a poor 70 year-old without a family to take care of you who suffers from any number of the ravages of age, then one has to deal with the cold facts of the market.  If you can't afford it, so be it.
While there may be individuals who find this to be an acceptable situation for whatever reason, the fact of the matter is that most do not.  As such, we have long ago decided that we do not want a pure market in health care.  So, since we know that we not going to have a true market in health care, the question becomes how much intervention (and what form) there is going to be into the situation.
But really, my more basic point is that the notion of even thinking of health care in market terms is a problem.  For an excellent rundown of why this is the case, I would refer you to the blog of an ER Doctor and the post Why Patients are Not Consumers.  I very much recommend the piece—I was going to excerpt it, but it really needs to be read in its entirety.
Ultimately, I am arguing that thinking about health care as a consumer good is misguided (unless you are going to argue that fixing your child's broken arm is the same as buying a new flatscreen or getting chemo or not for your wife's cancer is the same as choosing to buy a Mercedes instead of Hyundai).  Rather, health care has to be thought of in terms of a public good.  And yes, it is an expensive public good.
And, of course, the money is the rub of it all—meaning that really much of the public debate is less about health care itself, than it is tax policy masquerading as a health care debate.
I am not opposed to the notion, by the way, that it might be possible to introduce some market-based reforms into the system.  However, I would still argue that the real costs that continue to skyrocket are in areas wholly insensitive to market forces.  To quote the ER doc's post noted above:
The driver of cost is the small fraction of people who have serious medical conditions.

[…]

To emphasize, HALF of all health care costs in the US is concentrated in only 5% of the population, and 80% of costs are accounted for by the top quintile! (source: Kaiser Foundation PDF)

So the effect here is that with such a concentration of costs in such a small segment of the population, the ability of the larger population to move the market is highly restricted. You can make 80% of consumers highly price sensitive, but they can only affect a tiny fraction of healthcare spending. And for the generally well, their costs are probably those which are least responsible for the spiraling inflation. They're not getting $30,000 stents or prolonged ICU stays, or needing complex chronic disease management.

Conversely, those who are high consumers of health care simply cannot be made more price sensitive, since their costs are probably well beyond what they could pay in any event, and for most are well beyond the limits of even a catastrophic health insurance policy.
And the most fundamental point:
For most, when they are confronted with a major or life-threatening illness, their entire focus shifts to survival, and they could care less about the cost.
Such facts are why market logics aren't going to solve the problems we are dealing with here.
Quite honestly, I think that most (but by no means all, I will allow) hardcore proponents of the market-based approach are relatively young individuals with good jobs (and therefore good insurance).
3.  Conclusion.  One of the things that should be obvious is that due to the nature of the political, policy is often created in a way that is far from a given set of ideal preferences.
The only people who steadfastly cling to a policy preference in the face of overwhelming political opposition and empirical evidence that contradicts that preference are ideologues.
Ultimately, all I want is some honesty in the public discourse on these issues, starting with three facts:
a.  Yes, Medicare needs reforming,
b.  Magical thinking about market forces is not going to work.**  I have simply come to the point in thinking about all of this that I believe this assertion to be a dead end.
c.  If all other OECD countries do a better job than we do in terms of cost and service, then perhaps we need to be realistic about that fact and look outside for viable models.***
By the way, I don't pretend to have the answers to this conundrum, but I do think that the debate had to take place within logical parameters that address the actual situation at hand.
—-
*This includes, but is not limited to, the complexity of bicameralism and separation of powers, but also things like the filibuster rule in the Senate, the election calendar, and the exigencies of the electoral system itself (such as the existence of numerous safe districts, the unlikelihood of third party victories and so forth).
**Understand:  there was once a time when I, too, believed that markets in all things was the way to go.  Empirical observation, and recognition of the reality around me, has altered my view on this.  I still fundamentally believe in markets, but recognize that one size does not fit all.
***This is something else I have changed my view on over time.  Indeed, I am not alone.  See, for example, the following post from Reason's editor-in-chief, Matt Welch:  Why I Prefer French Health Care (and yes, the libertarian magazine, Reason).