The Problem with the Ryan Plan
The bottom line is that the problem with the Ryan Plan is the Ryan Plan.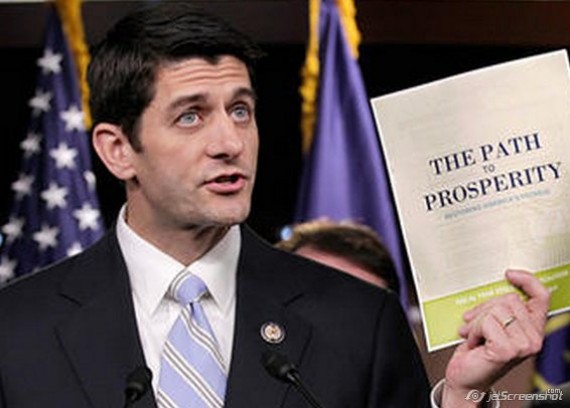 To follow on to Doug Mataconis' post this morning about declining public support for the Ryan Plan, I can suggest one basic reason why it is trending downward:  people are starting to learn more about it.
That support is eroding is not surprising when we consider that initial support was built on the following three pillars:
One pillar was the true believer, a group made up of persons ideologically predisposed to like any program that contains such concepts as vouchers, market forces, and block grants (not to mention tax cuts).  I know, because not only is this the obvious constituency but also because there would have been a time that I would have reacted in an automatically positive fashion to all of these buzzwords (I have, however, grown skeptical of their magic over the years in this policy area).
The second pillar was hope.  A lot of people were initially hopeful that the Ryan Plan was a truly serious policy prescription that could deal with our most pressing long-term fiscal problem, i.e., Medicare.  Of course, the irony that people who made a lot of fun of all things hopey-changey would be so vested in hope-based policy ideas should not be lost.  An example:  I heard an interview with a fellow from the Cato Institute this morning talking about how consumer choice with put downward pressure on prices and said a series of other very serious (and hopeful) about how the Ryan Plan would fix health care costs.  However, there are two rather significant problems with this approach.  First, the notion that health care/health insurance is the same as any other product is flawed due to the essential nature of the product (health and a better life).  Second, this is especially so for senior citizens, when health care because even more essential for quality of life, and where the odds that one will need extensive care increases substantially.  (I would note that pillar two remains strong with the pillar one folks, but is eroding with the general public).
The third pillar was courage.*  We were told by almost anyone who spoke of the Plan (including the dreaded liberal media) that Ryan's Plan was "courageous" (or some other superlative).  As such, it is hardly surprising that initial responses to the Plan were largely positive.  And, I will state, that Ryan does deserve some credit for making an actual policy proposal and I would encourage more attempts in that realm.  Fundamentally, it was always going to be the case that the Plan was going to start out at the apex of its popularity and then decline from there.  Why?  Because the initial press was a combo of hope and courage, with promises of saving to boot.  What's not to like about that? Answer:  the actual details of the Plan.
Now, pillar one remains in place.
Pillars two and three, however, are taking serious hits because people are starting to learn more about the Plan's contents.
There are legitimate questions that call the Plan into question from a policy perspective and there are two key ones.  First, the Plan substantially restructures Medicare and changes it from a clearly defined, guaranteed benefit to a more nebulous program.  Yes, seniors would be guaranteed a voucher, but they are on their own from there.  Second, apart from hope (back to that word) that market forces and state-run (via block grants) programs will lower costs, the Plan does not directly address the health care cost question, which is at the heart of the need to reform Medicare in the first place.
So, in other words, the Plan does not promise the same level of benefit that the current program does and it fails to deal with the cost issue.
Is there any surprise, then, that the Plan's approval numbers are falling?
And, btw, have I mentioned lately that Medicare is a wildly popular program, amongst Democrats and Republicans?  That might be part of the Plan's trouble as well.
——
*And I mean neither a certain cowardly dog nor Dan Rather's sign-off.