More Signs Of Weakness In The Economy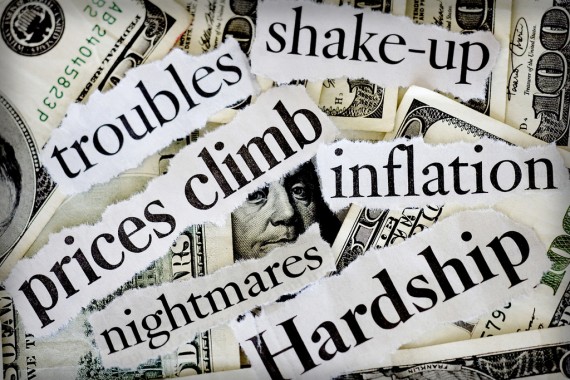 On top of yesterday's disappointing Retail Sales report comes a new estimate of economic growth from J.P. Morgan Chase that suggests that the economy is going to incredibly sluggish at best for the rest of the year:
This morning we lowered our tracking of Q2 GDP growth from 1.7% to 1.4%. For some time now we have noted that our Q3 GDP call — which was already below consensus at 2.0% — had risks that were skewed to the downside.

After the latest round of data we have decided to lower our projection for Q3 to 1.5%. The strength in inventories reported this morning suggests that businesses may have got caught offsides when final demand weakened this past spring. That inventory build should weigh on production growth in the third quarter as already-cautious businesses seek to work down stockpiles. Added to this downside, the weakness in June real consumer spending will make the arithmetic for Q3 consumption a little more challenging.

Finally, the decline in gasoline prices — which had been seen as an important support to the economy — has partly reversed itself in recent weeks, thereby lessening the impetus to growth from that source. For 2012 as a whole, we are now looking for growth of around 1.7% on a Q4/Q4 basis, about the same as last year and 0.2%-point below our tracking last week. On a year-ago basis real GDP has been growing at a below-trend pace since early last year. If our forecast is anywhere near correct, that pattern will persist for at least another year, and perhaps even longer.
The apparent end to the falling gas prices is something I've noticed anecdoatally driving around Northern Virginia in the last two weeks or so, and something analysts have noticed as well:
Gasoline futures settled in New York at the highest price in nearly two months, surging over 20 cents in July alone.

August RBOB (New York Mercantile Exchange: RBCV1) gasoline futures gained nearly 1.5 percent and closed above $2.85 a gallon on Monday, mirroring the climb in oil prices as the U.S. dollar weakened and tensions rose in the Middle East.

Some analysts suggest the slide toward a $3.00 retail gasoline may have permanently stalled. Retail gasoline prices often follow the trend in the futures market within a week or so, analysts say.

The national average for regular self-serve gasoline is $3.40 a gallon, up 2 cents from a week ago,according to AAA.

While a few areas in the Southeast have sub-$3.00 gas, along the East and West Coasts prices are well over $3.50 a gallon.

"I don't see prices going lower. Retail demand has been picking up and supplies are low," says Addison Armstrong, director of market research at Tradition Energy.

Refineries are also processing fuel at higher rates than is the norm for this time of year. "Refinery utilization is at 92.7 percent of capacity, which is much higher than normal," Armstrong says. "Usually this time of year it's about 89.5 percent."
While it seems unlikely that we're headed back to the crisis that we seemed to be heading towards this Spring, we do seems to have hit a plateau of sorts and that the economic stimulus we were getting from falling gas prices is not going to go much further.
What the JPM forecast is calling for, then, is stagnation for the remainder of the year, which likely means slow job growth throughout that period. Indeed, the forecast calls for about 100,000 per month job growth in the 3rd Quarter, with the unemployment rate staying at 8.2% through the end of the year. Thus, it's unlikely that the Obama campaign is going to get that last-minute economic boost they are likely hoping for, something that doesn't necessarily bode well for the campaign's fortunes. Of course, who ever happens to win in November isn't going to be facing a pretty picture either, let's look again at the final sentence in that JPM release:
If our forecast is anywhere near correct, that pattern will persist for at least another year, and perhaps even longer.
I don't know about you, but that sounds pretty bad to me.
H/T: Bruce McQuain