Most Common Immigrant Groups By State
Slate's Ben Blatt is having some more fun with maps and demographic data, this time to show the most common origin for legal immigrants in each state. 
Here's the map (click to enlarge):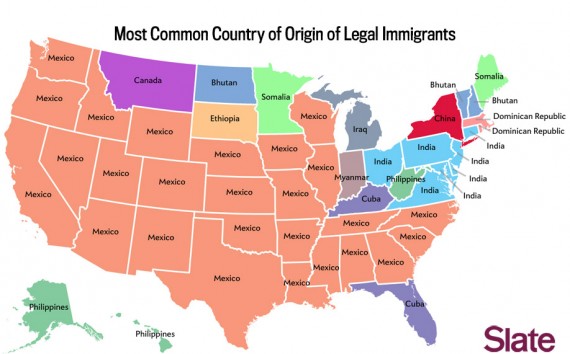 The fact that India is the most common source of immigrants for New Jersey doesn't surprise me all that much. Even when I was growing up there, at a time further in the past than I may be willing to admit, there had been a huge influx of Indians into the area, especially in the area around Rutgers University. Many of them were engineers and engineering students drawn here for an education, but many of them also ended up working at AT&T's Bell Labs, Johnson & Johnson, and the many other pharmceutical companies that had planted roots in the Garden State years ago. Over time, the immigrant pool from that country less oriented toward the sciences, in no small part because family members followed in the wake of their immigrant relatives. I'm somewhat more surprised to see India is also the predominant source of legal immigrants in Connecticut, Ohio, ad pretty much the entire Mid-Atlantic stretching down to Virginia but I suppose the reasons that this group settled in those areas were similar to the reasons they ended up in New Jersey.
That Mexico is such a large chunk of the immigrant population is, of course, not a surprise. Neither is the fact that Cuba is a the predominant source of immigrants in Florida (although why that's true in Kentucky too is beyond me). Some of the oddities, though include North Dakota, which apparently has a large population from the tiny Asian nation of Bhutan, Indiana, which seems to be the destination of choice for people from Mynamar, and the fact that the largest immigrant group in West Virginia is from The Philippines.
Things get more interesting when you take Mexico out of the picture completely: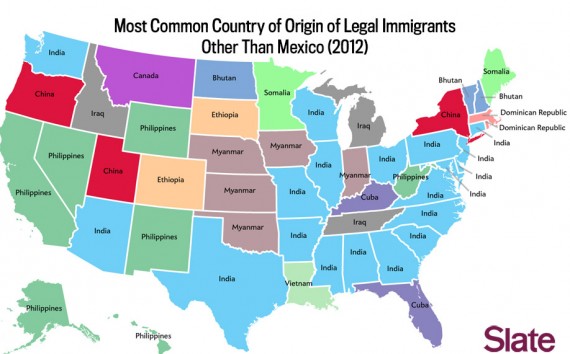 Now, India takes a much more prominent role. Although it should be noted that, according to the most recent census, the actual number of Indian-Americans in the country numbers approximately 1.8% of the countries population.