Most Tax Breaks Go To Middle Class Households, Not "The Rich" Or Corporations
We won't solve our fiscal problems by soaking "the rich."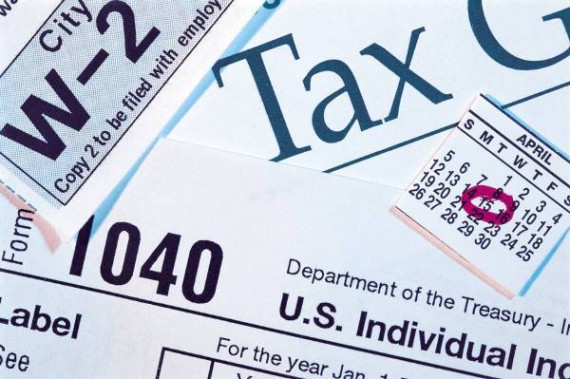 With President Obama set to unveil a tax proposal that is little more than a play at old-fashioned "soak the rich" politics, it's worth keeping in mind that most of the benefits provided in our Tax Code don't go to those evil rich people and their corporations:
As President Obama and congressional Republicans argue over how to rewrite the U.S. tax code, the debate has revolved around "loopholes" for corporate jets and ending "carve-outs" for well-heeled special interests. But if the goal is debt reduction, that's not where the money is.

Broad tax breaks granted to millions of families at all income levels dwarf the corporate giveaways. Over the past two years, largely because of these popular benefits in the federal income tax code, the government has reached a rare milestone in tax collection — it has given away as much as it takes in.

The number of tax breaks has nearly doubled since the last major tax overhaul 25 years ago, with lawmakers adding new benefits for children, college tuition, retirement savings and investment. At the same time, some long-standing breaks have exploded in value, such as the deduction for mortgage interest and the tax-free treatment of health-insurance premiums paid by employers.

All told, federal taxpayers last year received $1.08 trillion in credits, deductions and other perks while paying $1.09 trillion in income taxes, according to government estimates.

Only about 8 percent of those benefits went to corporations. (The write-off for corporate jets equals about .03 percent of the total.) The bulk went to private households, primarily upper middle-class families that Obama has vowed to protect from new taxes.

"The big money is in the middle-class subsidies," said Syracuse University economist Leonard Burman, former director of the nonpartisan Tax Policy Center. "You're not going to balance the budget by eliminating ethanol credits. You have to go after things that really matter to a lot of people."
It wasn't always this way, of course. The tax code has grown more complex over time, with an ever-increasing amount of credits, exemptions, deductions, and subsidies, because it's far easier for Congress and Presidents to implement policy via a tax code than to actually spend money on it. As the article notes, President Clinton did it in 1997 with tax credits for education when he couldn't get Congress to authorize increased spending on student loans. Those tax credits have cost an estimated $20 Billion. President Bush did it four years later when he created a special tax exemption for "victims of terrorism" that cost an estimated $360 million. Additionally, twice during his Presidency, Bush utilized special tax "rebates" in a failed effort to spur economic stimulus. In his own stimulus package, President Obama had a change in withholding rules that reduced the amount of money that went into government coffers. Now, the President's jobs plan is proposing tax credits for hiring people who have been unemployed for six months, which is unlikely to actually spur hiring, a separate tax credit for hiring veterans, and of course the extension of the Payroll Tax Cut.
Even the much maligned Bush tax cuts, which supposedly gave an unfair tax cut to "the rich" (a term that is never clearly defined, for obvious political reasons), actually benefited the middle class more:
The legislation doubled Clinton's child credit, wiped out the marriage penalty for joint filers and expanded refundable credits. Of the approximately $4 trillion that would be lost if the Bush cuts stayed in place through the next decade, only about $800 billion would go to the wealthiest households making more than $250,000 a year, according to government estimates.

Georgetown University law professor John Buckley recently estimated that 95 percent of the revenue lost to tax expenditures is concentrated in 10 categories that aid families and advance popular policy goals. The "special-interest stuff," he said, such as write-offs for corporate jets, is minuscule by comparison — "unless we're all special," he said.
Indeed, that much maligned tax break for corporate jets accounts for 0.03% of the total benefits from tax breaks given out in the tax code. Eliminating it won't solve any short or long term fiscal problems, but it sure does go well with the political attacks on wealth and success that once again seem to be such a part of the Democratic Party's fiscal party, and which are at the centerpiece of the new "Millionaires Tax."
What this tells us is something very simple. Getting our fiscal situation under control would require the kind of full-scale tax reform that would eliminate all of these tax breaks and set the Tax Code back on a footing where its primary purpose is to raise revenue, not to achieve policy goals that cannot be achieved through other means. This would mean getting rid of a host of politically popular deductions and credits, which is why you're not seeing President Obama or anyone else in Washington propose anything close to that. Others have come up with plans that come close to doing this, though. The Simpson-Bowles plan had tax reforms that eliminated virtually all tax deductions, and the tax plan put forward by Jon Hunstman does the same thing. Of  course, the Simpson-B0wles plan was shoved in a drawer somewhere and quickly forgotten, and Jon Huntsman is pulling 2% in the polls. Because the American people don't want to be told that they're going to have to sacrifice to fix our problems, they'd rather be told they can all be solved on the back of that awful entity "the rich." Until we get beyond that, we're not going to accomplish anything.