Multiple Casualties In Shooting At Washington Navy Yard
A shooting interrupts Washington D.C.'s Monday morning.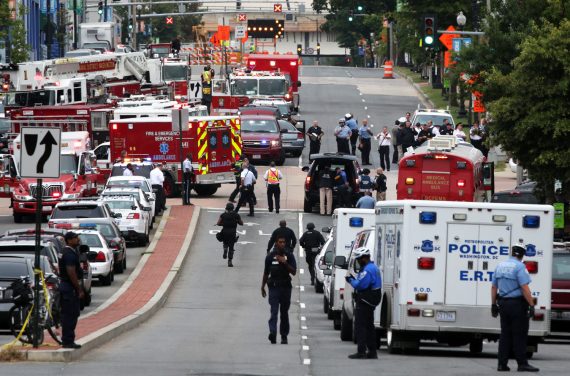 Several people have been killed and an unknown number of others injured in a morning shooting at the Washington Navy Yard:
As many as two shooters, including one in fatigues, killed at least four people and wounded eight others in a rampage at the Washington Navy Yard on Monday, police said, spreading fear and chaos across the region as authorities tried to contain the incident.

Initial reports were marked by confusion, but by late morning, police said at least one of the shooters was "down." It was unclear whether that means the suspect was in custody, wounded or dead. They said that another suspect may have been pinned down in a building on the installation in Southeast Washington near Nationals Park.

Gunfire was heard shortly before 11 a.m., two and a half hours after the first shots were fired, an area where police believed that person was barricaded. Police were sweeping Building 197, the Naval Sea Systems Command Headquarters where the shooter was apparently holed up. The number of shooters still was unclear.

At least two police officers were shot. Police on the scene said one is a D.C. Metro Police officer who was shot twice in the leg and was evacuated on a helicopter that took off from a rooftop. The other was a base officer. The D.C. officer, a male, was concious at MedStar Washington Hospital Center and his chances for survival were good, hospital officials said.

Janis Orlowski, the chief medical officer at Washington Hospital Center, said three victims in all were brought to the center, all in critical condition but alert, responsive and able to talk with doctors. The victims were also able to speak briefly to law enforcement officers before undergoing surgery or treatment, she said.

The other two victims at the hospital were female civilians, Orlowski said at a press conference. All are likely to survive.

Ten public and charter schools and a public school administration building in the District were placed on lockdown as a precaution, and flights out of Reagan National Airport were briefly halted, causing delays even after they began departing again.

Adm. Jonathan W. Greenert, the chief of Naval Operations, was evacuated from his residence at the Navy Yard complex shortly after the first report of shots fired, Navy officials said.

Greenert, a four-star admiral and member of the Joint Chiefs of Staff, was safely evacuated to the Pentagon along with his wife, Darleen, said Cmdr. Ryan Perry, a Navy spokesman.

The U.S. Navy said that three shots were fired around 8:20 a.m. at Building 197, where about 3,000 people work.

Rick Mason, a program management analyst who is a civilian with the U.S. Navy, told the Associated Press that a gunman was shooting from a fourth floor overlook in the hallway outside his office. He said the gunman was aiming at people in the building's first floor cafeteria.

David Stevens, a Navy contractor, was on the phone talking in building 197 when he heard an initial volley of shots fired. He heard people shouting that a shoorter was on the building's fourth floor.

He said he ran to the edge of a glass atrium that overlooks all the floors and glanced up, only to hear a "second deluge" of shots. The fire alarm sounded, and people began exiting the building.

Stevens described the building as very secure. He said employees must present an ID at the entrances. Visitors must have security clearance to get in.

"It's unbelievable that someone could get a rifle in there — if that's what the shooter had," he said.
As is typically the case with these kinds of incidents, the four hours or so that have unfolded since this news first broke have been filled with multiple unconfirmed and conflicting news reports about what may have happened here. The biggest point of contention, outside of the usual disagreements about casualty figures, is the reports that have been coming out about multiple shooters. For hours, some news outlets were reporting that there were two or as many as three shooters and others were saying that there was only one shooter. Each outlet, of course, claimed to have had law enforcement confirmation for their reports. Shortly before noon, though, local officials held a press conference, and the D.C. Chief of Police seemed to confirmed the multiple shooters story, at least for now:
Police say as many as two gunmen may still be at large near the D.C. Navy Yard Monday after a shooting that began in a heavily secured building and left a number of people dead.

One other gunman has been killed, Metropolitan Police Chief Cathy Lanier said at a midday press conference.

Initial reports had said that 11 people were shot on base and four had died, but Lanier said that information was preliminary. "There are multiple victims inside deceased," Lanier said.

They are seeking two other people as "possible" gunmen, Lanier said. One was a white male, wearing a khaki military-type uniform and a beret hat. He was armed with a handgun, and was last seen about 8:30 a.m., Lanier said.

Lanier also said police were seeking a black man, aged about 50, who was wearing olive drab and was armed with a "long gun," though she did not give any other details about the weapon.
Now, to be honest, those descriptions are pretty much useless. A white guy and a black guy in a major American city, perhaps dressed in military-style fatigues in a city where there are a lot of uniformed people walking around on a daily basis? And it's all based on what Lainer herself described as a "possible" link to the shooting? That doesn't seem like its very helpful. Especially when other media outlets are reporting that there was a single shooter and that he appears to have been a retired Chief Petty Officer who had worked at the facility as a civilian.  In any event, there will be more to come I'm sure. If there really were multiple shooters then that suggests a radically different motivation than if it was only one person. But, perhaps, we should wait until there's more information before speculating about that.
Update: At a just concluded press conference, D.C. Mayor Vincent Grey confirmed that "at least" 12 people are dead as a result of the shooting. There was no specific confirmation on the number of wounded or what condition they might be in. Law enforcement continues to say that they are on the lookout for two men who may be connected in some way to the shooting in that they were seen in the area of the shooting with firearms.
Update #2: Various news outlets are identifying the dead shooter as 34 year old Aaron Alexis of Fort Worth, Texas who apparently may have worked at the Yard as a civilian contractor at some point but apparently used someone else's Identification to get on base this morning.  Additionally, the D.C. Police have announced that one of the two men they were looking for has been identified and is not a suspect.