My Basic Theory of Sarah Palin
Yes, I think that Palin is running in 2012.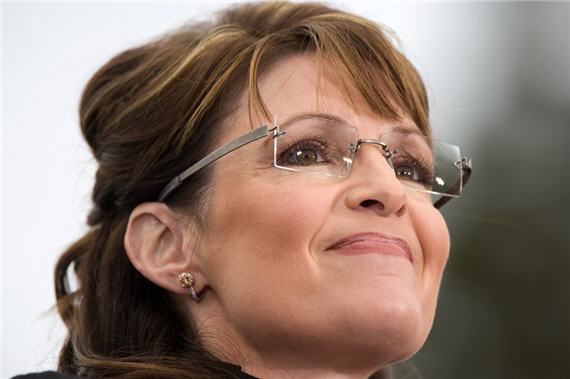 There have been two basic strains of thought on Palin's post-2008 behavior.  One asserts that she is mostly cashing in on her unexpected move from relative obscurity to the center stage of American politics.  The other assumes that she sees herself as the heir apparent to the Republican nomination as well as the best person to challenge Obama for the presidency in 2012.
The argument for the former position is that the choices she has made, from resigning mid-term from the governor's office to starring in a reality TV show, are not the kinds of things that one ought to be doing if one is seeking higher office. And, to give her credit, she has been extremely savvy in parlaying her run as veep nominee into an impressive media career.*
However, I have never thought that the two positions, i.e., cashing in and running for office, are mutually exclusive.  So I choose both.  Indeed, I think that she thinks that all of the things she has done to cash-in (the book, the FNC gig, the TV show, even Bristol on DWTS) help position her for 2012.
Specifically, I think that Palin represents the culmination of the rise of partisan (specifically in this case Republican/conservative) media that started in the mid-to-late 1980s and grew up alongside the growth of niche media and the segmentation of news/commentary consumption in the United States because of cable and the internet.   It is possible now to not only get conservative-oriented news and commentary it is possible to get exclusively conservative-oriented news and commentary.  Further, Palin has cleverly exploited long-standing resentments within the public about perceptions of liberal bias in the press.   This is especially true of older voters who remember (and resented) the pre-cable era when all the news came through the Big Three Networks and from anchors who were often believed to have liberal-leaning perspectives.**
While it is quite true that her overall numbers are quite negative, she has carefully insulated herself inside a media bubble where she is praised and has therefore avoided the kinds of media scrutiny that marked her initial foray onto the national stage (see here, here, here and here for a refresher).  Yes, she is regularly criticized in the press writ large, but she can ignore that as she sees fits from within her FNC force shield. If one places oneself in a situation in which one is more likely to be praised than not (not to mention the clamor this election season for her endorsement), then one is likely to take a distorted view of one's overall popularity (empirical evidence to the contrary be damned, such as a 22% favorable, 48% not favorable rating in a recent poll).
I know people who are convinced that Palin's national popularity is on the rise despite the aforementioned empirical evidence.  Why do they think this?  It is because the only news that they consume outside of the local newspaper is Fox News Channel, especially its commentary programming.  If viewers think this (and a poll of Fox News consumers would be quite interesting on this count), then it is hardly difficult to see Palin self-deluding on her actual popularity.  Further, it is generically easy for politicians to see themselves from the perspective of their more ardent supporters rather than from the POV of the broader public.***
Let me be clear:  I think that there is a enough support within the GOP base for Palin to make a reasonable showing in the primaries.  Indeed, given the success in such contests of candidates Christine O'Donnell I no longer think it impossible that she could win the nomination (though, I still think it improbable).  There is no doubt that Sarah Palin has her fans.  However, I still maintain that she will be unable to win the White House, even if Obama continues to struggle with his popularity over the next two years.
Indeed, it is not just Palin.  Consider what Doug Mataconis called "The Fox New Primary" recently, i.e., the fact that several of the potential contenders for the GOP nomination are all employed by Fox News Channel:  Sarah Palin, Newt Gingrich, and Mike Huckabee (also Rick Santorum).  This matters not because there is anything wrong with working for Fox News, but so doing in this context has two key effects:
1) It creates a certain level of immunity in terms of reporting, at least from Fox News.  This means that a)  these individuals will not be treated objectively by Fox News reports, which leads into b) therefore the base voters in the GOP primaries aren't exactly getting full coverage of these individuals (since their main source of news is, well, Fox News).
2)  Such a situation creates a distorted view of reality for the candidates in question.  If one is primarily dealing with like-minded individuals who treat you more as a media diva/source of ratings than as a candidate for public office, one is likely prone to develop unrealistic views of oneself and one's political prospects.
————————-
*While I have serious doubts about her knowledge and understanding of the issues of the day, it is clear that she isn't stupid.
**I am not even going to get into the issue of whether the biases in question existed or not.  The bottom line remains that this perception exists and is a real motivator for some voters.  It is a view that Rush Limbaugh ("I don't need equal time, I am equal time.") has long tapped into and that Palin does as well (i.e., the "lamestream media" shtick).  Indeed, playing on media resentment is one of Palin's main go-to moves.  It is a very popular move in many portions of the GOP base.
***One word:  "Joe-mentum."  Two more words:  "Fred Thompson."  Indeed, thousands of such words could be written if one were so inclined.