Nate Silver: Odds Of Obama Winning At 91%
Well, to be precise, it's 91.4% as of this moment: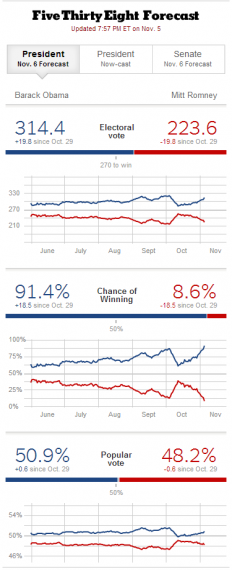 Given that Silver bases his model on poll results, and that all of the polls are pointing toward an Obama victory, this isn't surprising at all. Now, the question is are the polls, and Silver's model, correct? Or, is Romney going to essentially prove every poll taken over the past month wrong and win the election tomorrow?
Since the polls are the only real evidence we have to tell us how this election may go, and since I find those who are letting blind partisanship cause them to reject the message the data is sending them, I have to say that Silver seems to be on the right track. We'll see how things are tomorrow night.