National Guard Sleeping in a Garage!
What we have here is failure to communicate.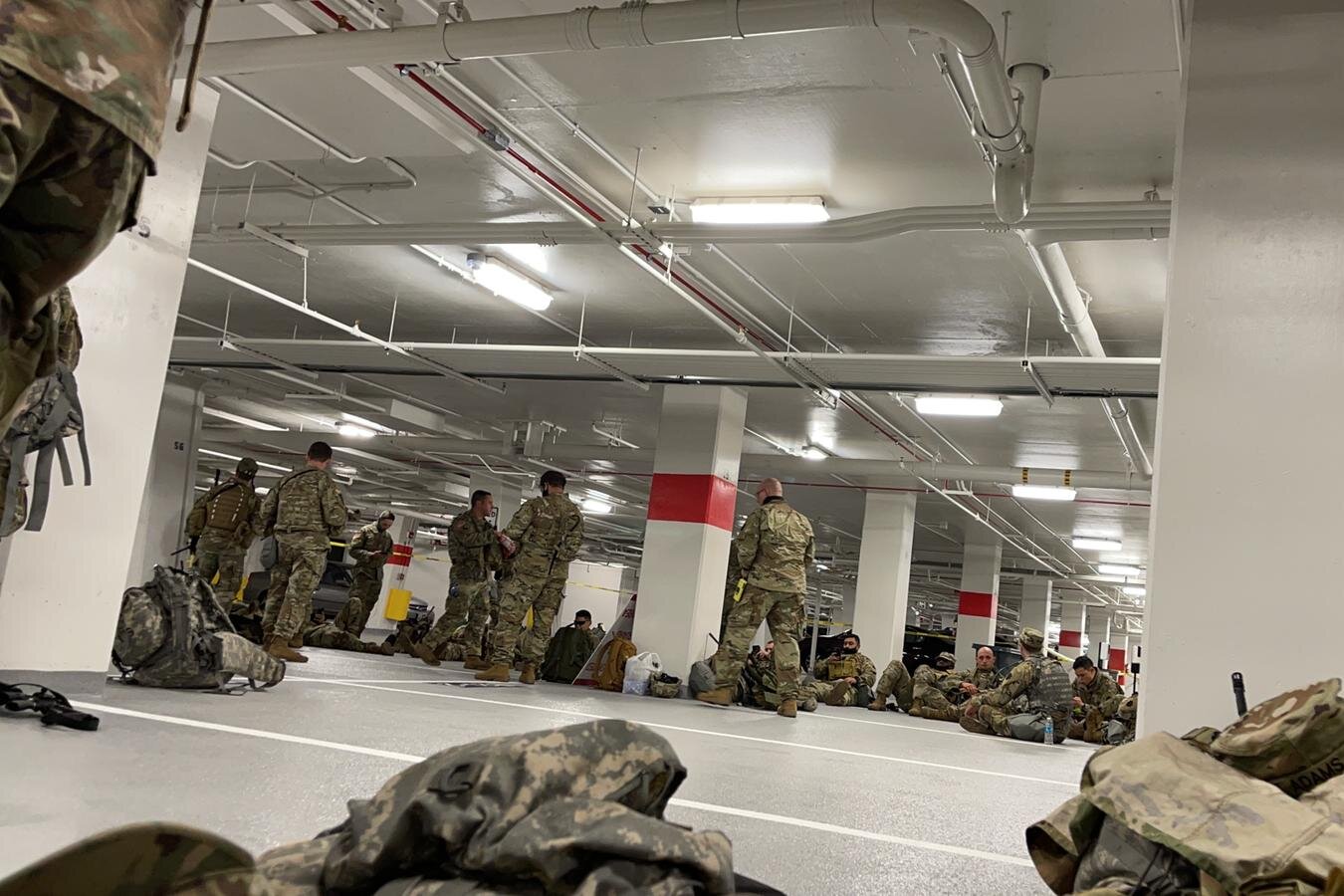 Big kerfuffle overnight about the National Guardsmen who had been guarding the Capitol suddenly needing to find a new place to sleep.
POLITICO ("'We feel incredibly betrayed': Thousands of Guardsmen forced to vacate Capitol"):
Thousands of National Guardsmen were allowed back into the Capitol Thursday night, hours after U.S. Capitol Police officials ordered them to vacate the facilities, sending them outdoors or to nearby parking garages after two weeks pulling security duty after the deadly riot on Jan. 6.

One unit, which had been resting in the Dirksen Senate Office building, was abruptly told to vacate the facility on Thursday, according to one Guardsman. The group was forced to rest in a nearby parking garage without internet reception, with just one electrical outlet, and one bathroom with two stalls for 5,000 troops, the person said. Temperatures in Washington were in the low 40s by nightfall.

"Yesterday dozens of senators and congressmen walked down our lines taking photos, shaking our hands and thanking us for our service. Within 24 hours, they had no further use for us and banished us to the corner of a parking garage. We feel incredibly betrayed," the Guardsman said.

[…]

Top lawmakers from both parties took to Twitter to decry the decision and call for answers after POLITICO first reported the news Thursday night, with some even offering their offices to be used as rest areas. Senate Majority Leader Chuck Schumer (D-N.Y.) tweeted: "If this is true, it's outrageous. I will get to the bottom of this." And Sen. Tom Cotton (R-Ark.) noted that the Capitol complex remains closed to members of the public, "so there's plenty of room for troops to take a break in them."

By 10 p.m., Sen. Martin Heinrich (D-N.M.) said the situation was "being resolved" and that the Guardsmen would be able to return indoors later in the night.

"Just made a number of calls and have been informed Capitol Police have apologized to the Guardsmen and they will be allowed back into the complex tonight," added Sen. Tammy Duckworth (D-Ill.), who lost both of her legs in combat. "I'll keep checking to make sure they are."
WaPo ("'This is absurd': Scores of National Guard members banished to Senate parking garage, soldiers say") adds:
The soldiers said they were not given a reason for the initial transfer. But defense officials said Capitol police moved the Guard members off the grounds as foot traffic from lawmakers and other officials increased in the area.

The Guard members have hotel rooms to sleep in, officials said. But soldiers are on duty for a day or two, working shifts a few hours at a time and cannot easily return to their hotels, many of which are in Virginia and Maryland. So they nap wherever they can — on concrete, indoor tennis courts or on carpet floors.
NYT ("National Guard troops who protected the Capitol for Biden's Inauguration were told to sleep in a parking garage.") adds:
On Friday, Gov. Chris Sununu of New Hampshire demanded that state's troops be sent home.

"I've ordered the immediate return of all New Hampshire National Guard from Washington D.C.," Mr. Sununu, a moderate Republican, said on Twitter. "They did an outstanding job serving our nation's capital in a time of strife and should be graciously praised, not subject to substandard conditions."
The optics of this are obviously terrible. That this has been seriously mismanaged is beyond question. At the same time, there's way too much whining to the media by Guardsmen and too much grandstanding by politicians here.
The deployment of a huge, multi-state Guard force on extremely short notice after the events of 6 January was necessarily going to be messy. Images of Guardsmen sleeping on the floor of the Capitol were shocking to people who have never served in the military, especially the ground forces. (Sleeping where one can find it in often austere conditions is the nature of the business.) And, while stories of local restaurants showing up to provide gourmet meals for the troops might be heartwarming, one hopes that Guard and Pentagon leadership had made a plan for feeding them.
Suddenly ousting the troops without explanation is a bad look. But Congress is now back in session and there's zero reason to have Guardsman inside the Capitol at this point.
To the extent Guardsmen are sleeping in parking garages in chilly weather, it's a function of their own leadership failing to plan. They've had two weeks now to figure out how to shuttle folks to their hotel rooms. But, to the extent some trooper has to sleep on a non-dirt floor in the nation's capital for one evening the Republic will survive.