Nearly 200 Dead After A Bad Night Of Tornadoes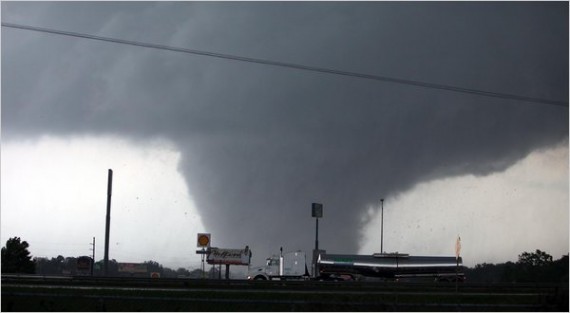 The American South has been ravaged by tornadoes for the better part of this week, and last night was probably the worst of it:
ATLANTA — The death toll in five Southern states rose sharply Thursday morning to nearly 200 after devastating storms ripped through the region, spawning a deadly tornado in downtown Tuscaloosa, Ala., and leaving a trail of flattened homes and buildings in an area already battered by storms.

States of emergency have been declared from Alabama to Virginia, and President Obama said in a statement that the federal government had pledged its assistance.

"Our hearts go out to all those who have been affected by this devastation, and we commend the heroic efforts of those who have been working tirelessly to respond to this disaster," Mr. Obama said. "While we may not know the extent of the damage for days, we will continue to monitor these severe storms across the country and stand ready to continue to help the people of Alabama and all citizens affected by these storms." Across Alabama, at least 128 people were killed — 13 in the Birmingham area alone — and more than 300 injured by storms on Wednesday, said Yasamie August, information manager of the Alabama Emergency Management Agency.

"I would be pretty sure about saying we've never had 128 people die in one day," Ms. August said. "It's going to be difficult to get an accurate count of damage or injuries at this point. Many people can't get to a hospital."

There were at least 32 deaths in Mississippi, and The Associated Press reported 11 deaths in Georgia, 15 in Tennessee and 8 in Virginia.

As the storm churned towards the eastern seaboard on Thursday morning, tornado fears spread as far north as New York State. The National Weather Service issued tornado warnings in Florida, Georgia, South Carolina and Maryland, and in Sullivan County, N.Y., northwest of New York City.
We went through two tornado warnings here in Virginia last night, and it looks like it's going to be another rocky afternoon all down the East coast. Stay safe out there.