Negative Views Of Tea Party Hit New High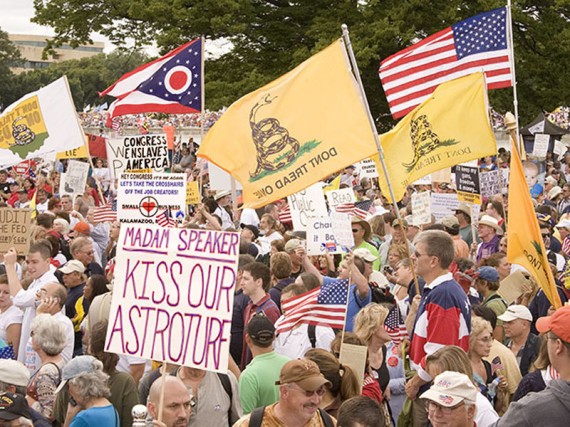 According to a new Gallup poll, public opinion about the Tea Party movement has gone down hill:
PRINCETON, NJ — About half of Americans, 47%, now have an unfavorable image of the Tea Party movement, the highest since it emerged on the national scene.

Gallup began tracking Americans' views of the Tea Party in March 2010, when 37% had a favorable and 40% an unfavorable view. Those views stayed roughly the same through January of this year, but have now turned somewhat more negative. The April 20-23 USA Today/Gallup poll finds favorable opinions of the Tea Party movement dropping to 33%, from 39% in January, and unfavorable opinions rising to 47% from 42%. Twenty percent of Americans say they haven't heard of the Tea Party or have no opinion of it.
Meanwhile, the strength of the Tea Party remains about the same as it always been, with about 1/3 of Americans saying they consider themselves supporters of the movement: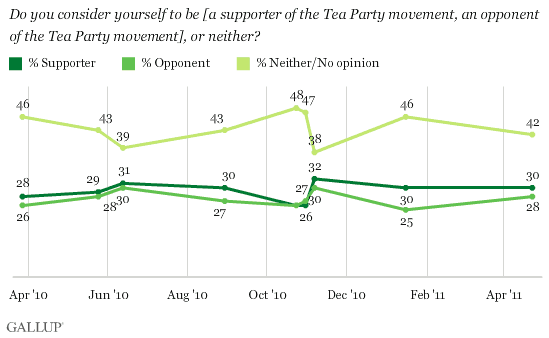 What this suggests to me is that the movement has essentially hit its high water mark with the 2010 midterms, and that its influence over the GOP primaries in 2012 may not be quite as strong as some people think it will, especially considering that many large Republican primaries are open to independents.