New Book Reveals Obama's Initial Reaction To Trump's 2016 Win
A new book reveals President Obama's initial reaction to Donald Trump's election, and provides some detail about their first meeting.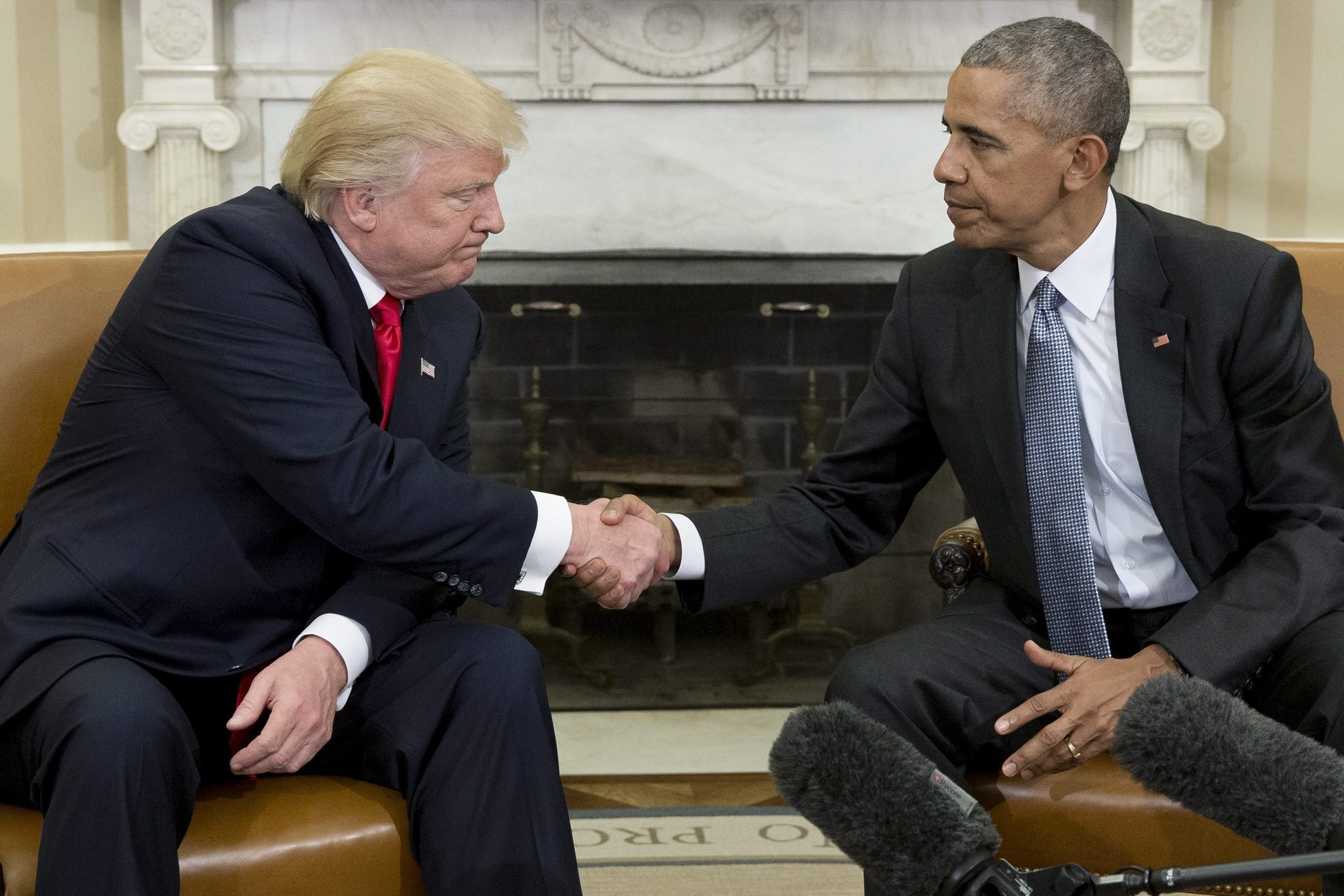 One of the first books to come out from a former member of the Obama Administration reveals some never-before-known details of former President Obama's reaction to the results of the 2016 election:
WASHINGTON — Riding in a motorcade in Lima, Peru, shortly after the 2016 election, President Barack Obama was struggling to understand Donald J. Trump's victory.

"What if we were wrong?" he asked aides riding with him in the armored presidential limousine.

He had read a column asserting that liberals had forgotten how important identity was to people and had promoted an empty cosmopolitan globalism that made many feel left behind. "Maybe we pushed too far," Mr. Obama said. "Maybe people just want to fall back into their tribe."

His aides reassured him that he still would have won had he been able to run for another term and that the next generation had more in common with him than with Mr. Trump. Mr. Obama, the first black man elected president, did not seem convinced. "Sometimes I wonder whether I was 10 or 20 years too early," he said.

In the weeks after Mr. Trump's election, Mr. Obama went through multiple emotional stages, according to a new book by his longtime adviser Benjamin J. Rhodes. At times, the departing president took the long view, at other points, he flashed anger. He called Mr. Trump a "cartoon" figure who cared more about his crowd sizes than any particular policy. And he expressed rare self-doubt, wondering whether he had misjudged his own influence on American history.

Set to be published next week by Random House, Mr. Rhodes's memoir, "The World as It Is," offers a peek into Mr. Obama's tightly sealed inner sanctum from the perspective of one of the few people who saw him up close through all eight years of his presidency. Few moments shook Mr. Obama more than the decision by voters to replace him with a candidate who had questioned his very birth.

(…)

On election night, Mr. Obama spoke by telephone with Cody Keenan, his chief speechwriter, and Mr. Rhodes to figure out what he should say. Mr. Rhodes asked if he should offer reassurance to allies. "No, I don't think that I'm the one to tell them that," the president said.

The next day, Mr. Obama focused on cheering up his despondent staff. At one point, he sent a message to Mr. Rhodes saying, "There are more stars in the sky than grains of sand on the earth."

But days later, Mr. Obama seemed less sanguine. "I don't know," he told aides. "Maybe this is what people want. I've got the economy set up well for him. No facts. No consequences. They can just have a cartoon."

He added that "we're about to find out just how resilient our institutions are, at home and around the world."
In the book, Rhodes also describes some of the former President's discussions with world leaders after the election. Japanese Prime Minister Shinzo Abe, for example, is reported to have apologized for the meeting he had with President-Elect Trump at Trump Tower after the election that was perhaps most notable for the fact that Ivanka Trump sat in on the meeting notwithstanding the fact that she had no role in the transition. Rhodes also says that the former President urged Canadian Prime Minister to take on a more visible role defending their mutual values, something that is perhaps most notable recently by the fact that Canada entered into what is essentially a replacement for the Trans-Pacific Partnership that had nearly fallen apart after President Trump withdrew the United States from the agreement early in his Administration. Finally, Rhodes notes that German Chancellor Angela Merkel told the former President that the results of the American election and the disdain the Trump had expressed throughout the campaign made her feel more obligated to run for another term if only to have the chance to have a voice in an international order that Trump was threatening to significantly disrupt. Merkel, of course, did exactly that and ended up winning the election last September.
Perhaps the most notable thing about what is being reported about the revelations in Rhodes book, though, is the fact that the former President's first reaction to the election results was essentially the repudiation of his own legacy and wondering whether he was elected a decade or two before the nation was ready for the type of change he represented. In the end, it will be history that will be the judge of that. If Donald Trump turns out to be a one-term President, then he will likely be replaced by a Democrat who shares most of Obama's values who will seek to redo what Trump had undone and to reestablish the credibility of the United States on the world stage. In that case, the Trump Presidency will largely turn out to be something of a historical blip with the exception of whatever mark he is able to leave on the Federal Judiciary between now and January 2021. If Trump manages to win re-election, though, and the GOP retains or regains control of either or both chambers of Congress, then Trump's Presidency will be far more transformational, and it will be harder for any Democratic successor to completely undo whatever he might have accomplished between now and January 20th, 2025. Indeed, if Trump lasts that long and the GOP holds onto Congress, then it's likely that most of what Obama built during the eight years he was in office will have been dismantled. And the former President will be around to see it all happen. One wonders, then, how much longer he will be willing to remain silent about what is happening to American politics and culture, and what it will be that may finally cause him to speak up and speak out.