Oath Keepers Founder Sentenced to 18 Years
The stiffest punishment yet for a January 6 seditionist.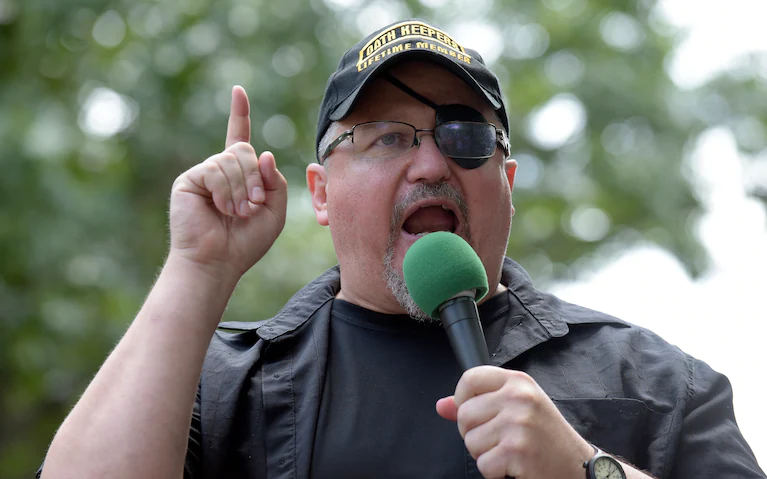 YahooNews ("Oath Keepers founder Stewart Rhodes sentenced to 18 years for role in Jan. 6 insurrection"):
Stewart Rhodes, the founder and leader of the Oath Keepers, was sentenced Thursday to 18 years in federal prison for seditious conspiracy in connection with the Jan. 6, 2021, attack on the U.S. Capitol.

Prosecutors had sought 25 years. Still, it was the longest sentence handed down to date for the more than 500 people convicted in the Jan. 6 cases. Earlier this month, Peter Schwartz of Kentucky was sentenced to 14 years for attacking police officers with pepper spray and a chair as he stormed the Capitol.

Rhodes was convicted in November following a two-month trial that showcased the far-right extremist group's violent plot to overturn President Biden's election and keep former President Donald Trump in power. His lawyers said he will appeal.

Here's everything we know about the landmark case and the Justice Department's ongoing efforts to prosecute those who were involved in the deadly insurrection.

The seditious conspiracy law was enacted after the Civil War to deter Southerners from conspiring against the U.S. government, and occurs when two or more people conspire to "overthrow, put down, or to destroy by force" those in power. Sedition has rarely been charged in the United States.

According to the Associated Press, the last time U.S. prosecutors brought a seditious conspiracy case prior to the Rhodes case was in 2010, when nine members of the Hutaree militia in Michigan were charged with inciting an uprising against the government. They were acquitted on the sedition conspiracy charges at a 2012 trial.

Rhodes and 10 of his co-conspirators were the first Jan. 6 defendants charged with sedition.
Once again, the punishment fits the crime. I gather that federal prisoners are eligible for for parole after serving at least a third of their sentence, or 6 years in this case. I suspect that, given the nature of this crime, Stewart will serve substantially more than that.*
As noted in the comments, the judge laid into Rhodes.
WaPo ("Oath Keepers leader Rhodes sentenced to 18 years for Jan. 6 seditious conspiracy"):
"You sir, present an ongoing threat and a peril to this country, to the republic and the very fabric of our democracy," Judge Amit P. Mehta told Rhodes.

The judge said he had never before expressed such a belief about a defendant appearing in his court. He described Rhodes, who founded his far-right, anti-government group in 2009, as a disturbingly charismatic figure who manipulated dozens of his followers into coming to Washington on Jan. 6, 2021.

"They too are victims, victims of the lies, the propaganda, the rhetoric and ultimately the intention that you conveyed," Mehta said.

Noting that Rhodes has continued to spread conspiracy theories and violent rhetoric in interviews from behind bars, Mehta predicted, "The moment you are released you will be prepared to take up arms against your government."

[…]

Before Rhodes's punishment, no Jan. 6 defendant who did not assault police had been sentenced to more than eight years in prison, and only one man had been sentenced to more than a decade — Peter Schwartz, who had 38 prior convictions, received just over 14 years after assaulting four officers with a dangerous weapon. Rhodes assaulted no one; in court Thursday, he called the testimony of officers wounded in the riot "heart-rending," but "bizarre" and "offensive" to include in his case.

But Mehta said seditious conspiracy is "among the most serious crimes an individual American can commit," more dangerous than a single assaultive act.
As I've noted many times over the years, my strong preference is for law enforcement officials, prosecutors, and, especially, judges to refrain from grandstanding commentary. I'll make an exception for this particular traitor.
________________
*UPDATE: Commenters point out that I am mistaken. The first Google result was the 1984 United States Parole Commission Rules and Procedures Manual. Ironically, Congress rewrote the law later that year:
Under the Sentencing Reform Act of 1984, Congress eliminated parole for defendants convicted of federal crimes committed after November 1, 1987. Going forward, these offenders receive a period of "supervised release" to be served at the end of the federal prison sentence. Federal prisoners convicted of crimes committed on or before November 1, 1987, remain(ed) under the old federal parole system run by the U.S. Parole Commission (USPC or "federal parole board").