Oath Keepers Charged with Seditious Conspiracy
A year after the Capitol riot, DOJ is coming after the most violent perpetrators.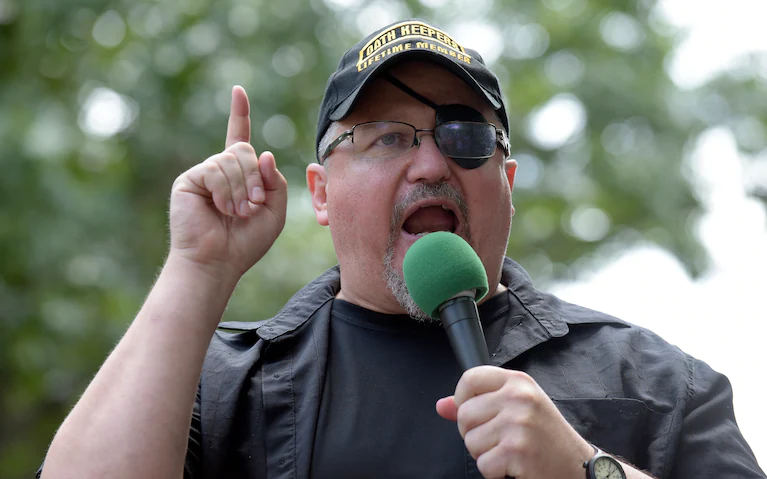 A little over a week ago, on the one-year anniversary of the Capitol riot, I addressed the right-wing talking point, "If It Was an Insurrection, Why Hasn't Anyone Been Charged with 'Insurrection'?" Mostly, I argued, we often use legal terms of art differently in ordinary speech than they exist in the law. Partly, though, I noted,
There are DOJ officials who have been quoted in the press as saying that seditious conspiracy charges are justifiable in some instances. And they may well be.

The legal process, alas, is slow. We have processed hundreds of cases but, for the most part they're the simple ones: the simple assaults, simple trespass, and the like. They're pleading out and getting, with rare exception, mild sentences. A handful have gotten significant prison time.

[…]

I suspect that we'll see very serious criminal charges forthcoming against the worst of the worst: the Proud Boys, Oath Keepers, and other "militia" types intent on violence. Maybe we'll see sedition charges. I doubt we'll see insurrection charges; they're just too hard to prove.
Well, it didn't take long for this to play out.
Yesterday afternoon, the Justice Department issued a release titled "Leader of Oath Keepers and 10 Other Individuals Indicted in Federal Court for Seditious Conspiracy and Other Offenses Related to U.S. Capitol Breach; Eight Others Facing Charges in Two Related Cases."
A federal grand jury in the District of Columbia returned an indictment yesterday, which was unsealed today, charging 11 defendants with seditious conspiracy and other charges for crimes related to the breach of the U.S. Capitol on Jan. 6, which disrupted a joint session of the U.S. Congress that was in the process of ascertaining and counting the electoral votes related to the presidential election.

According to court documents, Elmer Stewart Rhodes III, 56, of Granbury, Texas, who is the founder and leader of the Oath Keepers; and Edward Vallejo, 63, of Phoenix, Arizona, are being charged for the first time in connection with events leading up to and including Jan. 6. Rhodes was arrested this morning in Little Elm, Texas, and Vallejo was arrested this morning in Phoenix.

In addition to Rhodes and Vallejo, those named in the indictment include nine previously charged defendants: Thomas Caldwell, 67, of Berryville, Virginia; Joseph Hackett, 51, of Sarasota, Florida; Kenneth Harrelson, 41, of Titusville, Florida; Joshua James, 34, of Arab, Alabama; Kelly Meggs, 52, of Dunnellon, Florida; Roberto Minuta, 37, of Prosper, Texas; David Moerschel, 44, of Punta Gorda, Florida; Brian Ulrich, 44, of Guyton, Georgia and Jessica Watkins, 39, of Woodstock, Ohio. In addition to the earlier charges filed against them, they now face additional counts for seditious conspiracy and other offenses.

Eight other individuals affiliated with the Oath Keepers, all previously charged in the investigation, remain as defendants in two related cases. All defendants – except Rhodes and Vallejo – previously were charged in a superseding indictment. The superseding indictment has now effectively been split into three parts: the 11-defendant seditious conspiracy case, a seven-defendant original case, and a third case against one of the previously charged defendants.

In one of the related cases, the original superseding indictment, charges remain pending against James Beeks, 49, of Orlando, Florida; Donovan Crowl, 51, of Cable, Ohio; William Isaacs, 22, of Kissimmee, Florida; Connie Meggs, 60, of Dunnellon, Florida; Sandra Parker, 63, of Morrow, Ohio; Bernie Parker, 71, of Morrow, Ohio, and Laura Steele, 53, of Thomasville, North Carolina. The other case charges Jonathan Walden, 57, of Birmingham, Alabama.

The three indictments collectively charge all 19 defendants with corruptly obstructing an official proceeding. Eighteen of the 19 defendants – the exception is Walden – are charged with conspiring to obstruct an official proceeding and conspiring to prevent an officer of the United States from discharging a duty. Eleven of the 19 defendants are charged with seditious conspiracy. Some of the defendants are also facing other related charges.

As alleged in the indictments, the Oath Keepers are a large but loosely organized collection of individuals, some of whom are associated with militias. Though the Oath Keepers will accept anyone as members, they explicitly focus on recruiting current and former military, law enforcement and first-responder personnel. Members and affiliates of the Oath Keepers were among the individuals and groups who forcibly entered the Capitol on Jan. 6, 2021.

The seditious conspiracy indictment alleges that, following the Nov. 3, 2020, presidential election, Rhodes conspired with his co-defendants and others to oppose by force the execution of the laws governing the transfer of presidential power by Jan. 20, 2021. Beginning in late December 2020, via encrypted and private communications applications, Rhodes and various co-conspirators coordinated and planned to travel to Washington, D.C., on or around Jan. 6, 2021, the date of the certification of the electoral college vote, the indictment alleges. Rhodes and several co-conspirators made plans to bring weapons to the area to support the operation. The co-conspirators then traveled across the country to the Washington, D.C., metropolitan area in early January 2021.

According to the seditious conspiracy indictment, the defendants conspired through a variety of manners and means, including: organizing into teams that were prepared and willing to use force and to transport firearms and ammunition into Washington, D.C.; recruiting members and affiliates to participate in the conspiracy; organizing trainings to teach and learn paramilitary combat tactics; bringing and contributing paramilitary gear, weapons and supplies – including knives, batons, camouflaged combat uniforms, tactical vests with plates, helmets, eye protection and radio equipment – to the Capitol grounds; breaching and attempting to take control of the Capitol grounds and building on Jan. 6, 2021, in an effort to prevent, hinder and delay the certification of the electoral college vote; using force against law enforcement officers while inside the Capitol on Jan. 6, 2021; continuing to plot, after Jan. 6, 2021, to oppose by force the lawful transfer of presidential power, and using websites, social media, text messaging and encrypted messaging applications to communicate with co-conspirators and others.
The Washington Post ("Oath Keepers founder Stewart Rhodes charged with seditious conspiracy in Jan. 6 Capitol riot") adds,
The 56-year-old, who was at the Capitol that day but has said he did not enter the building, is the most high-profile person charged in the investigation so far. The indictment filed against Rhodes and 10 other Oath Keepers or associates marks the first time the historically rare charge of seditious conspiracy has been leveled in connection with the wide-ranging Jan. 6 probe.

[…]

The most damaging evidence in the 48-page, 17-count indictment comes from the defendants' own words, often shared in the encrypted messaging app Signal. The indictment alleges that a core group of Rhodes's most strident adherents planned for and participated in obstructing Congress on the day lawmakers certified Biden's 2020 election victory.

[…]

According to the indictment, the plotting for violence began just after Biden won the election.

On Nov. 5, Rhodes told an invitation-only message group of Oath Keepers leaders: "We aren't getting through this without a civil war. Too late for that. Prepare your mind, body, spirit," Five days later, he published a call to action titled, "WHAT WE THE PEOPLE MUST DO," suggesting his organization follow the example of an anti-government uprising in Serbia, the court filing says.

On Christmas Day in 2020, Rhodes sent a message to a similar group, saying he doubted Congress would keep Trump in the White House. 

[…]

"The only chance we/he has is if we scare the s— out of them and convince them it will be torches and pitchforks time. … But I don't think they will listen," Rhodes wrote.

Six days later, on New Year's Eve, he sent a message in an encrypted group chat to other Oath Keeper leaders, saying, "There is no standard political or legal way out of this."
Obviously, we're getting the prosecutor's brief here and DOJ still has to prove all of this in court beyond a reasonable doubt. Still, US Attorneys don't bring charges they aren't pretty confident they can prove and this is the most high-profile case we've seen in a long time. They've spent a year getting their ducks in a row and I'm confident they've got the goods.
We also don't know what further charges could come out of this. It's possible that these charges are partly designed to gain leverage in hopes that some will turn on others, perhaps others higher on the food chain. Whether there was any direct coordination with Trump officials remains to be seen.
Still, this reinforces my longstanding view that the Capitol riot was more than one thing but rather a series of overlapping events. Rather clearly, given that the Oath Keepers planned their part of this weeks in advance, they weren't spurred to action by Trump's speech to the rally shortly before attendees marched on the Capitol.