Trump Facing Multiple Legal Disasters
The 45th President is unlikely to face Federal prosecution but state and civil suits are not going his way.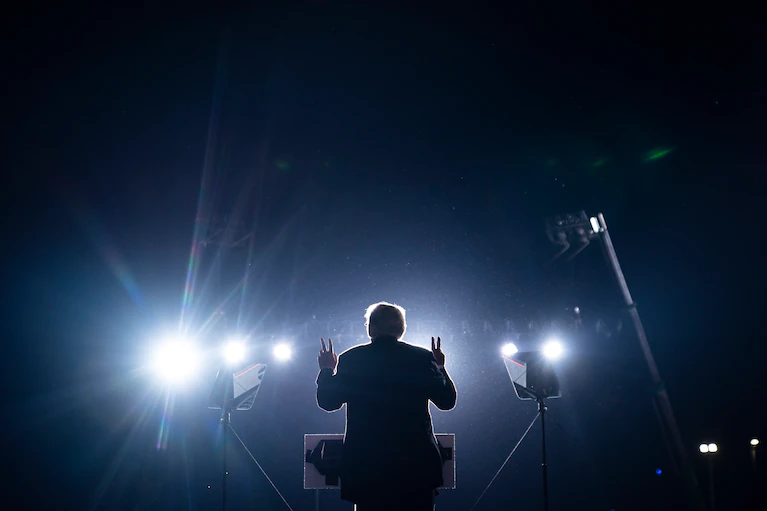 In my previous post, noting that former President Trump took classified documents to Mar-a-Lago upon leaving office, I reiterated my longstanding belief that "he'll almost certainly not be prosecuted" for this or any of the many crimes he likely committed while in office. Like it or not—and I mostly don't—we have "a long history of reluctance to charge Presidents and other high officials with crimes, for reasons both understandable and undemocratic."
That does not, however, mean that Trump is in no legal jeopardy; it's just unlikely to come in the form of Federal criminal prosecution. In addition to the cases that have been slowly winding there way through New York City and New York State systems—in which a judge just ordered that Trump and his children must comply with deposition requests—another judge has ruled that there is sufficient evidence for a suit alleging Trump participated in "a civil conspiracy [that] included the Proud Boys, the Oath Keepers . . . and others who entered the Capitol on January 6th with the intent to disrupt the Certification of the Electoral College vote through force, intimidation, or threats."
As WaPo's Philip Bump observes, this is a profound ruling:
. . . [Judge] Mehta is not saying that this conspiracy was proved; rather, that it was not implausible that it might be. It's the difference between going to trial and reaching a verdict. The second important qualifier is that Mehta is describing only a civil conspiracy, in keeping with the nature of the lawsuits (brought by several members of Congress) that he was considering.

A civil conspiracy, Mehta writes, does not require that conspirators "entered into any express or formal agreement, or that they directly, by words spoken or in writing, stated between themselves what their object or purpose was to be, or the details thereof, or the means by which the object or purpose was to be accomplished." They don't need to know all the details of any plan or all of those participating in affecting it. They need only have come "to a mutual understanding to try to accomplish a common and unlawful plan … [the] general scope of which were known to each person who is to be held responsible for its consequences."

The evidence at hand, Mehta concluded, suggests that such a conspiracy may have been in place between Trump and members of those right-wing extremist groups.

Mehta's argument is fleshed out by highlighting a number of less-recognized elements of the period before the Capitol was overrun, including the three that struck me.

The first was his mention of the previous incidents of violence in Washington. In November and December, Trump supporters came to Washington to protest and, each time, scattered incidents of violence broke out afterward as members of the Proud Boys skirmished with counterprotesters.

"On the evening of November 14, 2020, multiple police officers were injured and nearly two dozen arrests were made," the ruling reads. "Then, on December 12, 2020, supporters of the President clashed with District of Columbia police, injuring eight of them, which led to over 30 arrests, many for acts of assault. The President was aware of these rallies, as he tweeted about them, and he would have known about the violence that accompanied them."

In other words, there was every reason for Trump to believe that a protest on his behalf in Washington might attract extremists and that those extremists might then engage in violence. It certainly casts a different light on White House Chief of Staff Mark Meadows's statement that the National Guard would "protect pro Trump people" on Jan. 6.

The second thing that stood out to me was Mehta's repeated isolation of Trump's having advocated for attendees at his rally to march to the Capitol.

This is something I've written about repeatedly. There were several events planned for the day of Jan. 6, including the speech at the Ellipse outside the White House and a rally on Capitol Hill afterward. Permitting for the rallies indicated that there might be some movement between the White House and the Capitol but that a march wasn't authorized. When Trump explicitly called for rally attendees to march to the Capitol during his speech, he guaranteed (if unintentionally) that there would be a massive imbalance of protesters to law enforcement at the scene, allowing the Capitol to be more easily breached.

Importantly, that call to head to the Capitol surprised other organizers. One, Dustin Stockton, told the New York Times that "the plan had been to stay at the Ellipse until the counting of state electoral slates was completed." There had been internal deliberations about the idea, which Stockton believed had been resolved toward staying near the White House. When he heard Trump call for people to head to the Capitol, Stockton worried that it "felt unsafe." The march, Mehta says, was an addition made by Trump and his campaign.

"[I]t is at least plausible to infer that, when he called on rally-goers to march to the Capitol, the President did so with the goal of disrupting lawmakers' efforts to certify the Electoral College votes," Mehta writes. In other words, even if he didn't know that was the Oath Keepers' and the Proud Boys' specific plan, it might certainly be part of a "mutual understanding" of what the day's desired outcome was.

Mehta analyzes Trump's encouragement of the crowd during the speech that morning at length. While Trump has long pointed to his mention of supporters "peacefully and patriotically" making their voices heard, Mehta notes that that was offset by his more frequent, angrier exhortations. (He also set aside Trump's argument that his speech and his broader claims about voter fraud were protected as part of his duties as president. After all, he wrote, an effort to "secure or perpetuate incumbency" is not a function of the presidency.)

The third thing that struck me was Mehta's isolation of Trump's use of "we" language. Trump did this a lot as president, and still does. It's part of what endears his audience to him; they often see him as fighting for their collective interests more than his own. On the morning of Jan. 6, though, Trump's incessant use of "we" — "All Mike Pence has to do is send it back to the states to recertify, and we become president," "we're going to walk down," etc. — bolsters the conspiracy question.

" 'We' used repeatedly in this context implies that the President and rally-goers would be acting together towards a common goal," Mehta writes. "That is the essence of a civil conspiracy."
My expertise in civil law is minimal and I have no strong opinion as to whether the plaintiffs will be able to prove their case, even to the lower standard of preponderance of the evidence. Still, this not only means months, if not years, of expensive litigation but an essentially limitless fishing expedition that will expose all manner of internal communications. This parallels the House investigation, which also has subpoena power and the cooperation of the Biden White House, but Trump and others will be compelled to testify or plead the Fifth here.
Columnist and Lincoln Project co-founder George Conway argues "Trump's luck may finally be running out." His focus is on the New York cases.
On Thursday, a judge in New York ordered Trump, along with his daughter Ivanka and his son Donald Jr., to testify within 21 days at civil depositions in the New York attorney general's investigation of potential fraud at the Trump Organization. The judge's opinion brutally rejected Trump's arguments for blocking the depositions: It would have been "blatant dereliction of duty" for the attorney general not to take the testimony, the judge explained, because prosecutors have unearthed "copious evidence of possible financial fraud" in Trump's business.

[…]

As the judge noted, and as revealed in court papers filed on Monday by the attorney general, Trump's accounting firm, Mazars, sent a letter on Feb. 9 to the Trump Organization terminating its relationship with Trump. The letter was astounding in many respects.

Mazars said that 10 years of Trump's financial statements, from 2011 to 2020, "should no longer be relied upon," and that Trump should tell that to the people he gave them to. The accountants explained that they reached this conclusion based upon court filings previously made by the New York attorney general, as well as the accountants' own investigation and other sources.

And then they quit. Under the "totality of the circumstances," Mazars wrote, "we have also reached the point such that there is a non-waivable conflict of interest with the Trump Organization. As a result, we are not able to provide any new work product to the Trump Organization." Oh, and by the way, Donald and Melania's tax returns are due in four business days — but, hey, we promise "to facilitate a smooth transition to your new tax preparers." Best regards, Mazars.

Translated from legal-accountingese, the letter was an unmitigated disaster for Trump, far beyond his possibly having to file late returns. By saying the statements "should no longer be relied upon," the accountants effectively announced, You misled us. By "totality of the circumstances," they likely meant, The prosecutors investigating you, and the case they're making, are serious.

[…]

Now the man who longhas had trouble finding decent legal representation might find it all but impossible to find new auditors and tax preparers. It's hard to imagine that any reputable accounting firm will touch his tax returns, let alone fix and bless his financials for a decade or more.

Even if lenders don't exercise any rights they might have to call in their loans, Trump apparently still needs to refinance hundreds of millions' worth of them soon. As Trump biographer Timothy L. O'Brien of Bloomberg Opinion puts it, "Good luck refinancing your debt when the accountants" — who have just declared a decade of your financials utterly worthless — have "just walked out the door."

So Trump would face a heap of problems even if the New York attorney general (and the Manhattan district attorney she's working with) closed up shop tomorrow. No wonder Trump's son Eric was all but crying when he mentioned the prosecutors this week on Fox News.

But as Thursday's ruling makes clear, the prosecutors aren't going away anytime soon. And in 21 days, absent some relief from a higher court, Trump will face a profound conundrum at his deposition.

Will he testify and (assuming he's even capable of it) tell the truth, and possibly implicate himself in crimes? Or will he provably lie under oath, and virtually guarantee himself an indictment for perjury?

Or will he do the sensible thing — plead his Fifth Amendment right against self-incrimination hundreds of times, as Eric Trump and the company's finance chief, Allen Weisselberg, already have done — and face the political embarrassment (and, in civil litigation, the negative inferences) that would entail? In court Thursday, Trump's lawyer said that he was advising his client to do precisely that.
All of this combines into multiple, overlapping, catastrophic disasters for Trump. The admissions from his accountants alone would seem to doom him in the New York cases. Not to mention likely spawning multiple civil suits from those who Trump has cheated over the years. And, even if he somehow manages to win all of these cases, the legal costs—and I can't imagine the lawyer who isn't demanding pay-as-we-go from Trump given his tendency to not pay his bills—would be crushing.
None of this will be quite as satisfying as seeing him convicted for the Federal crimes he committed. Or being convicted in the Senate for either of the two impeachments. It's rather like getting Al Capone on tax evasion. But I do think it makes it that much more implausible for him to mount a successful run for the Presidency in 2024.