News Anchors At Sinclair Owned Stations Caught Reading From Same Corporate Mandated Script
News anchors at dozens of local stations owned by conservative-leaning Sinclair Broadcast Group were recently required to read a script mandated by corporate headquarters, and it's leading to some bad media coverage for Sinclair.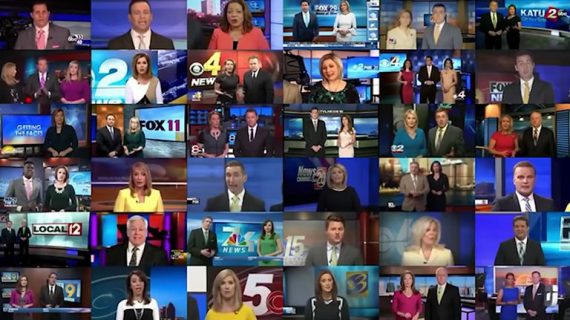 Sinclair Broadcast Group, which owns nearly 200 local television stations across the country as well as a wide variety of other assets in radio and online media, is under scrutiny this morning after video emerged of local anchors at a number of the stations it owns reading what appears to be a corporate-prepared script that touches on the whole so-called "fake news" phenomenon:
On local news stations across the United States last month, dozens of anchors gave the same speech to their combined millions of viewers.

It included a warning about fake news, a promise to report fairly and accurately and a request that viewers go to the station's website and comment "if you believe our coverage is unfair."

It may not have seemed strange to individual viewers. But Timothy Burke, the video director at Deadspin, had read a report last month from CNN, which quoted local station anchors who were uncomfortable with the speech.

Mr. Burke tracked down the Sinclair affiliates and found when they had aired what he called a "forced read."

Then he stitched together the various broadcasts to create a supercut of anchors from Seattle to Phoenix to Washington eerily echoing the same lines:

"The sharing of biased and false news has become all too common on social media."

"Some members of the media use their platforms to push their own personal bias."

"This is extremely dangerous to our democracy."

The script came from Sinclair Broadcast Group, the country's largest broadcaster, which owns or operates 193 television stations.

Last week, The Seattle Post-Intelligencer published a copy of the speech and reported that employees at a local news station there, KOMO, were unhappy about the script. CNN reported on it on March 7 and said Scott Livingston, the senior vice president of news for Sinclair, had read almost the exact same speech for a segment that was distributed to outlets a year ago.

Mr. Burke's video — along with a similar one created by ThinkProgress, the left-leaning news outlet — spread quickly on social media over the weekend, leading to prominent criticism of Sinclair. Peter Chernin, a media investor and longtime president of Rupert Murdoch's News Corporation, called it "insidious." David E. Price, a Democratic North Carolina congressman, called the video "pro-Trump propaganda" on Monday.

(…)

A union that represents news anchors did not respond immediately to requests for comment on Monday.

Dave Twedell of the International Cinematographers Guild, who is a business representative for photojournalists (but not anchors) at KOMO in Seattle and KATU in Portland, Ore., said Sinclair told journalists at those stations not to discuss the company with outside news media.

Although it is the country's largest broadcaster, Sinclair is not a household name and viewers may be unaware of who owns their local news station. Critics have accused the company of using its stations to advance a mostly right-leaning agenda.

"We work very hard to be objective and fair and be in the middle," Mr. Livingston told The New York Times last year. "I think maybe some other news organizations may be to the left of center, and we work very hard to be in the center."

Sinclair regularly sends video segments to the stations it owns. These are referred to as "must-runs," and they can include content like terrorism news updates, commentators speaking in support of President Trump or speeches from company executives like the one from Mr. Livingston last year.

But asking newscasters to present the material themselves is not something that Kirstin Pellizzaro, a doctoral candidate at Arizona State University's Walter Cronkite School of Journalism and Mass Communication, remembered from her experience as a producer at a Sinclair-owned news station in Kalamazoo, Mich., from 2014 to 2015.

The station had to air "must-run" segments that came from Sinclair, which is based outside Baltimore. "Some of them were a little slanted, a little biased," Ms. Pellizzaro said. "Packages of this nature can make journalists uncomfortable."

Sinclair representatives did not immediately respond to requests for comment on Monday. But Mr. Livingston told The Baltimore Sun that the script was meant to demonstrate Sinclair's "commitment to reporting facts," adding that false stories "can result in dangerous consequences," referring to the Pizzagate conspiracy as an example.

"We are focused on fact-based reporting," Mr. Livingston continued. "That's our commitment to our communities. That's the goal of these announcements: to reiterate our commitment to reporting facts in a pursuit of truth."
Here's the video that Deadspin created from the various Sinclair-owned stations:
How America's largest local TV owner turned its news anchors into soldiers in Trump's war on the media: https://t.co/iLVtKRQycL pic.twitter.com/dMdSGellH3

— Deadspin (@Deadspin) March 31, 2018
CNN, which originally broke the story about this script in early March, reported that the revelation has caused some discontent from reporters at Sinclair owned stations:
The Sinclair employees who originally contacted CNNMoney about the promo shoot said they felt it advanced the company's agenda at the expense of their own credibility.

The employees said they felt they needed to speak anonymously because they were worried they could lose their jobs if identified.

After CNN's initial story in early March, others expressed concern and frustration.

"I try everyday to do fair, local stories, some Trump-related, but it's always washed out by this stuff they do at a national level," one local reporter said.

Another employee came forward and told CNN that "as a producer who finds it unethical, I will refuse to run it."

The promos started airing in late March. It is unclear if any stations have refused to broadcast them.

An all-newsroom email from one station news director read: "Let me be absolutely clear here… These MUST Run. If they do not, my job is on the line. I don't say that to scare you by any means but I do say this so you understand how serious SBG is about this project."

SBG is the corporate abbreviation for Sinclair.

A Sinclair spokeswoman did not respond to requests for comment on Sunday.

In his memo to stations, Livingston described a "Trust and Truth research" project the company did involving a well-known consulting firm called Magid.

"Trust is the fundamental issue with connecting to news consumers. And we are a trusted news source," he wrote, describing the promos — "the local anchor message on Journalistic Responsibility" — as a followup.

(…)

Some of the concerned Sinclair staffers said they appreciated the national attention, but they're more worried about how local viewers are reacting. They pointed out that station Facebook pages and Twitter feeds are receiving criticism about the promos.

"I feel bad because they're seeing these people they've trusted for decades tell them things they know are essentially propaganda," one local anchor said.

The person, who has been in touch with counterparts in other markets, said anchors are especially bothered "because they have all this experience in news, and now they're being degraded like this."
To be fair, local news stations using "canned" material provided by their corporate owner isn't an entirely new phenomenon, and it isn't unique to stations owned by Sinclair. As several commentators noted last night on Twitter, Conan O'Brien has made showing these pieces where local anchors at different ends of the country reading the same script or running the same piece on some topic a regular part of his show. What's different about this type of segment is the fact that it clearly seems to be an opinion piece or editorial and there's no indication that it was labeled as such when it was broadcast by any of these stations. Instead, it was reported as if it was straight news alongside local crime reports, sports, and weather. It's also worth noting that, in addition to its television assets, Sinclair also owns a number of radio stations and other assets, including several conservative-leaning websites on the Internet. Based on the commentary pieces that it has required local stations to run in the past, and the ideological leaning of its radio station assets, it's fairly clear that Sinclair leans in the conservative direction politically and that it has sought to use its media platform to push pieces based in ideology. In the past, this has included reports that it would require some stations to run an hour-long piece critical of 2004 Democratic Presidential nominee John Kerry just weeks prior to the Presidential election, that a handful of its stations had run an infomercial critical of President Obama in 2010, and that several Sinclair stations ran a pre-election special critical of President Obama in the weeks before the 2012 election.
President Trump came to Sinclair's defense this morning on Twitter:
President Donald Trump on Monday morning defended Sinclair Broadcasting after the company came under fire for requiring local news anchors to read promotional material alleging bias from other media organizations.

"So funny to watch Fake News Networks, among the most dishonest groups of people I have ever dealt with, criticize Sinclair Broadcasting for being biased. Sinclair is far superior to CNN and even more Fake NBC, which is a total joke," the president tweeted Monday morning.

Trump's tweet came several minutes after CNN aired a segment on a viral video from Deadspin that cut together footage from Sinclair-owned stations reading the same script on "the troubling trend of irresponsible, one-sided news stories plaguing our country." CNN first reported on the promo.

Sinclair, a conservative-leaning company, owns or operates nearly 200 television stations in the U.S., including Fox, ABC, CBS and NBC affiliates.
Here's Trump's Tweet:
So funny to watch Fake News Networks, among the most dishonest groups of people I have ever dealt with, criticize Sinclair Broadcasting for being biased. Sinclair is far superior to CNN and even more Fake NBC, which is a total joke.

— Donald J. Trump (@realDonaldTrump) April 2, 2018
This last part comes as the President continues to bash Amazon and its owner Jeff Bezos largely in response to what he sees as negative coverage from The Washington Post, which is also owned by Bezos but not affiliated with Amazon. It also comes at an especially critical time for Sinclair given the fact that it is seeking to purchase the broadcast properties of Tribune Media, the entity that emerged from Chapter 11 Bankruptcy in 2012 that consists largely of the broadcast assets of Tribune Company. If approved, the deal would give Sinclair ownership of a total of roughly 233 stations covering 72% of the United States. Because it would give Sinclair control over even more local television and radio stations and other assets, thus making it among the most powerful media companies in the country alongside Comcast, Fox News parent company News Corporation, and Disney, Sinclair must get the approval of this acquisition from the Federal Communications Commission and other government elections. I have not followed this proposed deal closely so I can't speak to the question of whether or not it ought to be approved, but the fact that the President of the United States is fairly obviously putting his thumb on the scale in Sinclair's favor even while agencies of the Executive Branch decide the fate of this acquisition is, to say the least, concerning.
In the past, of course, it would have been possible for a company like Sinclair to get away with stuff like this without anyone really noticing. Even with 200 stations nationwide, most people who watch local news aren't going to know that what they saw on their local news, often delivered by anchors who they have known for years because they've either stayed at the same station or been employed by different stations in the same market, is being fed to them from a corporate office in Maryland. If this were packaged as an editorial or opinion piece, perhaps it would be excusable within boundaries of what is generally considered journalistic ethics. As I noted above, though, there's no indication at all that any of the stations that followed this script did that, and little indication that they made any effort to inform their viewers that what they were viewing was the product of a corporate boss with an obvious political bias seeking to use their media empire to spread a political message. That's unfair to viewers, and it's unfair to the reporters and anchors who have now had their own credibility, and perhaps their ability to be employed outside the Sinclair universe, on the line.
Photo Montage via YouTube and The New York Times