Newt Gingrich: Any Ad That Uses Words I Actually Said Is A Falsehood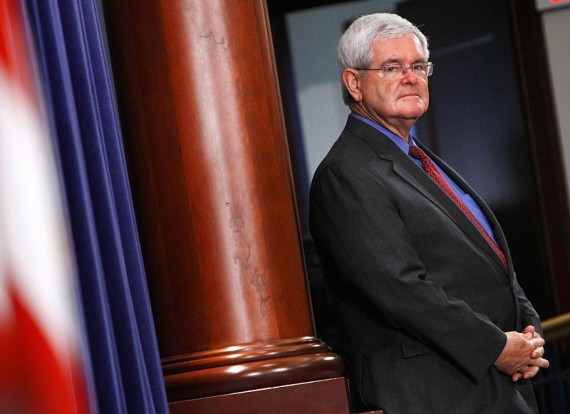 The disaster that is the Newt Gingrich Presidential rollout tour just seems to be getting worse. Last night, on Fox News Channel he attempted once again to repair the damage he's done to himself, and ended up putting his foot in his mouth once again:
To say that Gingrich is in crisis mode is not necessarily hyperbole. The former House Speaker and GOP thought leader has been toying with running for president for what seems like years now, and coming out of the gate, he has more than stumbled; he's fallen flat. It all started when he appeared on Meet the Press on Sunday and told host David Gregory that he believed that the individual mandate plan put forth by Rep. Paul Ryan (R-WI), and supported by nearly the entire House Republicans) was radical.

Since then he's put out his own YouTube video repudiating the comments he made on Sunday, but had to deal with rejections from various political leaders including SC Governor Nikki Haley and Eric Cantor (R-VA.) Host Greta Van Susteren deserves credit for not only booking Gingrich, but for providing a tough interview with her former Fox News cohort.

Ginrich's walking back of these comments in such thorough and dramatic fashion appears to indicate that he recognizes the folly, or he is not tone deaf to the roar of criticisms from his GOP peers. Nonetheless, one can imagine a future campaign ad that mimics the classic John Kerry video clip of "I was before it before I was against it." And while Gingrich appears to be taking someone of a litigious position with statements of "falsehood" and the impression of libel, its very difficult to imagine that he and or campaign would ever pursue such a case, guaranteeing that this confusing chapter in Gingrich's candidacy stays in the news.
Here's the clip:
So, Gingrich's new defense is that David Gregory asked him a "trick question" and that he "misspoke." Watch the clips for yourself, and reach your own conclusion.
Visit msnbc.com for breaking news, world news, and news about the economy
Visit msnbc.com for breaking news, world news, and news about the economy
Gingrich is imploding. He's imploding because he forgot that he's not just a talking head pundit on television who can talk like a grand theorist and get away with it. He's running for President, and trying to change your story on the fly doesn't work in the era of YouTube.