Newt Gingrich Apparently Can't Debate Without His Cheering Section
Newt Gingrich was wondering where his audience was last night.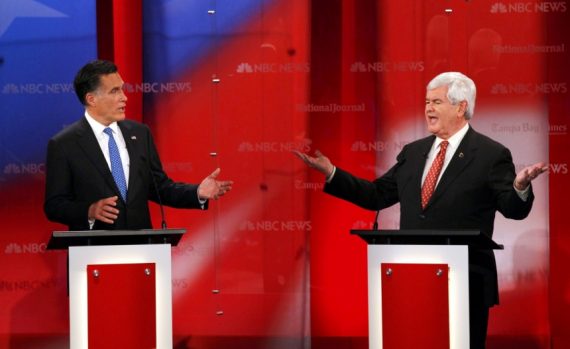 As I noted in my wrap-up post this morning, one of the most striking differences between last night's debate and previous affairs, especially those two raucous nights in South Carolina, was the fact that the audience was completely out of the fight. Whether it was Gingrich or Ron Paul, none of the candidates got any reaction out of the audience at all. As it turned out, the moderator of the debate, NBC's Brian Williams had asked the audience to keep applause to a minimum so it doesn't eat into debate time. This audience apparently took that advice very seriously and barely made a noise for the entire 1 hour 45 minutes of the debate. Not surprisingly, Newt Gingrich isn't very happy about losing the part of the debate that made him seem like a "winner":
Newt Gingrich insists his fans will not be silenced.

Mr. Gingrich, a former House speaker, on Tuesday morning threatened not participate in any future debates with audiences that have been instructed to be silent. That was the case on Monday, when Brian Williams of NBC News asked the audience of about 500 people who assembled for a debate in Tampa to hold their applause until the commercial breaks.

In an interview with the morning show "Fox and Friends," Mr. Gingrich said NBC's rules amounted to stifling free speech. In what has become a standard line of attack for his anti-establishment campaign, Mr. Gingrich blamed the media for trying to silence a dissenting point of view.

"I wish in retrospect I'd protested when Brian Williams took them out of it because I think it's wrong," Mr. Gingrich said. "And I think he took them out of it because the media is terrified that the audience is going to side with the candidates against the media, which is what they've done in every debate."

(…)

Mr. Gingrich clearly noticed something was off, too. "We're going to serve notice on future debates," he told Fox. "We're just not going to allow that to happen. That's wrong. The media doesn't control free speech. People ought to be allowed to applaud if they want to."
For a man known for making ridiculous arguments, Gingrich is really outdoing himself here. Asking an audience to be quiet so that the candidates can be heard from as much as possible is an attack on free speech? Seriously Newt? Leaving aside the fact that the First Amendment only applies to restrictions imposed by the government, the fact remains that these events are sponsored by the media and they have the right to set whatever rules they'd like. Just like they have the right to apply whatever participation rules they want, they also have the right set the standards for audience behavior during the debate, or to decide that there won't be any audience at all. In that regard, it's worth remembering that the four debates between Richard Nixon and John F. Kennedy took place in television studios without an audience. Gingrich is clearly just complaining because the lack of a responsive audience deprived him of what has been, up until now, an effective debate weapon. The fact that it's a "weapon" that has absolutely nothing to do with the substance of Gingrich's arguments  seems to me to be an argument against allowing the audiences to be such a major factor.

What Gingrich's reaction reveals, of course, is something I discussed earlier this week, which Jonathan Bernstein touches upon — when you get right down to it, Newt Gingrich really isn't as good a debater as his fans think he is:
Monday, without a hooting and hollering crowd, and with a moderator who mostly didn't choose to get in a fight, the disgraced former speaker showed once again what a poor job he does when he engages with other candidates. Williams started the debate by basically begging the two leading candidates in the polls to tear into each other, and Mitt Romney was ready…or at least he was sort of ready; to my ears, he was only mildly effective at challenging Newt. But Gingrich couldn't handle being hit. I'm not sure which was worse — that he eventually froze up entirely at one point for, oh, let's call it a third of a Perry interval, or that he eventually resorted to a sneering "my friend" to refer to Romney. It's always hard to tell how things play, and, again, what matters most is how (and if) these segments are presented to Republican voters over the next several days before they're replaced with the next set of debate clips, but he sure looked awful to me.

Granted, a good deal of that is that he's defending some difficult positions: his work for Freddie Mac and his resignation from Congress. He's been defending the Freddie Mac one by implausibly arguing that he was just being a historian; now, he added a preposterous claim that he left Congress voluntarily because he didn't want to be like Nancy Pelosi and serve for a long time. But when called on these claims, at least on Monday, he just deflated, and he was never really back on his game again.
More importantly, though, if Gingrich did manage to win the Republican nomination as a result of some act of mass voter insanity, he'd be without his cheering section in the debates against President Obama too:
I called up the Commission on Presidential Debates, which handles the general election debates, and they confirmed that audience participation has not been allowed in the past in debates, and will not be allowed this cycle either. So, if Gingrich is the GOP nominee, he'll have to face a silent audience during his debates with the President unless the rules are changed.
And in case you're wondering, no, the rules will not be changed. So unless Newt could somehow get it arranged so that Jerry Springer hosts all of his debates against the President, he'd be just as neutered as he was last night, and just as ineffective.