Newt Gingrich Slightly Leading In New Gallup Poll
Are these The Final Two?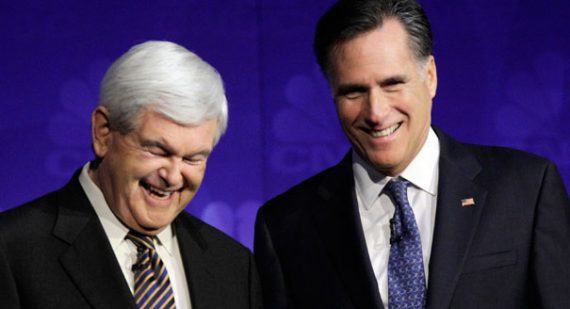 Despite all the arguments against him, Newt Gingrich appears to be in the middle of a real bounce in the polls. So far, this has all the classic markings of the pattern we've seen in the Republican race where a candidate rises up in the polls to challenge Mitt Romney, stays there for a couple weeks or the better part of a month, and then sinks back down while Romney stays where he has been from the beginning. If the pattern holds here, then it means that we should start seeing Gingrich falling in the polls in mid-December. However, with so little time left before the Iowa Caucuses and, more important the Holiday Season when many voters will tune out of the race for at least week or so, that's not written in stone. We could be looking at the final Republican pairing for 2012, Newt v. Mitt.
First up, there's the Gallup poll, which shows Gingrich and Romney in a statistical tie, mostly because of Gingrich has surged while Herman Cain has fallen:
Republicans are most likely to name Mitt Romney and Newt Gingrich as their first choice for their party's 2012 presidential nomination, with Herman Cain close behind. Among all Republicans nationwide, Romney is the choice of 20% and Gingrich 19%. Among Republican registered voters, Gingrich is at 22% and Romney at 21%.

hese results are based on a USA Today/Gallup poll of 1,062 Republicans and Republican-leaning independents conducted Nov. 13-17. Compared with the prior poll, conducted Nov. 3-6, Gingrich's support has increased from 12% to 19% among all Republicans. His support has gone up in each of the last three polls after bottoming out at 4% in August, and is now at his highest for the campaign to date.

Meanwhile, Cain, who has been dogged by allegations of sexual harassment, has seen his support dip slightly, from 21% to 16%. However, it remains well above the levels from earlier this year, which were generally in the single digits.

Rick Perry's support also slipped, to 8% in the latest poll, conducted after the two most recent candidate debates, including the Nov. 9 debate in which Perry failed to remember the names of all three cabinet departments he vowed to shut down if elected. Perry's support has declined in each of the last three updates after peaking at 29% in mid-August, shortly after he entered the race.

Romney, meanwhile, has been the leader or tied for the lead in nearly every poll conducted since May, when the Republican field largely came into shape.
The trend over the past several months is pretty clear. Romney has a traveled on a relatively straight line, while everyone else has been all over the place: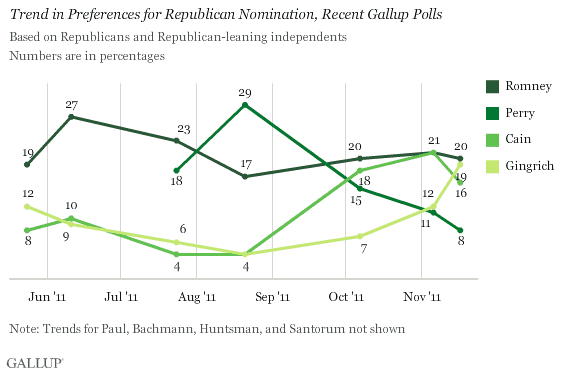 More importantly, perhaps is the fact that Romney is the only candidate who appeals relatively equally to conservative Republicans and Republicans or independents who lean Republican but describe themselves as "moderate/liberal":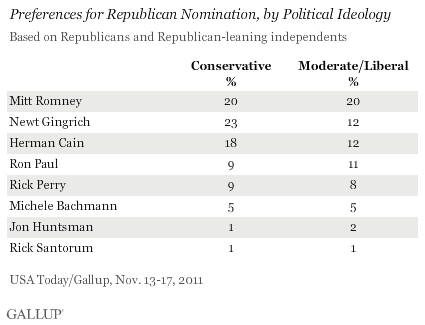 These last numbers are important if only because of the fact that there are many open primaries on the GOP calendar this year, meaning that independents are able to vote if they want to. This is one of the reasons why Romney is doing so strongly in states like New Hampshire. Nonetheless, it's hard to deny that Gingrich has surged despite the fact that he doesn't have that much of a campaign organization in the early primary states and, apparently, not all that much money, he is a force to be recokned with. Moreover, as I noted above, the calendar may well be on Gingrich's side here. Absent some serious gaffe on the campaign trial, and Gingrich seems to have that under control these days, I'm not sure what would knock him down from this perch, and who would replace him. Herman Cain has had two bites at the apple now and, between his ignorance and the sexual harassment charges, appears to be done. Ron Paul is too eclectic to appeal to the GOP base as a whole. Michele Bachmann had her chance and pretty much ruined any shot at a comeback during the September debates. Rick Perry just doesn't seem to be able to get beyond the flubs and gaffes that led to his downfall. That leaves Rick Santorum and Jon Hunstman and, while I'd like to see Huntsman for one get his chance in the spotlight, I don't think there's enough time for anyone who is that far back in the national polls to come out of nowhere.
Jennifer Rubin, who is of course a huge Romney supporter, doesn't think that the Gingirch bounce is sustainable, though:
We know the pattern all too well. A potential unifying conservative enters the race. His shortcomings aren't well-known. Then they become well-known. His poll numbers crash. The cycle repeats itself with another rival to Romney.

So, really, the question of the moment remains: How far and fast will Gingrich fall as voters learn more about him? It' probably not a good sign for him that he starts at a comparatively lower altitude than those who tumbled previously.
This is the way I've been approaching the Gingrich rise myself, that eventually Gingrich's character flaws, and his record of backing causes that are anathema to most conservatives would be his eventual undoing. Perhaps that Rubin and I will end up being right about that, but it's also possible that voters already know this stuff about Gingrich and they've already discounted it to some degree. The real question, I think, is how Gingrich responds to the inevitable attacks that will come his way. As I've noted before, one of the biggest problems Gingrich has had throughout his public career is the fact that he can tend to come across as something of a smug jerk when he gets into a political argument. It was in part his personality, I would argue, that ended up being the reason that Bill Clinton was so easily able to beat him during the 1995/96 government shutdown showdown. If that Newt Gingrich returns to the surface, then he could find his rise to the top ending very quickly.