No, President Obama Hasn't Spent "Millions" To Keep His Birth Certificate Private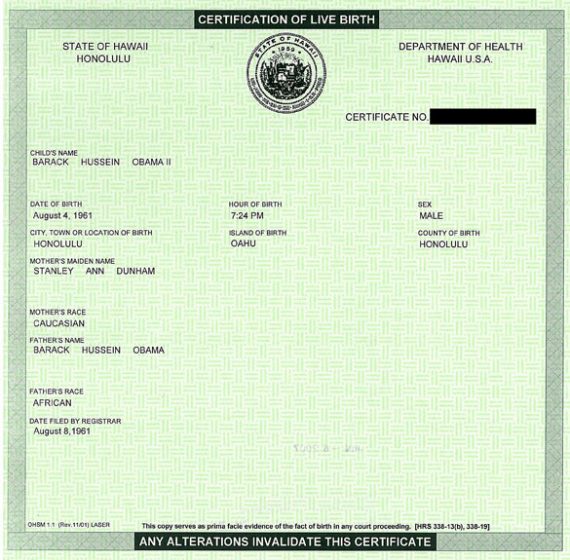 One of the most persistent things you hear from birthers is the allegation that President Obama has spent millions of dollars trying to keep his birth certificate hidden. Politifact takes a look a finds that there's not even a remote amount of truth to this:
In an Oct. 27, 2009, article, WND reported that, according to filings with the Federal Election Commission, the Obama campaign had paid approximately $1.7 million to the campaign's law firm, Perkins Coie, since Obama was elected.

So that's where we started our research. We did our own tally of payments made to Perkins Coie, all of which were reported, as required by law, in quarterly disbursement reports filed to the FEC by his campaign organization, Obama for America. We found that in the last quarter of 2008 — which is roughly the period after Obama was elected in early November — and the first three quarters of 2009, which is when WND wrote its story, Obama for America did, in fact, pay Perkins Coie $1.7 million. If you add in the payments made in subsequent months, the fees paid to Perkins Coie between October 2008 and December 2010 rises to $2.6 million.

But what does that $2.6 million number mean? Not what Trump and others have assumed.

Specifically, the payments by Obama for America to Perkins Coie covered all sorts of legal expenses — not just expenses related to birth certificate issues.

The FEC forms do not specify what each payment specifically went for, since that degree of detail is not required by law. We also couldn't get additional details from Perkins Coie or the Democratic National Committee about how the legal fees were spent.

However, DNC National Press Secretary Hari Sevugan told the Capitol Hill newspaper Roll Call in a March 31, 2011, story that "the campaign has incurred ordinary legal expenses related to the wind-down of its operations and other legal services, which all campaigns incur, and which are proportional to the unprecedented size of this campaign." (The Obama campaign raised upwards of $750 million — a record.)

For the sake of comparison, the Roll Call story noted that the campaign for Obama's 2008 Republican opponent John McCain — which was a smaller operation — had spent more than $1.3 million on lawyers since the election.

(…)

We should note that, since Obama was elected, a number of federal cases related to the birth certificate issue — including several filed by or with the assistance of California attorney Orly Taitz, a leader among Obama birth certificate questioners — have been handled by federal attorneys, including those with the U.S. Department of Justice. Several of these cases were dismissed almost immediately. Others were active for up to a year but were ultimately dismissed and then, in some cases, appealed. The case in which Bauer wrote the letter to the plaintiff was dismissed twice by the Supreme Court.

We interpret the quotations by Trump and Palin to mean payments made by Obama in a personal capacity, not in cases where he's represented in an official capacity by government lawyers. For one thing, both Trump and Palin used the term "legal fees," which would be irrelevant in a case defended by government lawyers. Federal attorneys are paid a salary by the taxpayers, and they do not charge their "client" — in this case, the president — fees for representation. If these attorneys weren't working on birth certificate cases, they'd be working on some other case for the same salary.

So that leaves the funds paid to Perkins Coie. Trump's and Palin's claims assume that the vast majority of the money paid to Perkins Coie since the election was used to defend against lawsuits challenging Obama's citizenship. We agree that some amount of money was spent in legal fees related to those lawsuits — the letter from Bauer to the plaintiff is an example of that. But, while we don't know exactly how much the Obama camp spent on their private lawyers, there were many, many non-birth-certificate duties that a law firm typically handles in the wake of a presidential campaign, which suggests that any birth certificate work was a small percentage of the overall fees paid to Perkins Coie.
So, once again, another birther myth bites the dust.