No, You Still Won't Be Able To File Your Tax Return On A Postcard
Once again, tax "reform" won't make it easier to prepare or file tax returns.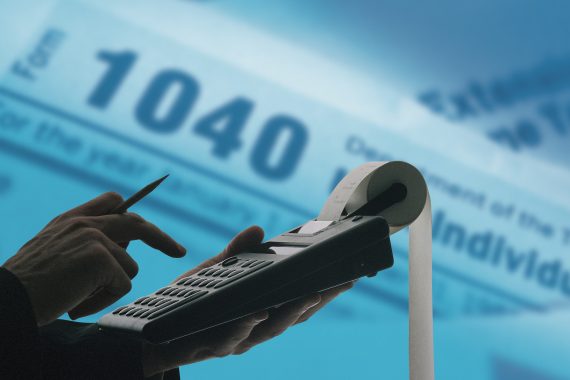 For decades now, Republicans and even many Democrats have promised voters that they would simplify the income tax for individuals to such an extent that most Americans would be able to file the tax returns on a postcard. It's an appealing slogan, of course, because I don't think their is a single person out there who enjoys the tedious and often mind-numbing process involved in filling out State and Federal income tax returns that typically involve filing several supporting schedules, consulting tax tables, or using software programs like TurboTax that are meant to "simplify" the tax filing process but often only serve to make it more detailed and more frustrating. Notwithstanding this promise, of course, we've never even gotten close to the 'tax returns on a postcard' promise that politicians make seemingly every election year. In the past, there have been some innovations that have allowed some individuals to avoid using the Form 1040 process, such as the 1040A and 1040EZ, but they're generally only useful to people who don't have a lot of deductions, don't have kids, and don't own a home. If you fall into any one of these categories, or all of them, you can generally forget about using the simpler forms. Additionally, electronic tax filing has made the entire tax process far easier for a large number of Americans, and made it much easier to avoid the last-minute crunch that used to lead to long lines outside Post Offices on April 15th. Even with e-iling, though, you generally either need to sit down in front of a computer for a few hours at least, or hire a professional to do the job for you.
As The New York Times notes today, that isn't going to change with the new tax bill:
WASHINGTON — The Republican tax bill does not pass the postcard test.

It leaves nearly every large tax break in place. It creates as many new preferences for special interests as it gets rid of. It will keep corporate accountants busy for years to come. And no taxpayer will ever see the postcard-size tax return that President Trump laid a kiss on in November as Republican leaders launched their tax overhaul effort.

This was not the grand simplification of the code that Republicans promised when they set out to eliminate tax breaks and cut the number of tax brackets as they lowered rates.

As their bill tore through Congress, their ambitions fell to the powerful forces of lobbying and the status quo. Killed tax breaks returned to life. New ones sprung up beside them. A plan for three individual tax brackets became five, and finally eight.

Trade groups, such as the one for real estate agents, were able to preserve many benefits targeted for elimination. The groups whose breaks were actually killed formed an eclectic, if less powerful, bunch: bicycle commuters, gamblers, workers whose companies give them free food.

What emerged on Friday, in the final product agreed to by Republican members of a House-Senate conference committee, was a bill that layers new tax complexities upon businesses large and small, and which delivers a larger share of benefits to corporations and the rich than to the middle class.

It sets all tax relief for individuals to expire in eight years, while making deep and permanent cuts to the corporate tax rate. It limits one key benefit for taxpayers in high-tax states, such as New York, but otherwise does little to back up Mr. Trump's promise last month that "we're also going to eliminate tax breaks and complex loopholes taken advantage by the wealthy."

The final legislation, which appears on track to be approved by Congress next week, offers little redress to workers who have grown to believe that the country's tax law thicket advantages those with power, political connections and lawyers on retainer. Its evolution undermines a central selling point for a bill that is already seen by most Americans as unlikely to benefit them, according to polls.

Budget experts had hoped for a tax overhaul that stoked additional economic growth by eliminating targeted tax breaks, which would allow for lower tax rates, a trade that economists generally believe increases efficiency in the economy.

"The whole purpose of tax reform is to eliminate tax breaks to simplify the tax code and reduce rates," said Marc Goldwein, senior vice president for the Committee for a Responsible Federal Budget in Washington. "But from what I can see, they only repeal one significant tax break, and very few if any tiny ones."

Republican leaders spent most of the year promising something quite different. A tax plan "framework" released in September declared that Mr. Trump's first principle for a tax bill was to "make the tax code simple, fair and easy to understand." A collection of "policy highlights" for the House bill, when it was first released, proclaimed that the plan "eliminates special-interest deductions that increase rates and complicate Americans' taxes."

Those arguments echoed a message that conservative groups had found scored highly with voters — the idea that a tax bill could "un-rig" the system. In August, In Pursuit Of, a communications and marketing firm that supports the influential Koch network, conducted a focus group test of Mr. Trump delivering a short message along those lines, and it rated highly. The results were shared widely among Republicans, and echoed in party leaders' speeches when they launched the tax push in earnest.

"With this plan, we are getting rid of loopholes for special interests, and we are leveling the playing field," Speaker Paul D. Ryan of Wisconsin declared at a news conference unveiling the House bill on Nov. 2. "We're making things so simple — we're making things so simple that you can do your taxes on a form the size of a postcard."
To some extent, the new tax bill would make filing and preparing taxes easier for some Americans. One the primary reasons for this is the fact that the standard deduction will be doubling to $12,000 for individuals and $24,000 for individuals, numbers that will mean that far fewer Americans will end up itemizing deductions, eliminating the need to document those expenses and to fill  out at least one of the more common tax schedules that most Americans have been forced to use in recent decades if they want to minimize their tax liability (and who doesn't want to do that?). There were also some provisions in the House bill that would have eliminated or sharply reduced the availability of many common deductions such as state and local taxes and large medical expenses, which are already limited to a certain percentage of taxable income. Most of those provisions were eliminated in the Senate bill, though, and did not survive the conference committee process thanks both to concerns about the impact their elimination would have on the impact on the deficit and pressures from lobbying groups and from Senators and Congressmen in states with higher state and local taxes whose citizens would be adversely impacted by the limits envisioned by the House version of the tax bill.
In reality, of course, the promise of being able to file a tax return on a postcard or some kind of simpler form is far easier said than done. Absent a significant reform of the entire tax code that eliminates most deductions, calculating tax liability is always going to be a complicated process for a large number of Americans, with the possible exception of single people with modest incomes. This is especially true for the increasingly large number of Americans who are self-employed, have investments such as mutual funds and retirement funds, or who own homes, have kids, or have medical expenses due to unforeseen circumstances. To expect otherwise is to expect the impossible.