NY Post Agitprop
Rudy Giuliani and a hack tabloid are trying to revive the Burisma story.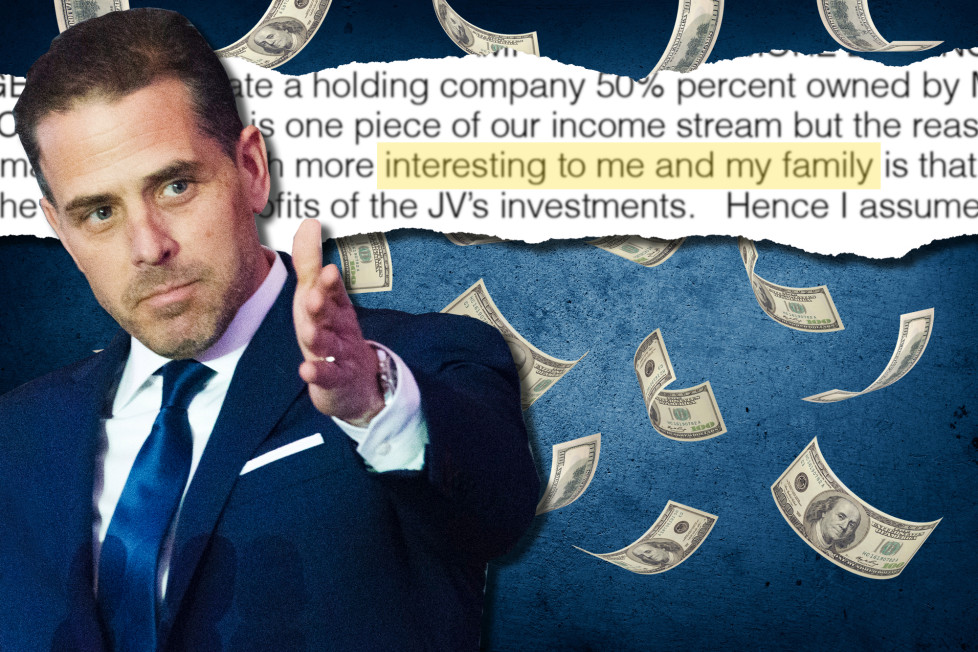 The New York Post has published an ostensible expose by Emma-Jo Morris and Gabrielle Fonrouge headlined "Emails reveal how Hunter Biden tried to cash in big on behalf of family with Chinese firm." The gist:
Hunter Biden pursued lucrative deals involving China's largest private energy company — including one that he said would be "interesting for me and my family," emails obtained by The Post show.

One email sent to Biden on May 13, 2017, with the subject line "Expectations," included details of "remuneration packages" for six people involved in an unspecified business venture.

Biden was identified as "Chair / Vice Chair depending on agreement with CEFC," an apparent reference to the former Shanghai-based conglomerate CEFC China Energy Co.

His pay was pegged at "850" and the email also noted that "Hunter has some office expectations he will elaborate."

In addition, the email outlined a "provisional agreement" under which 80 percent of the "equity," or shares in the new company, would be split equally among four people whose initials correspond to the sender and three recipients, with "H" apparently referring to Biden.
The story is almost universally being received as Russian propaganda.
Glenn Kessler of WaPo ("Hunter Biden's alleged laptop: An explainer"):
How do we know the email is authentic?

We do not. The New York Post published PDF printouts of several emails allegedly taken from the laptop, but for the "smoking-gun" email, it shows only a photo made the day before the story was posted, according to Thomas Rid, the author of "Active Measures," a book on disinformation. "There is no header information, no metadata." The Washington Post has not been able to independently verify or authenticate these emails, as requests to make the laptop hard drive available for inspection have not been granted. The New York Post said it obtained the material from former New York mayor Rudolph W. Giuliani, a personal lawyer to President Trump.

There also is no indication that Hunter Biden replied to the email.

Moreover, another alleged email published by the New York Post contradicts the notion that Hunter Biden could influence his father. "What he will do and say is out of our hands," Hunter Biden wrote in an email that the New York Post said was sent April 13, 2014.
Skimming through the article myself, I found it odd that there were no copies of Biden replies; one-sided conversations just aren't very interesting. And, frankly, that all of this somehow made it to Rudy Giuliani of all people is a serious red flag.
Are there errors in the New York Post report?

A separate article, about another email, claims that a public relations company that worked for Burisma was allowed to take part in a conference call about an upcoming visit by Joe Biden to Ukraine. But there was nothing secret about this call, and the transcript was released publicly and posted on the White House website.

More broadly, the New York Post repeats the falsehood, advanced by Trump, that the "elder Biden pressured government officials in Ukraine into firing a prosecutor who was investigating the company."

We have fact-checked this repeatedly. During President Barack Obama's second term, Biden was in charge of the Ukraine portfolio, keeping in close touch with the country's president, Petro Poroshenko. Biden's brief was to sweet-talk and jawbone Poroshenko into making reforms that Ukraine's Western benefactors wanted to see as part of Ukraine's escape from Russia's orbit. But the Americans saw an obstacle to reform in Viktor Shokin, the top Ukrainian prosecutor, whom the United States viewed as ineffective and beholden to Poroshenko and Ukraine's corrupt oligarchs. In particular, Shokin had failed to pursue an investigation of the founder of Burisma, Mykola Zlochevsky.
Frankly, if I were trying to derail the Biden campaign with an October Surprise, I'd have avoided repeating repeatedly-debunked lies. And, for that matter, if I believed I had credible information, I'd have given it to the Times, the Post, or at least the Wall Street Journal rather than a tabloid. As it is, it seems to be doubling-down on Trump's longterm strategy of trying to goose his own base rather than expand his support.
Why is this coming out now?

Good question. The FBI supposedly obtained the hard drive earlier this year from John MacIsaac, who said he owns the Wilmington Mac Shop.

MacIsaac told reporters on Wednesday that a MacBook laptop was dropped off at his shop in Wilmington, Del., in April 2019. MacIsaac, who said he was legally blind, said that he was almost certain that it was Hunter Biden who dropped off the computer. He said that he made several attempts to get in touch with Hunter Biden but the equipment was still in his hands 90 days after it had been left there, and he said that he became curious about what he'd seen.

He made a copy of the hard drive and gave it to Giuliani. This past weekend, Giuliani passed a copy to the New York Post. But presumably the laptop would have been of use to the year-long Senate investigation, which found no wrongdoing by Biden.

As Giuliani has sought to locate information about Hunter Biden and Ukraine, he has regularly interacted with a Ukrainian lawmaker who was recently sanctioned by the U.S. Treasury Department as being an "active Russian agent for over a decade" and was engaged in an influence operation to affect the 2020 election. Those interactions have given rise to fears that the emails could be part of a broader disinformation campaign.
Way to bury your lede there, Glenn.
Defense One technology editor Patrick Tucker ("Anti-Biden Disinformation Decried by Disinfo Experts, Social-Media Giants"):
On Wednesday, cybersecurity professionals, disinformation experts, and lawmakers urged journalists to be careful in their coverage of a "bombshell" New York Post story aimed at Democratic presidential candidate Joe Biden.

[…]

The provenance of the emails themselves is, to put it mildly, dubious. The Post story states that they come from a water-damaged laptop that was "dropped off at a repair shop in Biden's home state of Delaware in April 2019, according to the store's owner." The owner made a copy of the hard drive, turned the computer over to the FBI, but then inexplicably gave copies of his client's files to Robert Costello, a lawyer for Rudy Giuliani, former New York City mayor-turned-Trump booster. The owner of the laptop never returned to retrieve it, according to the Post.

Even if that remarkable series of events were true and the emails were real, they only suggest that Joe Biden may have agreed to meet one of Hunter Biden's business partners. They don't reveal actual wrongdoing.

The Post story also omits key details, including that Giuliani has acknowledged working closely with Andriy Derkach, a Kremlin ally sanctioned by the U.S. Treasury for pushing disinformation intended to sway the 2020 election. It omits that the gas company in question was recently attacked by the same Russian, state-backed hacking team that stole emails from the Democratic National Committee in 2016. It does not mention recent intelligence community assessments that Russia is still attempting to influence the U.S. presidential election to the benefit of Donald Trump.

Disinformation watchers on Wednesday were quick to point out the deeply problematic nature of the story and urge journalists and news outlets to be careful in how they covered it.

Peter Singer, a strategist at New America and the co-author of LikeWar: The Weaponization of Social Media, a book about disinformation, tweeted: "as I read stories like this, it makes me reflect on what some in media (especially on security beat) have learned from 1) the experience of being an unintentional player in info ops and 2) the perils of #bothsides equivalence."

Kyle Cheney, a congressional reporter for Politico, tweeted, "The 'smoking gun' email in the NY Post story — even if it is authentic, given the massive red flags — doesn't actually say what the story says it does."

Again, stipulating that the suspect email is real, there's literally nothing in it that says Joe Biden met with a Burisma adviser.

"The opportunity to meet," may just as easily have meant Hunter promised a meeting in the future that may never have occurred.— Kyle Cheney (@kyledcheney) October 14, 2020

Marc Ambinder, a security expert in residence with the University of Southern California Annenberg School, pointed out that that chain of events had all the hallmarks of a Russian disinformation operation.

– mysterious circumstances (which gin up conspiratorial thinking)
– deniability (witnesses can't remember key facts about the chain of custody of the information)
– no metadata (can't verify emails)
– a gun … with no smoke (would be too obvious)
– a willing media vector— Marc Ambinder (@marcambinder) October 14, 2020

John Scott-Railton with the University of Toronto's Citizen Lab project highlighted a thread on the subject by cybersecurity researcher Thomas Rid, author of Active Measures: The Secret History of Disinformation And Political Warfare. "Every journalist should read this thread: Critical advice on vetting of questionable stories that involve emails," said Railton.

Rid's thread picks apart the story and urges "journalists considering writing about this toxic story: don't—unless you can independently verify more details. And even if you can verify something, acknowledge the possibility of disinformation up-front, especially against the backdrop of 2016. Not doing so is bad practice."
While obviously more politically motivated than the others, Mother Jones DC Bureau chief David Corn makes a similar plea ("Giuliani and the New York Post Are Pushing Russian Disinformation. It's a Big Test for the Media."):
The story depicts this as a big scandal, and Guiliani tweeted, "Much more to come."

But the key point of the article was predicated on false information that Giuliani has been spreading for a long time—and that appears to be linked to a Russian disinformation operation that the Post neglected to note in its article. That is, the Post piece, based on an unproven smear, is in sync with Moscow's ongoing effort to influence the 2020 election to help President Donald Trump retain power. (The FBI and other parts of the US intelligence community have stated that Vladimir Putin is once again attacking the US political system to boost Trump.) And this story presents a challenge to the American media: how to report on an orchestrated campaign to affect the election that relies on disinformation, salacious and sensational material, and the revival of allegations that have already been debunked.

The bad faith animating the Post story is demonstrated by its open embrace—in the first sentence—of a demonstrably false narrative and by its failure to report Giuliani's association with a Russian intelligence agent who the Department of Treasury has accused of interfering in the 2020 election.
Katie Glueck, Michael S. Schmidt and Mike Isaac of the New York Times ("Allegation on Biden Prompts Pushback From Social Media Companies") add:
Hours after the Post published its article, Facebook said on Wednesday that it had decided to limit the distribution of the story on its platform so it could fact-check the claims. Twitter said it was blocking the article because it included people's personal phone numbers and email addresses, which violated their privacy rules, and because the article violated their policy on hacked materials.

Facebook's and Twitter's actions immediately provoked strong reactions from Republicans that the social media platforms were censoring them, an outcry that grew louder later on Wednesday when the Trump campaign said the personal account of the White House press secretary, Kayleigh McEnany, had been locked because she had posted the New York Post story. Senator Marsha Blackburn of Tennessee, a staunch Trump ally, called Twitter's action "despicable" and termed it "the real election interference."

Facebook, Twitter and YouTube have been under fire from Mr. Trump and other Republicans for years for allegedly censoring their views. The companies, located in liberal Silicon Valley, have denied those claims.
The irony is that Facebook has long frustrated critics by allowing Russian- and Trumpist propaganda to spread largely unchecked and is therefore the open social media platform of choice for Trump supporters. Yet any act of minimal responsibility is naturally used as evidence that it's a leftist cabal.
Even aside from the sheer hackishness of this effort, it's hard to see how it does much damage. Absent serious evidence that Joe Biden leveraged the Vice Presidency to enrich the family, which no one—including a spirited investigation by a Republican-led United States Senate with all the investigatory powers of the federal government—has found, it's hard to see where this all goes. And, frankly, given that Trump has openly leveraged the Presidency for four years to enrich his family, it wouldn't change my vote even then.