Obama As Polarizing As Bush
The political polarization we saw during the Bush Presidency has continued throughout the Obama Presidency.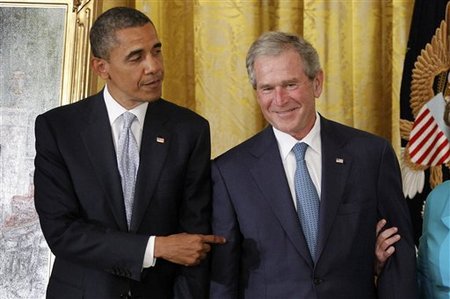 Continuing a trend that we've seen since the beginning of his Presidency, Gallup notes that the public remains as polarized over President Obama as they were over President George W. Bush:
PRINCETON, NJ — During his fourth year in office, an average of 86% of Democrats and 10% of Republicans approved of the job Barack Obama did as president. That 76-percentage-point gap ties George W. Bush's fourth year as the most polarized years in Gallup records.

The list of most polarized years makes it clear that Obama's highly polarized ratings may be as much a reflection of the era in which he is governing as on Obama himself. The last nine presidential years — the final five for Bush and Obama's first four — all rank in the top 10. Thus, it appears that highly polarized ratings are becoming the norm, as Americans aligned with both parties are apparently not looking much beyond the president's party affiliation to evaluate the job he is doing.

Obama's record polarization last year also is owing to the electoral cycle. For most elected presidents, their fourth year in office — the year all sought re-election — was the most polarized year of their presidency. The election year likely causes Americans to view the president in more partisan terms, given his involvement in campaigning that year as well as the presence of an active opponent from the other party who is trying to defeat him. The lone exception to the pattern is Dwight Eisenhower, whose sixth year in office was his most polarized.
Here's a chart showing the most polarizing Presidential years based on Gallup's polling: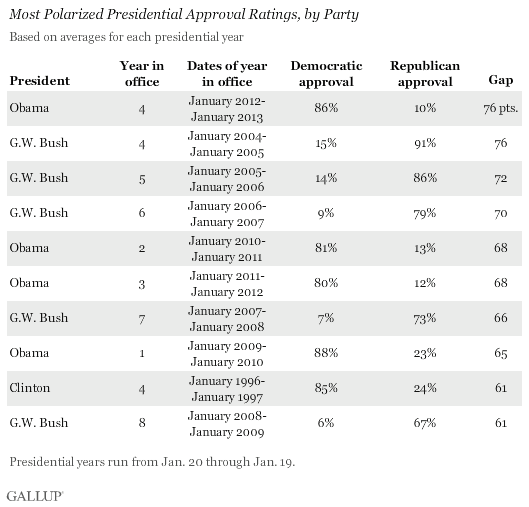 It shouldn't come as much of a surprise that President Obama and his immediate predecessor show up exclusively on this list. Thanks to the Iraq War, the economic downturn, the continuing weak economy, the rise of the Tea Party, and a Republican Party that has become far more aggressive in its opposition to the President's agenda than we've seen in the past, both of these men have presided over some of the most politically contentious periods in recent history. Factor into this the rise of a much more partisan media market, both on cable and online, and you've got the perfect recipe for the kind of political culture where partisans are motivated to reflexively hate the other side. Sure, there are exceptions to this but they can mostly be found outside of Washington with people like Chris Christie in New Jersey, who has consistent polled well with both Republicans and Democrats. The same can be said about Hillary Clinton during the time she was Secretary of State, although I anticipate that this will change as she reenters the world of domestic politics, and especially if she runs for President in 2016. In our current environment, once you're at the top of the heap you're the person that your political adversaries begin to focus their political hatred on. Absent some massive shift in our political culture, I don't see it changing any time soon.
Indeed, it just seems to be getting worse, as this look at President's going all the way back to Eisenhower demonstrates:
Our three most recent Presidents, of course, have proven to be the most polarizing, although President Reagan wasn't too far behind Nixon. In any case, though, none of their predecessors have had as large a partisan gap as George W. Bush and Barack Obama. Heck, even Richard Nixon managed to maintain support from as much as 1/3 of self-identified Democrats during his time in office and Jimmy Carter had an average of 30% of Republicans that approved of his job performance. Those days are, quite obviously, long gone. No matter who wins the Presidency in 2016, that person is going to face a mountain of opposition from the opposite side. If Hillary Clinton becomes President, she's likely to lose much of the good will with Republicans she has built up over the past four years or so and we're likely to see a return to the polarization of the Clinton Era, only this time on steroids. There doesn't seem to be a solution to this problem, and it doesn't seem likely to end anytime soon.