Obama Disapproval On Economy At Record High
When it comes to the issue likely to be at the forefront of voters minds next November, President Obama isn't doing well at all:
President Obama's ratings on the the most important issue for his re-election — the economy — have posted the weakest showing of his presidency, according to a poll released Friday by CBS News.

About 60 percent of voters said they disapprove of Mr. Obama's handling of the economy, the highest on record. Just 34 percent approve of the job he is doing on the matter.

His overall approval ratings are just 43 percent, while 47 percent disapprove of the job he is doing as president.

Among independents, just 39 percent are satisfied with his performance, while 76 percent of Democrats and 12 percent of Republicans approve of his job performance

About 47 percent of independents disapprove of the job Mr. Obama is doing for the United States, compared to 81 percent disapproval among Republicans and 21 percent disapproval among Democrats.

(…)

On foreign policy, Mr. Obama's ratings are higher. About 45 percent of respondents approve of the job he is doing, compared to 41 percent who disapprove of his foreign policy performance.

On the specific subject of combating terrorism, about 63 percent approve of Mr. Obama's performance while 28 percent disapprove.
These numbers are fairly consistent with what we've seen recently from other polls of the President's job approval, and just adds to the overall trend when it comes to his job approval on the economy which is, not surprisingly, not good at all: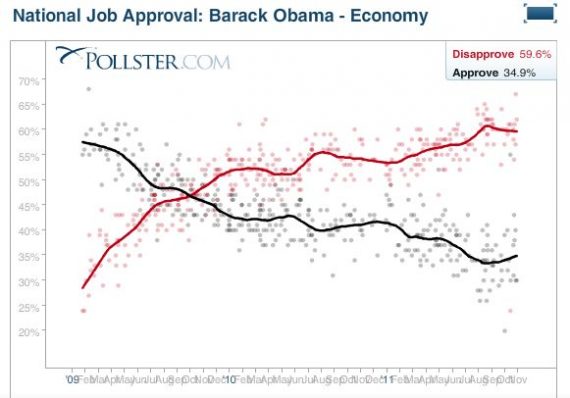 Given the state of the economy, it's not surprising that these numbers are where they are. It poses a problem for the President, though, since it's pretty clear that the economic climate is unlikely to improve significantly over the next year. The President himself has already admitted that people are not better off than they were four years ago, and when the time comes, they'll be asking themselves that same question when they walk into their polling place. Barack Obama might not like their answer.