Obama Drops Below 40% In Gallup Job Approval Poll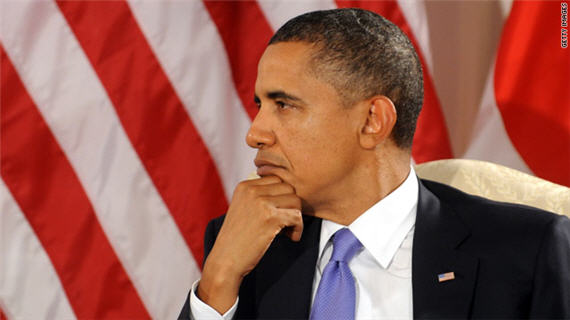 It may only be a one-time fluke, or it could be the beginning of a trend. In either case, President Obama's job approval number has fallen below 40% for the first time in his Presidency, according to the Gallup Daily Tracking Poll:
President Obama's summer woes have dragged his approval rating to an all-time low, sinking below 40% for the first time in Gallup's daily tracking poll.

New data posted Sunday shows that 39% of Americans approve of Obama's job performance, while 54% disapprove. Both are the worst numbers of his presidency.

Obama's approval rating has hovered in the 40% range for much of 2011, peaking at 53% in the weeks following the death of Osama bin Laden.

But Americans' view of his job performance continued to tick downward as the debt-ceiling debate heated up. By the time he signed legislation averting a federal default, he was mired in the low-40% range.
Even if the Gallup number is on the low side, it's still consistent with the President's job approval numbers of late, which have been trending negative for most of the past two months: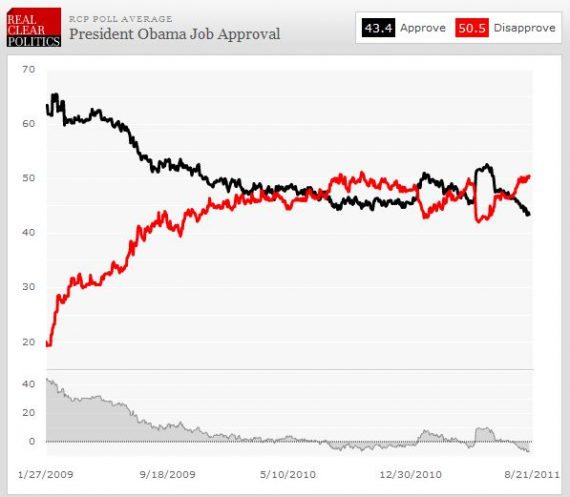 Obviously this is largely a reflection of the state of the economy. Unless that turns around, these numbers aren't going to improve significantly and are likely to get worse.