Obama: I Could Have Beaten Trump And Won A Third Term
President Obama thinks he would have beaten Donald Trump. And he's probably right.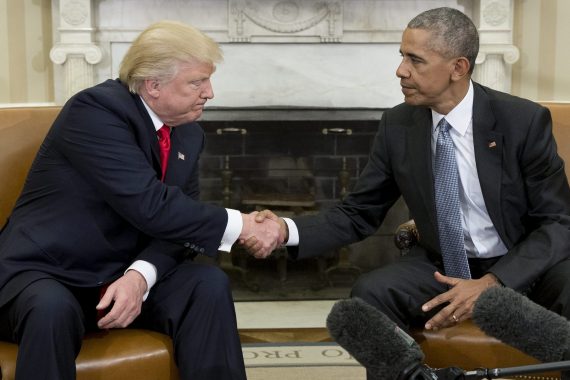 In one of the first of what are sure to be many end-of-Presidency interviews, Barack Obama says he thinks he could have beaten Donald Trump if he had run for a third term:
President Barack Obama still believes in the message of "hope and change" he campaigned on in 2008 — so much so that he believes it could have delivered him a third term over Donald Trump had the Constitution allowed him to run again.

"I am confident in this vision because I'm confident that if I — if I had run again and articulated it, I think I could've mobilized a majority of the American people to rally behind it," Obama told his former senior adviser, David Axelrod, on Monday's "Axe Files" podcast. "I know that in conversations that I've had with people around the country, even some people who disagreed with me, they would say the vision, the direction that you point towards is the right one."

Obama campaigned vigorously for Hillary Clinton, his former secretary of state, dispatching himself, Vice President Joe Biden and first lady Michelle Obama across the country on Clinton's behalf. It would be a "personal insult" to his legacy, he said during the campaign, if the black community didn't support Clinton. All of his administration's accomplishments would be reversed under a President Trump, he warned. Progress and hope, he argued, were on the ballot, although his name was not.

But it was all for naught.

Republicans successfully painted Clinton as a corrupt, dishonest politician who was running for Obama's third term despite, they insisted, putting America's national security at risk when she set up a private email server as head of the State Department. She belonged in jail, some said. Others accused her of using her family nonprofit as a slush fund and argued that the longtime politician was the quintessential emblem of the status quo, not the change agent she portrayed herself to be.
President-Elect Trump not surprisingly disagrees:
President-elect Donald Trump has two words for President Barack Obama, who suggested that his 2008 message of hope and change could have landed him a third term in the White House if he had been constitutionally eligible: "NO WAY!"

"President Obama said that he thinks he would have won against me," Trump tweeted Monday afternoon. "He should say that but I say NO WAY! – jobs leaving, ISIS, OCare, etc."

Trump's tweet came hours after the president — whose approval ratings this year have been some of the highest during his eight years in office — told David Axelrod, his former senior adviser, that the message from his 2008 campaign still resonates in 2016.

"I am confident in this vision because I'm confident that if I had run again and articulated it, I think I could've mobilized a majority of the American people to rally behind it," Obama said on "The Axe Files" podcast published Monday morning.

"I know that in conversations that I've had with people around the country, even some people who disagreed with me, they would say the vision, the direction that you point towards is the right one."
With the possible exception of George W. Bush, speculating about a third time seems like something every two-term President has done since the adoption of the 22nd Amendment. It's a natural thought for them to have, I suppose, given the fact that reaching the end of a two-term Presidency is generally considered the end of a political career and, at the very least, the end of electoral politics for men who have in most cases spent virtually their entire career in politics, It's only natural, I suppose, that they'd speculate about running for office again, especially since it tends to be you become used to doing even if it does turn out to be exhausting, frustrating, and back-breaking while you're doing it. This is leven more likely in the case of someone like President Obama, who is still relatively young at the end of his Presidency and now finds himself contemplating a post-Presidency that could last three decades or longer and you perhaps start wondering just what the heck you're going to do with yourself. It's also a time when Presidents become more concerned with their legacy and how their Presidency is going to be perceived by historians and, perhaps even more importantly, remembered by the public at large. Being only human, one imagines that politicians like to think that their well-regarded by the public, which is why losing can often be taken personally, especially after a long, bruising campaign.
Since the adoption of the 22nd Amendment, we've had five Presidents who have served two full terms in office, but it seems clear that only a few of them could have plausibly run for another term if they chose. Eisenhower and Reagan both left office with high job approval ratings that arguably could have allowed them to run for the White House a third time, for example. In both cases, though, it's equally probable that age might have become a factor in whether or not there was a third term. Eisenhower was  70 years old in 1960, for example, and had been in public service in either the military or politics since he graduated West Point in the early 20th Century, and he'd also served in two World Wars that kept in far from home for years at a time. Reagan was 77 in 1988 and had been in politics for some twenty years after an equally long career in Hollywood before that. There's no real record of Eisenhower ever having speculated publicly about a third term, and one could easily see him wanting to retire to his farm at Gettysburg even if the 22nd Amendment didn't exist. Similarly, while Reagan did call for the repeal of the 22nd Amendment, he also said that he wouldn't run for a third term even if the Constitution didn't bar him from doing so.
By contrast to Eisenhower and Reagan, our three most recent Presidents were all relatively young when they reached the end of their second terms, and at least two of them likely would have had a reasonable shot at winning a third term. The one exception to the rule, of course, would seem to be George W. Bush, who left office with job approval numbers rivaling the lows hit by Harry Truman during the nadir of his Presidency. That fact, combined with an increasingly unpopular war and the worst economic downturn since the Great Depression argues quite strongly that Bush either would have decided against an attempt at a third term or that he would have been decisively trounced if he had tried to run again. By contrast, Bill Clinton arguably would have faired quite well had he been given the chance to run for a third term. Notwithstanding the Lewinsky scandal and impeachment, Clinton left office with job approval numbers that were as high as Reagan's at the end of his second term it isn't very implausible to believe that he would have done better in the 2000 election than Al Gore did. Indeed, Clinton was young enough that one can speculate about whether he would have been tempted to run for a fourth term in 2004. Being the political animal that he is, my guess is that he would have given it serious thought at the very least.
That brings us to Barack Obama.
Looking solely at the numbers, it seems clear to me that Barack Obama would have likely done far better in a race against Donald Trump than Hillary Clinton did. His job approval and personal favorability numbers have always been consistently better than Hillary Clinton's ever were in either 2008 or 2012, for example. Additionally, Obama would not have been hobbled by issues such as a private email server or an FBI investigation into how classified information. His personal popularity among Democrats in general, and minority and younger voters in particular, was and is far stronger than Clinton's as well, meaning that he likely would not have had some of the problems with turnout that post-election analysis seems to be revealing as having been an issue for Clinton. Add into this the fact that, notwithstanding her problems and the mistakes her campaign made, Clinton still walked away from the election with a popular vote majority, and arguably only lost the election because she failed to capitalize on traditionally Democratic states in the Midwest. As I've noted before, Clinton would have won the election had she won Wisconsin, Michigan, and Pennsylvania. Instead, she lost those three states, which have gone Democratic in every election since at least 1992, by a combined 77,774, or just 0.59% of the vote in all three states combined. President Obama likely would have won those states, and more, and defeated Trump easily.
There are several caveats to all this speculation, of course. The manner in which each of these Presidents conducted their second terms, and the public perception of their Presidency that followed, was largely shaped by the fact that everyone knew going in that the incumbent President would not be running for re-election at the end of their second term. If that weren't the case, then it's highly likely that both the Presidents in question and their opponents would have acted differently during the course of that second term, and that the public would have reacted differently to the events of a second term. In some cases, voters might have grown tired of a President after two terms regardless of the state of the economy and favored change over continuing the status quo. The opposing party also would have reacted differently to the idea of running against an incumbent a second time and chosen a different nominee than the ones we saw in 1988, 2000, or 2016. Based just on what we know now, though, makes it seem clear that Obama is right and that he could have easily beaten Donald Trump. Which says a lot about both the nature of Trump's victory and just how strong a candidate Hillary Clinton actually was.