Obama Introduces "Administrative Fix" That May Create More Problems Than It Solves
A contrite President Obama offered a "fix" for one of the biggest problems that the PPACA has created.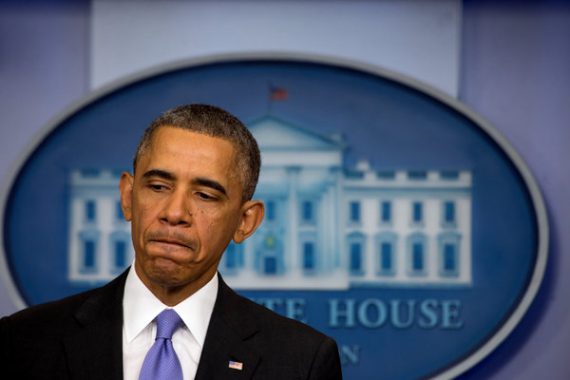 As expected, President Obama appeared in the White House Press Briefing Room today and, in addition to answering questions, set forth what is being called an "administrative fix" to the Affordable Care Act that is supposed to address the problem of people who have seen their individual insurance policies being canceled due to failure to comply with the Affordable Care Act:
WASHINGTON — President Obama bowed to mounting political pressure from across the country and on Capitol Hill on Thursday and announced new rules that will let insurance companies keep people on health care plans that would not have been allowed under the Affordable Care Act.

Mr. Obama, seeking to address an outcry that has shaken public confidence in the new health law, told reporters at the White House that the changes should allow most people to retain their health care plans for a year despite having received letters saying they could no longer keep their insurance.

"I completely get how upsetting this can be for a lot of Americans, particularly after assurances they heard from me that if they had a plan that they liked they could keep it," said Mr. Obama, who repeatedly took personal responsibility for the health care rollout, which has thrown Democrats on the defensive. "And to those Americans, I hear you loud and clear. I said that I would do everything we can to fix this problem. And today I'm offering an idea that will help do it."

The president's plan would apply only to people who have had their existing policies canceled. Those currently without insurance would not be able to buy the old plans.

Despite the president's reversal, Speaker John A. Boehner said that he intended to push ahead with a House vote Friday on a measure that would allow consumers to keep their canceled plans without penalty and allow others to sign up for them. Mr. Boehner said that he was skeptical of the president's plan, and that the new law needed to be overturned.

"The only way to fully protect the American people is to scrap this law once and for all," Mr. Boehner told reporters.

Representative Nancy Pelosi, the Democratic leader in the House, said her members were clamoring for a fix on top of what the president was offering. Many of them, she said, were those who fought hard for the law's passage and want to see it saved. Other Democrats said they wanted a more permanent resolution of the cancellation issue, suggesting that Mr. Obama's plan would not quiet the clamor.

The president's announcement also drew a cool reaction from insurers.

"Changing the rules after health plans have already met the requirements of the law could destabilize the market and result in higher premiums for consumers," said Karen M. Ignagni, the president of America's Health Insurance Plans, a trade group. "Premiums have already been set for next year based on an assumption about when consumers will be transitioning to the new marketplace. If now fewer younger and healthier people choose to purchase coverage in the exchange, premiums will increase, and there will be fewer choices for consumers."

A White House official confirmed that "we don't have a commitment from state insurance commissioners" to go along with the president's new policy. State insurance regulators also said they had not discussed it with the administration.
As I noted this morning, it's rather obvious that this proposal is primarily meant to undercut growing support among House and Senate Democrats for proposals that are intended to achieve similar goals that have been put forward by Senator Mary Landrieu in the Senate and Congressman Fred Upton in the House. Obama's plan isn't entirely identical to either plan, though, as Ezra Klein notes in his comparison of the three proposals over at Wonkblog. Given that, it's not at all clear what impact this plan will have on either of those proposals, or on the momentum that has been building among both parties for some kind of a legislative fix that addresses the canceled plan issue. However, if the initial reaction from both sides of the aisle is any indication, this is unlikely to stem the tide. On the House side, Speaker Boehner's immediate reaction questions both the effectiveness and the legality of what the President is proposing. And even some Democrats are, so far at least, less than impressed:
President Obama's announcement that he will allow a one-year delay of cancellation notices for current health insurance policies, even if they don't comply with the Affordable Care Act, triggered relief among some congressional Democrats, but others are concerned it doesn't go far enough.

Louisiana Sen. Mary Landrieu, who has proposed legislation that would extend current policies indefinitely, said she was "encouraged" by the president's solution but will continue to push her legislation. "I remain willing to work with anyone who wants to strengthen the Affordable Care Act and keep the significant promise that it holds for our country," she said.

Oregon Sen. Jeff Merkley, who has endorsed Landrieu's bill, said that while the White House proposal is "a step in the right direction," it doesn't go far enough. "The concept was … you could chose between the individual plan you have and the plans that were on the exchange and without any limitation on the length that you could keep the plan that you had," he explained.
As far as Boehner's comments go, there does appear to be at least some question about the legality of this move. For example, The Volokh Conspiracy's Eugene Kontorvich makes this excellent point:
It is true that the Chief Executive has some room to decide how strongly to enforce a law, and the timing of enforcement. But here, Obama is apparently suspending the enforcement of a law for a year – simply to head off actual legislation not to his liking. Congress is working on legislation quite similar to the president's fix, but with differences he considers objectionable. This further demonstrates the primarily legislative nature of the fix.

Indeed, the fix goes far beyond "non-enforcement" because it requires insurers to certain new action to enjoy the delay. This is thus not simply a delay, but a new law.

The "fix" amounts to new legislation – but enacted without Congress. The President has no constitutional authority to rewrite statutes, especially in ways that impose new obligations on people, and that is what the fix seems to entail. And of course, this is not the first such extra-statutory suspension of key ObamaCare provisions.
Other such Executive action, of course, includes the extension of the deadline for the Employer Mandate to 2015 as well as the various waivers that have been granted via the Department of Health and Human Services to various health care plans provided by large scale employers and labor unions. While the PPACA, like many other pieces of legislation, grants significant discretion to the Executive Branch when it comes to certain areas of the enforcement of the law and the drafting of regulations, it's not at all clear that it grants the President the authority to essentially rewrite the law in the manner that he's purporting to do with this "administrative fix." In the end, though, this may turn out to be an academic argument since it's hard to see how or when a case that would meet Federal Court rules for standing would actually come together. Nonetheless, the idea of a President rewriting law like this is one that ought to be of concern to everyone regardless of how they feel about the PPACA and regardless of party. As with past assertions of power by a President, once it has been used once, it is inevitable that it will be used again by future Presidents. Such is the nature of the seemingly endless growth of the Imperial Presidency.
Aside from the legality issues that President Obama's action raises, though, there are some real practical problems with what the President's plan, along with those proposed by Congressman Upton and Senator Landrieu, would do, as The Washington Post's  Sarah Kliff explains:
Under the change that the administration is announcing this morning, the hypothetical Americans with a policy that ends in June 2014 would have the option to renew that same plan for one more year, if their insurance company decides to provide that option.

Keep in mind, this change is not ordering insurers to offer their products for another year; health plans regularly take their offerings on and off the market. Instead, it's a very nice ask on the part of the administration, to insurance carriers and regulators, to play ball on this one.

Insurers who do take the White House up on this option would have to do two things: notify consumers of the various health law benefits missing from the plan, and let them know about the other options they would have on the health law's marketplace.

"Under the old law, if I had bought a plan starting June 1, 2013, then the insurance company would have to no longer offer that plan," one White House official told me. "Now, that can go for another year."

The idea, senior White House officials say, is to create a smoother transition from the pre-Obamacare market to the post-Obamacare landscape. The fix proposed here is less sweeping than what House Republicans have proposed: It will only allow people who are already signed up for these pre-Obamacare plans to keep buying them. Under the Upton proposal, anyone who wanted to could enroll in one of these pre-Obamacare plans.

For insurance regulators and health insurance carriers, though, this supposed glide path is about to create a whole bunch of headaches. They have been expecting, for years now, that these insurance plans would be phased out of the market in 2014 — and have planned accordingly.

Here's how Robert Laszewksi, an insurance consultant, put it in a note to clients earlier this morning:

This means that the insurance companies have 32 days to reprogram their computer systems for policies, rates, and eligibility, send notices to the policyholders via US Mail, send a very complex letter that describes just what the differences are between specific policies and Obamacare compliant plans, ask the consumer for their decision — and give them a reasonable time to make that decision — and then enter those decisions back into their systems without creating massive billing, claim payment, and provider eligibility list mistakes.

All by January 1.
The bigger concern is one that I've touched upon in other posts this week, and it's own that could create widespread sticker shock for everyone who signs up for a policy via the Federal or state-based exchanges when it comes time to renew their policy just about a year from now. Essentially, the concern is that allowing people on pre-exchange plans to keep their plans for another year would lead to many of those people to do exactly that. Given that it's widely believed that many of the people who are on these types of plans are precisely the younger, healthier people that both the Administration and insurers are hoping would sign up for an exchange-based plan because that would mean that the risk pool for those policies would be far broader than if they didn't do so. If that group of potential insureds stays out of the market by holding on to old plans, then that just adds to the low enrollment problems that the PPACA is already having thanks to a defective website. An unbalanced risk pool in the first year of the exchange-based plans, though, would mean most importantly that premiums for the second year would be far higher than anyone would like them to be. That creates both a "sticker shock" problem for the people already insured through the exchanges and creates the possibility that people won't sign up in huge numbers in the second year either once they do go online and see what 2015 premiums are going to be. That creates huge financial and political problems both for the PPACA and for the President and his political party. According to press reports, this seems to be exactly what is concerning the insurance industry, which has spent the last three years preparing to comply with the PPACA to only now be told that they don't necessarily have to if they don't want.
On a broader note, it's hard to tell if today's press conference, aside from announcing this "administrative fix" that may or may not work and may or may not make things worse actually accomplished anything good at all for the President. I wasn't able to watch it myself, but following along with some of the instant reaction from reporters and pundits on Twitter, it's clear that even those who are generally sympathetic to the Administration were not at all impressed. Some even made comparisons to the disastrous first Presidential Debate last September, which was a definite loser for the President on all counts. At the very least, it seems unlikely that the "fix" will stop the House from voting on the Upton proposal tomorrow as planned, and there still seems to be sufficient support among Senate Democrats for Landrieu's proposal to allow debate on that matter to go forward, although it's unclear if it would actually end up passing if it got to a final vote. Nonetheless, it's clear that the President woke up this morning and knew that something had to be done to stop the bleeding. Whether this is the beginning of that remains to be seen. Indeed, we're likely not to know for sure until we get to the end of the month and see if the Federal Exchange website is actually working. If it is, then perhaps the President will be able to put much of this behind him. If it isn't then the headaches and political consequences are likely to only get worse.