Obama May Intervene In Democratic Race
Former President Obama has been largely quiet about the race for the Democratic nomination, but that may not last.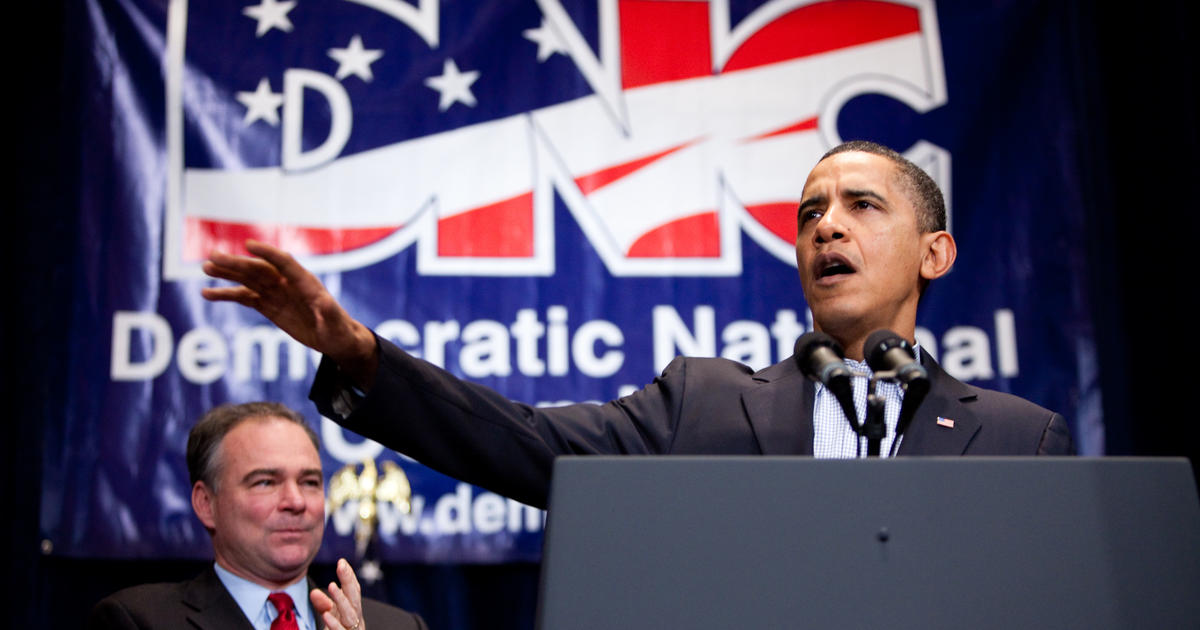 Up to this point, former President Obama has been a quiet presence in the race for the Democratic Presidential nomination. Behind the scenes, though there are signs that the former President is paying close attention to the race and may be willing to step in if necessary, especially if he feels as if the party is heading in the wrong direction:
Former President Barack Obama, who has so far taken a neutral position publicly on the 2020 Democratic presidential primary, privately indicated he would speak up to stop Bernie Sanders from becoming the party's nominee should the Vermont senator make significant gains, Politico reported Tuesday.

Politico's Ryan Lizza, who spoke to several of Obama's advisers, wrote that the former president sees his role in the Democratic primary process as "providing guardrails" to make sure it doesn't get "too ugly" and "to unite the party when the nominee is clear."

But there's one exception, Lizza wrote, and that's Sanders.

"Back when Sanders seemed like more of a threat than he does now, Obama said privately that if Bernie were running away with the nomination, Obama would speak up to stop him," according to Lizza's report. It's unclear exactly what period of time the Politico reporter was referring to.

Sanders, who lost the Democratic primary race to Hillary Clinton in 2016, has remained among the front-runners since announcing his second presidential bid in February. A Quinnipiac University poll conducted nationally last month of likely Democratic voters showed Sanders at 15%, trailing behind Sen. Elizabeth Warren of Massachusetts at 28% and former Vice President Joe Biden at 21%.

Asked whether Obama would really step in to prevent a Sanders nomination, one adviser told Lizza that he "can't really confirm that."

"He hasn't said that directly to me," said the adviser, who was not identified. "The only reason I'm hesitating at all is because, yeah, if Bernie were running away with it, I think maybe we would all have to say something. But I don't think that's likely. It's not happening."

Another close Obama friend reportedly told Lizza that "Bernie's not a Democrat." (Sanders serves as an independent in the Senate, but caucuses with Democrats.)

Publicly, Obama has said he would support whoever becomes the Democratic nominee.

"Look, we have a field of very accomplished, very serious and passionate and smart people who have a history of public service, and whoever emerges from the primary process I will work my tail off to make sure that they are the next president," he told a crowd at a Democracy Alliance event in Washington earlier this month.

Behind closed doors, Obama and his advisers have assessed the various Democratic contenders. For instance, they reportedly said Biden lacks an intimate bond with the electorate, especially in Iowa. And Obama is "deeply skeptical" about South Bend, Indiana, Mayor Pete Buttigieg's chances, Lizza wrote.

In 2016, Obama didn't publicly intervene in the Democratic primary until June, roughly a month before the Democratic National Convention. During a meeting with Sanders, Obama encouraged him to rally behind Clinton. Soon after, Obama announced his endorsement of Clinton and, in mid-July, Sanders followed suit.

It's no secret that Obama has been less than enthusiastic about some of the progressive policies pushed by Sanders and Warren. At the same Democracy Alliance event last month, Obama told the crowd that America is "less revolutionary than it is interested in improvement."
The entire article in Politico Magazine, which is far too long to be fairly excerpted, is worth reading and makes clear that, while the former President has been as reticent to get involved in the 2020 nomination fight as was in 2016, there does appear to be a line that he would cross. It's not surprising, of course, that Obama would be skeptical of Senator Sanders and the progressive wing of the party that he represents. While he was to the left of Hillary Clinton in several respects during the 2008 nomination fight, it's always been clear that he was closer to the center of American politics generally and the Democratic Party specifically than people may have assumed twelve years ago and contrary to the assertions of conservatives both while he was in office and in the years since he left the office.
Obama's apparent concerns about a Sanders candidacy and the progressive wing that he represents are, of course, mutual. While they remained silent for most of the Obama Presidency, the progressives that have rallied around Sanders and other candidates, that silence ended even before Obama left the White House. While Sanders himself rarely directly criticized Obama, his most vocal supporters showed no similar desire to remain quiet. For the most part, they attacked the former President because he didn't go far enough left when he was President. In the years since the 2016 election, that criticism has grown more and more vocal and more critical of the Obama years notwithstanding the fact that it was marked by successes that ought to have pleased people on the left, such as the Affordable Care Act. Instead, some of the criticism we've seen make Obama sound as if he were a Republican, or make it seem as if those people would have preferred John McCain winning in 2008 and Mitt Romney winning in 2012.
The interesting question that arises out of the Politico article is the extent to which Obama's reticence about Sanders applies to other candidates that also arise out of the party's progressive wing. The most prominent of these, of course, is Senator Elizabeth Warren, who holds many of the same policy positions that Senator Sanders does. While Obama has had positive things to say about Warren in the past, and attempt to appoint her as the first head of the consumer protection bureau that she helped to found, one has to think that he would be equally as concerned about the fact that she could pull the party too far to the left for the upcoming General Election. Similar questions could also be asked about candidates such as Senator Kamala Harris and Cory Booker, although they are so far back in the polls that the odds that either one of them will be the nominee is somewhere between slim and none at this point.
Rather than an ideological battle, though, what appears to be happening here is that the former President's primary concern is that the party select a nominee and a platform that would put it in a realistic position to beat Donald Trump in December. Notwithstanding polls showing him slightly ahead of the President in some states, it seems fairly clear that Sanders would not fare well against Trump in what is likely to be a close election next November. The same is true of Elizabeth Warren. As for Pete Buttigieg, President Obama's apparent concerns over his obvious inexperience are well-placed and suggest that he too would be a potentially problematic nominee.
All this, of course, leaves us with Joe Biden, who of course was Obama's Vice-President. While there have been several reports indicating that the former President has expressed some concerns about Biden, those concerns appear to be based mostly on the question of whether or not the former Vice-President can make it through the process of winning the nomination without sabotaging his own campaign and, by extension, the party's chances in 2020. If the race actually does come down to Biden as the representative of the center-left portion of the party that Obama largely represents and either Sanders or Warren as the choice of the progressive wing, one wonders if the former President will step in at that point to ensure that his party doesn't go completely off the rails.