Obama Reportedly Planning Clemency For Hundreds Of Drug Offenders
Perhaps some justice for the casualties in the War On Drugs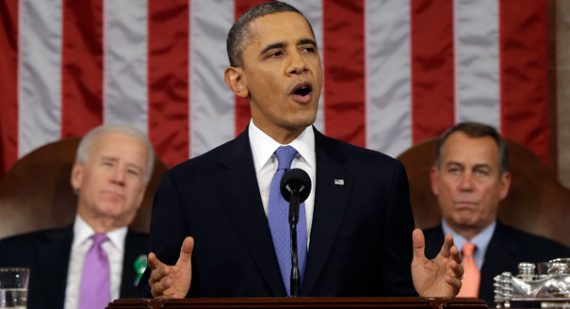 Yahoo is reporting that President Obama is planning to exercise his pardon power to grant clemency to hundreds, if not thousands, of Federal drug offenders:
Thirty years after skyrocketing urban violence and drug use sparked politicians to impose longer and longer sentences for drug crimes, America now incarcerates a higher rate of its population than any other country in the world. This dubious record has finally provoked a bipartisan backlash against such stiff penalties. The old laws are slowly being repealed.

Now, in his final years in office, Obama has trained his sights on prisoners like Scrivner, and wants to use his previously dormant pardon power as part of a larger strategy to restore fairness to the criminal-justice system. A senior administration official tells Yahoo News the president could grant clemency to "hundreds, perhaps thousands" of people locked up for nonviolent drug crimes by the time he leaves office — a stunning number that hasn't been seen since Gerald Ford extended amnesty to Vietnam draft dodgers in the 1970s.

The scope of the new clemency initiative is so large that administration officials are preparing a series of personnel and process changes to help them manage the influx of petitions they expect Obama to approve.  Among the changes is reforming the recently censured office within the Justice Department responsible for processing pardon petitions. Yahoo News has learned that the pardon attorney, Ronald Rodgers, who was criticized in a 2012 Internal watchdog report for mishandling a high-profile clemency petition, is likely to step down as part of that overhaul. Additional procedures for handling large numbers of clemency petitions could be announced as soon as this week, a senior administration official said, though it could take longer.
As has been the case with many recent Presidents, Barack Obama has been rather parsimonious with the use of his pardon power. As he neared the end of his second year in office, I noted that he had pardoned more turkeys than people, and at the end of year he finally issued his first pardons of less than a dozen people. As of December 31, 2013, President Obama had pardoned a total of 61 people, an average of 12 pardons per year over the five years he'd been in office. That put him on a pace to issue the fewest pardons and/or grants of clemency of any American President going back to the administration of Franklin Delano Roosevelt. If the Administration actually does go through with this plan, it would more than make up for Obama's stinginess with the pardon power up until now, and could potentially put up him there with FDR himself, who granted nearly 3,400 pardons or grants of clemency during the 12 years he was in the White House.
While the article doesn't make clear exactly what criteria the Obama Administration is looking at in making these grants of clemency, it appears that they will be targeted at people who have been convicted of non-violent drug related crimes under Federal Law, which essentially means possession and related charges. Presumably, they will not be granted to people who were arrested with large quantities of marijuana, cocaine, heroin, or other illegal drugs to the point where it was obvious that they were engaged in drug trafficking. These non-violent offenders have been among the worst victims of the Federal Government's War On Drugs because they have seen their lives ruined thanks to overly zealous law enforcement officers and sentencing guidelines that even Federal Judges complain about. If there is another class of Federal offenders who are more worthy of consideration for a pardon or clemency I'd be hard pressed to find it. As always, the devil will be in the details, and we will have to wait to see what the Administration actually proposes here. So far, though, this sounds like an excellent idea that is long, long overdue.
Of course, not everyone is happy about the reported clemency decisions. Here's Andrew McCarthy over at PJ Media:
Attorney General Eric Holder announced today that dozens of lawyers will be reassigned to the Justice Department's pardon office in anticipation of a surge of applications from drug offenders for reductions in their sentences—applications the Obama administration has signaled it would look upon favorably. This exercise is another transparent usurpation of legislative power by the president. The pardon power is just the camouflage for it.

The pardon power exists so that the president can act in individual cases to correct excesses and injustices. It is not supposed to be a vehicle by which presidents rewrite congressional statutes that they disagree with philosophically (just as "prosecutorial discretion," another doctrine the Obama administration has abused, is not supposed to be a vehicle by which the president substitutes his policies for duly enacted federal law).

The Obama administration is philosophically opposed to mandatory minimums in the federal penal law, especially in the narcotics area. The Justice Department is filled with racialist ideologues and pro-criminal rights ideologues (they tend to be the same people) who have long contended that the drug laws are racist. This is another of those absurd arguments that finds racism based on unintended consequences rather than racist designs.

The mandatory minimums for crack ("cocaine base") crimes are more severe than for powder cocaine (which was called "cocaine hydrochloride" back when I was a federal prosecutor). Many crack distributors are black and Hispanic, while many powder cocaine distributors are white—although there are plenty of whites in the former category and minority dealers in the latter. Thus, it is contended, the mandatory minimums are racist in effect.

It has been argued for decades that this is unjust. As a matter of racism, this claim is frivolous. As a matter of logic, it is not: crack is rightly punished more severely because it is more addictive and ruinous. For a long time, though, crack was punished at a 100:1 ratio to powder coke (e.g., the 10-year mandatory minimum kicked in at 5,000 grams, or 5 kilos, of powder coke but only 50 grams of crack. It is perfectly constitutional for Congress to do this, but it is not sensible—crack may be worse than powder coke, but not a hundred times worse.

The way our system deals with bad laws is to change them by legislative repeal or amendment, not for the president to decree new laws unilaterally. And, in fact, the drug laws have been changed: Crack is still treated more harshly, but the crack floor for the 10-year minimum was raised (by a factor of more than 5) from 50 to 280 grams. Similarly, for the 5-year mandatory minimum, the ratio is no longer 100:1—while it is still triggered by 500 grams of powder cocaine, it now takes 28 grams of crack, not 5 grams.

To many people, this is still too wide a disparity, but note that the difference is based on the severe addictive tendencies and street-level violence associated with crack, not race. And in any event, if the law is to be changed, our system requires that it be changed by passing laws in Congress.

President Obama is using the pardon power to rewrite the statute unilaterally. The time drug offenders spend in jail will be based on his subjective notion of fairness, not the policy embodied in our drug statutes. This is not faithful execution of the law, which is the president's core constitutional duty. It is the execution of Obama's whims.
There is, of course, nothing that limits the Presidential power to grant pardons and clemency to individual cases as McCarthy suggests. Indeed, this is one of the few areas in which the President's power is unchecked by any branch of government. Once a President issues a pardon or grants clemency, there is absolutely nothing that the Courts or Congress can do about the matter. Granted, there have been plenty of situations in which individual pardon decisions have carried a political cost, which is one of the reasons why the number of pardons that Presidents have issued has dropped steadily since the Nixon Administration. However, that is an entirely different issue from the question of whether or not the President has acted within his authority when granting pardon or clemency requests. In the end, that is an irrelevant question largely because there are no limits on the power at all.
As for the rest of McCarthy's argument, you can expect that this will be the standard conservative response to this announcement. Rather than recognizing the fact that the President is right about the terrible impact that things like disparate sentencing for crack cocaine and mandatory minimums have had on the lives of real people, they will make the false argument that President is "making an end run" around Congress. In reality, what's happening here is that the President is authorizing the power that the Constitution has granted him to right a terrible wrong and to bring this issue to the forefront of public attention. Maybe when that happens, the Republicans in Congress will finally act on this issue rather than using it as another weapon in the never ending partisan attacks on the President.