Obama, Same-Sex Marriage, And African-Americans
Is President Obama's announcement on same-sex marriage helping to create a change in opinion on the issue among African-Americans?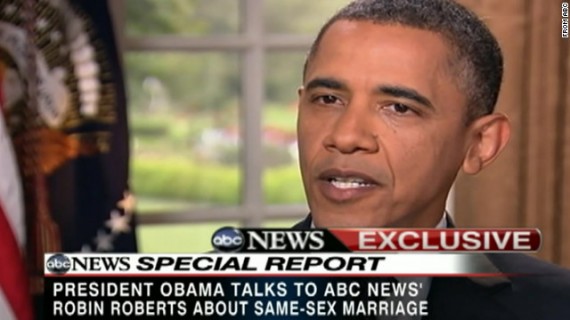 When President Obama publicly announced his support for same-sex marriage, one question that was raised almost immediately was what impact his announcement would have on the African-American community. While African-American voters supported President Obama in the last election by a margin of 95%-5%, it's also true that the community tends to be religious and somewhat conservative on social issues such as same-sex marriage. Indeed,  African-Americans in California supported Proposition 8 by a 70% to 30% margin in the same election that they went for President Obama by a 94% to 6% margin. Additionally, the day before the Obama announcement, African-American voters in North Carolinavoted in favor of were polled as supporting Amendment One by a 2-to-1 margin. So when the President made his announcement some people wondered what it would mean for African-Americans, especially those that are more socially conservative on issues like this.
I don't think anyone seriously believed that African-Americans would abandon the President over this issue, but I'm pretty sure that there weren't many people expecting what a new Public Policy Polling Poll of Maryland voters [PDF], who will be voting on a referendum to attempt to overturn the state's new law legalizing same-sex marriage in November:
– 57% of Maryland voters say they're likely to vote for the new marriage law this fall,  compared to only 37% who are opposed. That 20 point margin of passage represents a 12  point shift from an identical PPP survey in early March, which found it ahead by a closer  52/44 margin.

– The movement over the last two months can be explained almost entirely by a major  shift in opinion about same-sex marriage among black voters. Previously 56% said they would vote against the new law with only 39% planning to uphold it. Those numbers have now almost completely flipped, with 55% of African Americans planning to vote for the law and only 36% now opposed.

– The big shift in attitudes toward same-sex marriage among black voters in Maryland is reflective of what's happening nationally right now. A new ABC/Washington Post poll finds 59% of African Americans across the country supportive of same-sex marriage. A PPP poll in the critical swing state of Pennsylvania last weekend found a shift of 19 points in favor of same-sex marriage among black voters
Andrew Sullivan is perhaps a little bit too effusive in his praise:
The magnitude of what Obama has done is getting more and more tangible. He has gone from JFK to LBJ on civil rights in three years. And bridging the divide between gays and African-Americans will help both communities, and especially those who are gay andblack. This kind of defusing of polarization is what many of us hoped for in Obama. On this issue, he has delivered. And how.
Ta-Nehisi-Coates is slightly more sober:
[I]f these numbers hold, will be a major statement. It would not simply mean that same-sex marriage held by a majority vote, but that it did so in one of the blackest states in the country. I don't think that says anything distinctive about African-Americans, except that in the climate, it seems exceptional to point out that black people are, in fact, not aliens permanently in the grip of pathology, but Americans.

I was skeptical that Obama would actually influence black opinions. I'm not sure he has. But I can't rule it out. It's clear that the trend was toward support. Maybe Obama gave it the final push. On a related note, preachers who thought they were going to use this to test, for better or ill, the most popular man in black America, should reconsider.
David Weigel, meanwhile, notes that even the fire-and-brimstone African-American preachers who are leading the repeal effort in The Free State have cooled their rhetoric down, and certainly aren't daring to speak out against the President.
It's way to early to tell what all of this means, of course. As Coates notes, the most significant thing about the poll is that it suggests that we may see the first failure of a referendum against same-sex marriage since the states started entertaining such measures. By itself, that would be a significant achievement. As for the question of the Africa-American vote, I'm not sure if you can say that any change that may be taking place is due to the President's announcement, although I'm sure it may have played a role. Quite honestly, since we already know that the nation as a whole is undergoing a transformation of public opinion on this issue there' s really no reason to believe that we would not see the same shift in opinion among African-Americans or any other racial or ethnic group.