Obama Still Trying To Sell GOP On "Grand Bargain" Debt Deal
It was a largely fruitless weekend in the debt negotiations.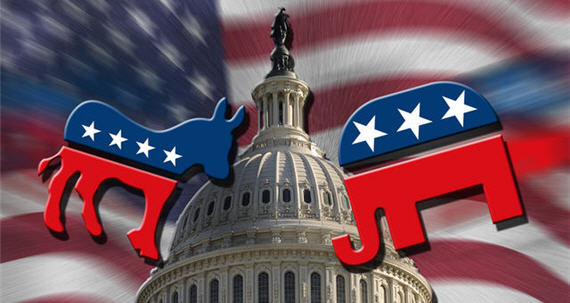 Last night's meeting at the White House didn't go well at all apparently:
Talks among President Obama and congressional leaders Sunday evening failed to break a partisan stalemate over how to raise the federal borrowing limit, leaving the politically charged negotiations in limbo three weeks before the administration says the country will begin to default.

The White House meeting adjourned after roughly 75 minutes without agreement over how far the parties should go in cutting the deficit over the next decade or whether tax cuts and entitlement reductions should be a part of any deal. Congressional leaders will return to the White House on Monday to continue talks, administration officials announced, and Obama will hold a morning news conference before they do.

Both sides appeared Sunday to dig further into their positions, leaving the talks deadlocked, a historic default looming and a fragile economy increasingly vulnerable to the consequences of Washington's entrenched partisanship and ideological divide over taxes and entitlements.

House Speaker John A. Boehner (R-Ohio) jolted the negotiations Saturday when he announced that his party would not support the larger deficit-cutting plan Obama has proposed because it includes tax increases, complicating the meeting's agenda. According to a Democratic official familiar with the Sunday talks, Obama asked Republican leaders, "If not now, when?"

The enduring disagreement, drawn sharply along partisan lines as an election year approaches, brought warnings from the administration and congressional Democrats that, unless a deal is reached within two weeks — to give Congress time to approve it — the United States would default on its fiscal obligations for the first time.

Asked whether the parties could reach a deal in the next 10 days, Obama, flanked by congressional leaders in the Cabinet Room before the meeting, said simply, "We need to."
During the meeting, Obama apparently still pressed for the long-term $4 trillion debt deal that he and House Speaker John Boehner had been talking about until Saturday:
The president argued several times that negotiators should work toward a $4 trillion package for reducing the deficit rather than the smaller one favored by Republicans, calling on them to stand up to their base to get it done. He said both parties would suffer politically, but they need to do something substantial, said a third Democratic official familiar with the meeting.

"If not now, when?" the president said to the group, according to the official.

House Majority Leader Eric Cantor (R-Va.), who spoke most often for the Republicans, argued that a grand bargain that includes new tax revenue would not pass the House, so they should fall back to the $2.5 trillion framework from the talks led by Vice President Joe Biden.
And thus, we are at an impasse. The President will be speaking at a news conference this morning, and negotiations are set to resume at the White House this afternoon. The logical thing to believe is that, eventually, a deal will be made because one simply can't believe that American politicians would be so stupid as to create a panic that would lead to higher interest rates, and a weaker dollar. Right?
After all, even Mitch McConnell claims that "nobody" is talking about not raising the debt ceiling:
Senate Minority Leader Republican Mitch McConnell discussed the debt ceiling negotiations with Bret Baier on Fox News Sunday. McConnell was in agreement with Speaker John Boehner's decision not to support a large deficit deal, yet also made a curious assertion that none of his Republican colleagues have ever claimed they will not be in support of raising the debt ceiling.

Baier, filling in for Chris Wallace, pressed McConnell on what would happen if no deal could be worked out and whether he was concerned with the consequences of what might happen if the debt ceiling is not raised. McConnell confidently responded, "nobody is talking about not raising the debt ceiling. I haven't heard that discussed by anybody." Yet Baier informed him that Congresswoman Michele Bachmann, among others, have explicitly said just that. Baier even quoted Bachmann saying "don't let them fool you that the economy is going to collapse" if the debt ceiling isn't raised.
Not just Bachmann. Senator Rand Paul has said he would filibuster any attempt to raise the debt ceiling, and Sarah Palin sent a warning to John Boehner in a recent interview:
Former Alaska governor Sarah Palin has issued a stern warning to House Speaker John Boehner (R-Ohio) as Boehner sits down with President Obama Sunday night to negotiate a raising of the debt ceiling: don't do it.

Palin, in an interview appearing in Newsweek, "made it clear that she's against any deal that raises the debt ceiling and would hold House Speaker John Boehner's feet to the fire if he a"No, we have to cut spending. It is imperative, and I will be very, very disappointed if Boehner and the leaders of the Republican Party cave on any kind of debt deal in the next couple of months," she said.greed to one" according to the magazine.
With rhetoric like this, is it any wonder that Boehner is having trouble putting together a deal? Something will likely be done before its too late, but I'm fairly certain now that we're going to do down to the wire, and the possibility of a brief market panic is becoming more and more likely.